She may be popular as Lucy, the bad-tempered control freak of a mother in Generations: The Legacy but Manaka Ranaka is a real-life cool mom. The veteran actress celebrated two decades in the industry in 2020 and has a lot to show for her time in the spotlight. She has two daughters with another child underway but no details on the gender yet. Ranaka is also a grandma through her first daughter.
Even though Manaka's life seems like a bed of roses with beautiful children, a grandchild, as well as a solid career, it wasn't all good from the beginning. In fact, she had a rocky start but her resilience and a very supportive family kept her going.
Ranaka Manaka Started Acting in 2000 At Age 21
While expressing gratitude for twenty productive years in the industry which she did with a lavish party, the Generations: The Legacy star took a walk down memory lane to when it all started. She was just in her early 20s when she landed the role of Nandipha Sithole and joined the cast of South African soap opera Isidingo which aired on SABC 3. Her time on the show was short-lived as she was soon fired for getting pregnant.
Manaka didn't allow this temporary set back to dim her light as she continued to build her career to attain the illustrious status it has today. Other productions she has appeared in include Drumstruck, On My Birthday, Torong, Gaz'lam, Stokvel, One Way, Home Affairs, Society, and Rhythm City, among many others. Generations: The Legacy is her most acclaimed work so far.
She has won a few awards as well, including the South African Film and Television Award (SAFTA) for Best Actress in a Television Comedy in 2007 and the Golden Horn Award for Best Actress in a TV Comedy.
Away from the professional space, Ranaka Manaka seems to be living the dream but she has often shared that her life is not as smooth as it appears. Being a single mom who was battling to build a career wasn't an easy feat to pull off. She had her first child at a time her career was just taking off but with the help of her family, Ranaka was able to juggle both worlds. She comes from a family who supports one another when the going gets tough.
She Was Given An Ultimatum To Abort Her First Child
Yes, Ranaka Manaka would have aborted her first child Katlego if she had listened to her employers at the time. She found out she was pregnant shortly after she joined the cast of Isidingo TV series to depict the character of Nandipha Sithole. When producers of the show learned about her condition, Ranaka was given one option – to get rid of the pregnancy or lose her job. Of course, she chose her baby over fame at the time but she still got to keep her child and still attained stardom in the end.
As revealed in a recent Instagram post she used for wishing her daughter a happy birthday, Ranaka shared intimate facts about her early days in the industry as a single mom. According to the actress, she was ready to become a mom when she had her first child and that was why she declined the suggestion of an abortion. That decision is one she has not regretted once in her life.
When Katlego was 10, Ranaka had her second child, another daughter named Naledi and in October 2020, she revealed that a third baby is joining the family soon. She maintains a close relationship with her children and makes sure they are free to talk to her about everything. Manaka has said she won't influence her children's choices in life but will only offer advice and let them make their own decisions.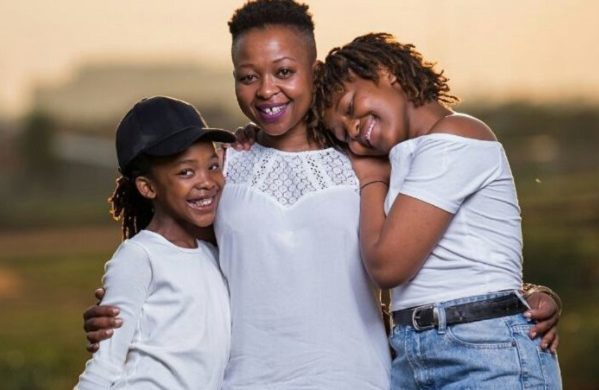 Who Is Manaka Ranaka's Baby Daddy?
It has been established that Manaka is a mother to two daughters namely Katlego and Naledi but what many don't know is that they have different fathers. Again, the fathers of her girls have been absent from their lives from the onset and she is not bothered about this, though she is not happy that her children don't have a relationship with their fathers.
In an interview, she said she doesn't know where Katlego's father is at this time and Naledi's father made his last appearance ten years ago, probably around the time the child was born. Fortunately for the girls, Ranaka has nothing but love for them and has given them the best she could offer.
However, the third child seems to have a daddy she is proud to share with her fans. Though she hasn't been vocal about her relationships, Ranaka shared a picture with a man on Instagram and captioned it "Baby Daddy". This came along with the recent news of her third child which she revealed at a big party she hosted to mark the 20 years of excellence she has spent in the entertainment industry.
Her baby daddy's identity cannot be confirmed at this time but he does look younger than the actress who turned 41 in 2020. Meanwhile, the gender of the child they are expecting is not known as the actress wants it to be a surprise.
Is Manaka Ranaka Married?
Though she has built a family of her own, the famous actress has no husband and has never been in any marriage. She has, however, dated a few men among whom is Thabo Monareng who is nine years younger than her. They dated for a while and flaunted their romance for all to see. But now, it seems Ranaka is with her baby daddy who is also visibly younger.
In her opinion, Ranaka made it clear that she wouldn't date anyone who doesn't have children. This is essential in the sense that the man would understand that she has a duty to her kids first, as much as she would perform her responsibilities as his partner. She makes sure her children meet every man she has dated, thus, she would be careful with the kind of men she brings home. Likewise, she encourages her daughters to introduce their boyfriends when they start dating.