Mandisa Meyiwa is the wife of Senzo Meyiwa, the late South African professional footballer. Born in September 1986, she is a 37-year-old South African woman who rose from being a call representative to an HR officer at Ned Bank. She was married to Senzo from 2013 to October 2014 when he died. 
The pair had been sweethearts for many years before their marriage, but their union ended up being quite chaotic. Senzo was not keen on hiding any of his extra-marital affairs with pop singer Kelly Khumalo which made Mandisa bail out on her marriage.
Summary of Mandisa Meyiwa's Bio
Full Name: Mandisa Mkhize Meyiwa
Gender: Female
Date of Birth: September 1986
Mandisa Meyiwa's Age: 37 years old
Nationality: South African
Sexual Orientation: Straight
Marital Status: Divorced
Mandisa Meyiwa's Ex-Husband: Senzo Meyiwa (Deceased)
Mandisa Meyiwa's Child: Nana Meyiwa
Famous for: Being Senzo Meyiwa's Wife
Instagram: @mandisamkhize01
Mandisa Mkhize Met Senzo Meyiwa As A Teenager
Although facts about Mandisa Mkhize's age and background are unknown, it is gathered that she and Senzo met in 2005. As of then, the late footballer was still a teenager trying to figure out what to do with his life. It's unclear what really made their paths cross in Johannesburg, but after becoming acquaintances, they remained together until 2011 when they married.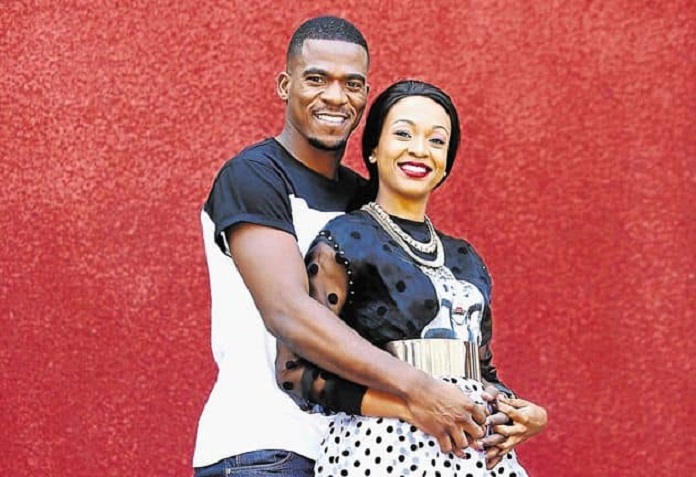 Their Marriage Was Facing Cheating Scandals Before Her Husband's Death
Unfortunately, Mandisa and Senzo's marriage was rocked by issues and scandals of cheating allegations. At first, it actually appeared as if their marriage was going pretty well before Mandisa discovered that Senzo Meyiwa was cheating on her with another woman, singer Kelly Khumalo, and this was not long after they married.
Mandisa was devastated when she discovered her husband was cheating on her, confirming her suspicion that he was a Cassanova who has always been cheating on her. There were even claims that he had gone so far as sleeping with Mandisa's best friend.
With regards to her late ex-husband's fling with singer Kelly Khumalo, she went ahead to splash their images together on her Instagram page. The singer said she didn't find out about the footballer's marriage until 5 months into their relationship. Senzo also stated that he never informed her of his marital status.
Following the incident, Mandisa left her marital home, and her husband spent the majority of his time with his newfound love. Senzo also defended Khumalo by stating that she was not to blame for his marriage's breakdown because he lied to both her and his wife. Kelly was rumored to be pregnant for him at the time, but he denied it, despite the fact that she would subsequently give birth to his third child.
Mandisa Was Estranged From Senzo At The Time Of His Death
Senzo Meyiwa was shot dead on October 26, 2014, in what many initially mistook for an apparent robbery at Kelly's parents' home in Vosloorus. According to his wife, the former Bafana Bafana captain was warned by a close friend, Mthoko Twala, and a traditional healer not to associate with Khumalo. The young player was shot in the back by unidentified assailants although a group of 5 guys was later detained in connection with the murder in 2020. The gang members eventually revealed that they had been recruited to assassinate the footballer.
However, according to preliminary investigations, not everyone who was present at the moment of the suspected premeditated murder was speaking the truth. The late footballer's girlfriend Kelly, Zandi Khumalo (Kelly's sister), their mother Ntombi, Longwe Twala, the alleged shooter, Meyiwa's buddy Mthokozisi Thwala, Tumelo Madlala (Zandi's boyfriend), Kelly's 4-year-old son Christian, and Thingo, Kelly's daughter with Senzo, were among the people at the crime scene.
Fingers were pointed at the pop singer for the murder at first, but she continued to deny any involvement. With further plans developing, there are hints that she may be detained for her role in the sad occurrence, as she was allegedly implicated in the crime.
Moreover, Senzo's untimely death occurred at a time when his love life was still complicated, as he was still married to his wife, despite the fact that they were separated and in the process of divorce.
Due to the messy nature of things, no one came up to fill the role of a wife for his life insurance policy even though he was still married to Mandisa. His R4 million insurance was meant to be split between Orlando Pirates, his wife, and their children, with Pirates getting half and the rest going to the former. Neither Mandisa nor Khumalo was acknowledged as the late player's lawful wife hence his father, Sam Meyiwa, had to step in because he had no will.
Mandisa Meyiwa's Love Life Has Had Its Fair Share Of Controversy
In terms of her love life, Mandisa received permission from Senzo's family to begin dating a few years after his death. She has not, however, been publicly linked to anyone but a controversy sprouted when a woman named Neo alleged that Mandisa was cheating with her sugar daddy, just weeks before she lost her spouse.
She had to make this revelation because she assumed she was the only woman in his life after his wife, thus she was crushed when the man told her he was having an affair with Mkhize.
Mandisa claimed she knew the man in question when asked about the alleged affair, but not in the way the woman claimed. She went on to say that it was none of Neo's concern if she was having an affair with the businessman.
The alleged sugar daddy stated that he and Mandisa had a business relationship, but he refused to give any details when asked about the affair. Many people were taken aback by the allegation, as they had always assumed she was the one who had been harmed in her relationship with Senzo, despite the fact that nothing in the claim had been shown to be genuine.
Mandisa Is Doing Pretty Well As A Single Mum
Mandisa Meyiwa went through so much in 2014, from a tumultuous marriage to her husband's untimely death, that it was impossible for many to put the pieces together. However, despite her private life, Mandisa appears to have a pleasant and positive mood based on her social media photographs. As a single mother, she continues to raise her daughter Namhla Meyiwa who is fondly called Nana.
More so, since her husband died, she has had to deal with a lot from the media, including constant probing into her and her daughter's lives, but none of this has dulled her radiance. She has also maintained a positive relationship with her late husband's family.
Mandisa received continuing support from the late soccer star's family, particularly his father Sam Meyiwa until his demise in 2019. Sam was adamantly opposed to his son's extramarital affair with Kelly from the start, and after his son died, he refused to let her attend the burial.