Marcus Rosner is not one of those celebrities who accidentally stumbled upon fame. Like most of his colleagues, he has trod the rocky path to fame after a life-changing trip to New York City with his mother. Since then, the hunk has accumulated a plethora of acting credits on both the small and big screens. Discover lesser-known facts about the talented and charming Hollywood star.
Marcus Rosner – Bio, Age
The Canadian actor was born on August 10, 1989. There is a scarcity of information about Rosner's parents and family, but it is common knowledge that he is a native of British Columbia but was raised in a suburban town in Alberta. More so, nothing is known about Rosner's father and it is believed that his mother had him when she was only a teenager. Again, while it is certain that the actor was educated up to the tertiary level, the names of the schools he attended have not been disclosed.
Marcus Rosner wasn't born with a silver spoon and he once admitted that he had a really poor upbringing as his family struggled to make ends meet. Interestingly, the actor never really wanted to be an actor but nursed dreams of becoming a sports agent.
Professional Accomplishments
However, a graduation present from his mom which was a trip to New York City changed his life forever. It was after seeing his first Broadway show in NYC that Marcus began nursing the ambition of pursuing a career in the entertainment industry. The actor later relocated to Vancouver to pursue acting.
Marcus Rosner debuted on the acting scene in the year 2012 with a minor role as Doug in This American Housewife. That same year, he quickly followed up with other small screen roles such as Ty in Joey Dakota, Richard Armstrong in The Secret Circle as well as Max Fuller in CW's Arrow. He has also appeared in some other hit TV series like Untold Stories of the ER (2013), Girlfriends' Guide to Divorce (2014), Supernatural (2014), ABC's Once Upon a Time (2014), When Calls the Heart (2015), and more recently in Lifetime's critically-acclaimed UnREAL.
On the big screen, Rosner is also recognized for appearing in several Hallmark movies including Garage Sale Mystery: All That Glitters (2014), A Christmas Detour (2015), Summer of Dreams, Appetite for Love, Autumn In the Vineyard, Appetite for Love all in 2016, Christmas In Evergreen, A Harvest Wedding, and Summer in the Vineyard, Framed For Murder: A Fixer Upper Mystery, all in 2017, and Valentine in the Vineyard (2019). The Canadian actor's other screen features include the 2015 movies Tomorrowland and Ghost Unit, as well as The Killer Downstairs (2019).
Net Worth
In less than a decade, the British Columbia native has accumulated a plethora of screen credits under his belt. Rosner's hard work and industry efforts have undoubtedly yielded financial rewards. While the talented actor's exact salary and net worth are unknown, he is believed to have earned a decent financial portfolio. More so, going by his prolific rise in the industry in a short time, Marcus Rosner's value is expected to progressively increase in the nearest future.
Partner or Wife If Married
Since Marcus Rosner came into the limelight, many have been curious to know about his love life. But the Hollywood hunk apparently prefers to keep details of his personal life under wraps. Besides his onscreen roles, the talented and charming actor has so far not been romantically linked to anyone.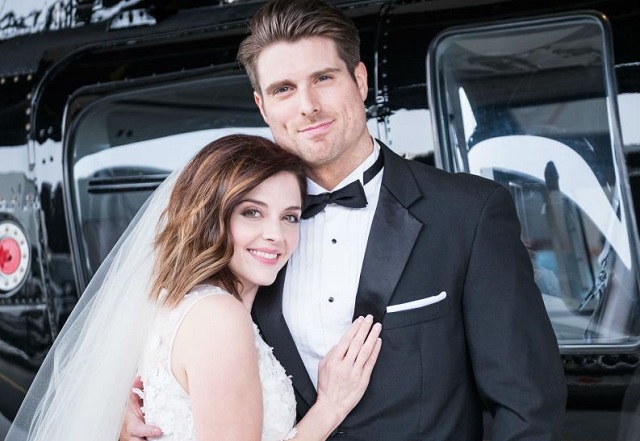 The only inkling fans have gotten into Marcus Rosner's love life was in October 2017, when he baited many on the internet with a photo of himself and a mystery woman kissing at an event. Interestingly, the sweet photo caption did not also help in solving the mystery surrounding the nature of their relationship. Other than that, nothing else is known to the public about Marcus's love life. Thus, it is safe to say he has never been married and is sans kids until proven otherwise.
See Also: Shia Labeouf – Bio, Height, Age, Wife, Net Worth, Wiki, Girlfriend, Father
Other Facts About Marcus Rosner
The charming actor has impressive physical features. Marcus Rosner towers at a height of 6 feet 0 inch. On the other hand, his weight and other body measurements have not been disclosed. But going by his look, it is safe to say the actor has maintained a good physique over the years.
Marcus Rosner has a very active social media life. While he may not be present on all popular social networking sites, the actor has amassed a huge following on Instagram and Twitter.
Though Marcus Rosner currently lives in Vancouver, he spends most of his time shuttling between Toronto and Los Angeles for work.