Marcus Smart is a uniquely tough-minded player and a versatile guard who plays for the Boston Celtics. The NBA star boasts of unique skills and an intensity that only a few can rival as evidenced by his output on the basketball court. His story could however have easily gone the other way.
Though initially geared towards street life, Marcus made a life-changing decision and channeled his aggression into football and then basketball. He soon emerged as a star player but a deep personal loss threatened to derail his progress. Fortunately, he was able to rise above this to blossom into a well-respected college basketball player and one of the NBA's most humble stars.
Making his Mark at the University of Oklahoma
A Texas native, Marcus Smart was born on 6th March 1994, in Flower Mound. He began exhibiting athletic interest and skills from a young age, especially in football and basketball. Marcus Smart started making headlines at Edward S. Marcus High School following his outstanding performances with the school's basketball team. Not only did he lead the school to two 5A state championships, but his amazing three-season records also made him one of the best players in the state.
The sensational player carried this on into college where he played basketball for the University of Oklahoma. During his two seasons there, he played 64 games for the Cowboys and averaged 16.6 points, 5.9 rebounds, and 4.5 assists. More so, in the year 2013, he was named Big 12 Player of the Year as well as the USBWA National Freshman of the Year. Smart thereafter went straight to the big leagues in 2014. He was selected with the 6th overall pick by the Boston Celtics during that year's NBA draft.
Marcus Smart's Rising Valuation in the NBA
Marcus Smart joined the Boston Celtics after signing a two-year contract worth $6.71 million. Since then, he has had his contract with the franchise extended with the latest being a four-year $52 million contract signed in June 2018. Under the deal, he receives an annual salary of $13 million.
The player, however, stands to make much more in the future as his consistent improvements have made many analysts value him at about $22 million per annum. It, therefore, means that the Celtics are getting him at a cheap rate for now and would be eager to give him a new and improved deal in order to secure his services for the future.
Breaking Down His Fantastic Combination of Offensive and Defensive Skills
As stated above, Marcus Smart has during his time with the Celtics shown consistent improvement. This has endeared him to fans of the franchise as well as sports analysts who fall over themselves in an attempt to find the perfect superlative with which to describe him. Some have hailed him as the heart and soul of the Celtics team while others have described him as one of the best defenders in the league.
Such a glowing reputation is undoubtedly due to the player's unique combination of excellent offense and defensive acumen. When it comes to the defensive aspect of the game, the Texas native is quite feisty and simply makes life unbearable for the ball handlers. He bodies and bumps them up much like a linebacker for an NFL team. This makes him a terror for the opposition side whilst creating space for his teammates to operate in the wings.
Offense-wise, Marcus Smart is also not doing shabbily at all. Even though he started out on a poor footing and went on to garner a reputation as one of the worst 3-point shooters in the NBA history, he has since made amends on that score and has improved his shooting percentage from a lowly 25.3 in 2015 to 37.3 in 2019.
Marcus Smart Found Hope in the Midst of Painful Personal Losses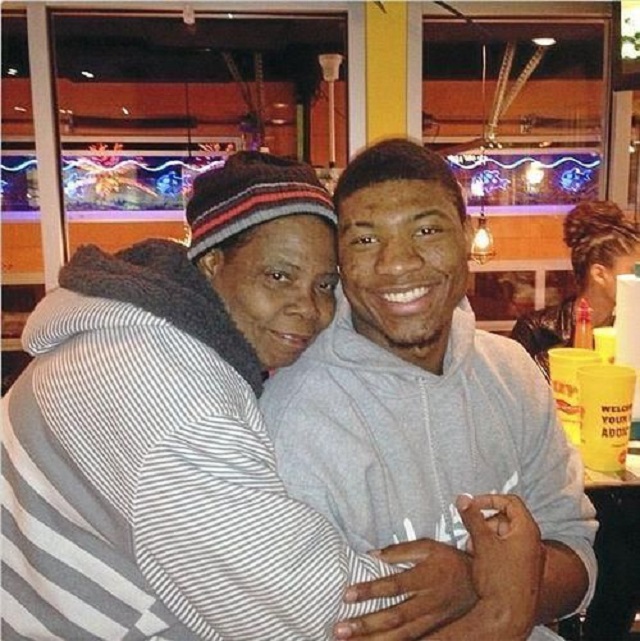 Marcus Smart is the youngest of four sons of Camellia Smart. He has three older brothers; Todd and Jeff Westbrook from his mother's previous relationship and Michael Smart with whom he shares the same father, Billy Frank Smart. Though bred in a close-knit family, Marcus had troubled years as a youngster.
Growing up in their south of Dallas neighborhood, he was almost headed towards the gangster life before a drastic change occurred during his teenage years.
The Death of His Oldest Brother Set Him Straight
In the year 2004, Marcus Smart's family suffered a tragic loss following the death of Todd at the age of 33. Todd passed away after an 18-year-long battle with cancer and his death was a big blow to the entire family. Before his demise, he was the family's backbone as well as a second father figure to Marcus and Michael. His death, therefore, had a profound impact on the former who now plays in his honor.
The Celtics star believes that his late brother is watching over him and guiding him through his basketball career. In fact, just like each of his other brothers did in high school, Smart wore No. 3 throughout his early playing career and also got his first tattoo in honor of Todd. He had planned to continue wearing the No. 3 at Oklahoma State, but it was unavailable and so he chose No. 33 signifying Todd's age at death.
The Demise of Marcus Smart's Beloved Mother
I love you, Mom. pic.twitter.com/kmpyBlsJnP

— marcus smart (@smart_MS3) September 18, 2018
Another loss that Marcus Smart has had to contend with in recent years was the passage of his dearly beloved mother, Camelia. For years, he and his brothers idolized her as a wonder woman and the heart of the family. They did everything in their power to make her proud of them and she remained their backbone. For instance, she frequently attended Marcus' games and often sent him messages during half time to calm him down. All these tender loving care however ground to a halt after she passed away from cancer in September 2018.
The death predictably devastated Marcus and he left a heartfelt tribute on Twitter. Since then, the point guard/shooting guard has forged on with his life but still misses his mom dearly. According to him, he finds it difficult to sleep at night as his mind is filled up with thoughts of his mother. He has therefore taken to practicing in the wee hours of the day as some form of coping mechanism. Such solo early morning workouts present the player with the opportunity to grieve on his own. It also gives him the chance to voice his love for his mother which keeps her memory alive.