When two people in a relationship are in the same line of work, it is not uncommon to compare the success they have had in their individual careers. Mariqueen Maandig is someone who has found herself in this situation as she is married to the lead vocalist of the Nine Inch Nails industrial rock band, Trent Reznor.
As the wife of a very successful musician, comparisons of her success to that of her husband are bound to happen. The comparison, however, might not be fair to her seeing that Trent has been in the music business for a much longer period than his wife. His career began in 1982 when Mariqueen was just a year old. As a result of this, he has had more time to build his career as a notable musician, collaborating with a number of other bands and artists, winning major awards, and amassing a net worth estimated to be around $80 million.
So What Is Mariqueen Maandig's Worth?
Music has been the mainstay of Mariqueen Maandig's source of wealth and her net worth is speculated to be between $100K – $1 million.
Meanwhile, her husband has made quite a fortune from his music and other business ventures. He is known to be the chief creative officer of Project Daisy – a Beats Electronic music subscription service that brings an extra income to him.
Mariqueen Maandig and Trent Reznor's Marriage is Shrouded in Mystery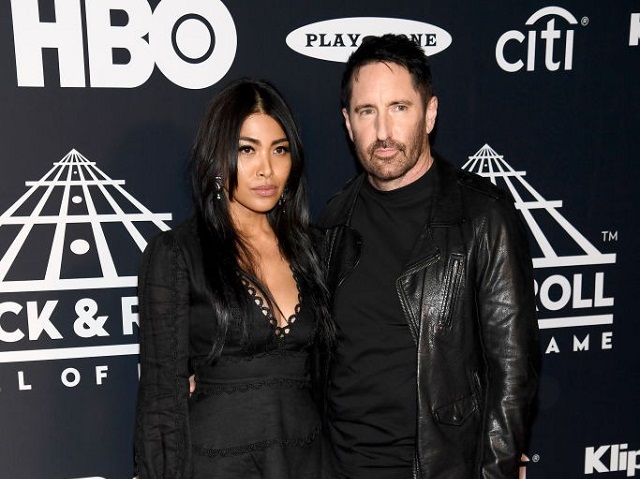 Mariqueen Maandig and her husband Trent Reznor live tranquil lives and are notoriously private people, so much so that the details of how they met have remained a secret. However, in a 2010 interview with People magazine when she was asked about how she met Reznor, Mariqueen only revealed that the circumstances of their meeting were very unusual.
The duration of the duo's relationship before they got married is also not known as it is not clear when they began dating. They, however, exchanged marital vows on October 17th, 2009. The couple had announced their engagement in May of the same year but made no revelations on the actual date the wedding would hold.
The news of the wedding did not come from either of the members of the couple but from their mutual friend Danny Lohner, a producer who has worked with both of them. He had tweeted about attending a wedding earlier in the day and towards the end of that day, he tweeted a picture of the two slow dancing. Trent Vanegas, a blogger famous for his website 'Pink is the New Blog' was one of the guests in attendance and he posted pictures of the couple on his blog.
The Couple Have A Brood of Five Children
Mariqueen Maandig and Trent wasted no time in starting a family. Exactly a year after their wedding, the couple had their first child, Lazarus Echo. He was born on the 10th of October, 2010. The following year in December, Balthazar Venn was born.
The couple waited for four years before having their next child in November of 2015. While the name of their third child is not known, their fourth, Nova Lux, was born in 2016 while their fifth child was born in January of 2020. The family lives in a $16 million house in Brentwood, Los Angeles.
Mariqueen Maandig is a Strong Vocalist Like Her Husband
Trent Reznor is known as not just the founder of the Nine Inch Nails band but also as their lead vocalist and principal songwriter. His wife Mariqueen has also served in these same capacities in some of the bands she has played on.
With her talent being a dead giveaway, the singer did not need to search for bands to join in the early days of her career. One of her friends, who could tell that she had a promising future in music and wanted to help her succeed, connected her with a friend who happened to be the bassist of West Indian Girl, a psychedelic indie-rock band in Los Angeles. She introduced Mariqueen to the bassist and the rest was history.
Mariqueen Maandig says that when she met the bassist she was very bold, telling the band that they needed her. It would appear that her meeting with the West Indian Girl band coincided with the removal of a singer from the band; this was how the singer managed to become a member of the band.
Mariqueen joined the band in 2004, the same year it was created, and was a member for five years before making her exit in 2009. She provided vocals for the group's debut eponymous album in 2004 and their subsequent Remix EP released in 2006. On the band's second album titled 4th & Wall, she also provided vocals.
Before the release of their next album, Mariqueen made her exit from West Indian Girl. In the same year that she left the band, she was featured in the January edition of that year's Playboy Magazine as the "Becoming Attraction" girl of the month.
She Has Since Been a Member of More Than One Band and Has Collaborated With Other Artists
After leaving West Indian Girl, Mariqueen Maandig and her husband joined forced to create the group, How To Destroy Angels, in 2010. Other members of the band were Atticus Ross and Rob Sheridan. The former is a member of Nine Inch Nails while the latter has worked with the same band on some projects.
How To Destroy Angels has released one studio album and 2 EPs. Their album, Welcome Oblivion, was released three years after the band's creation and came after the 2 EPs. It peaked at number 30 on the US Billboard chart and number 2 on the US Electronic chart. The band's first body of work was the EP How to Destroy Angels which was released on the 1st of June, 2010. It peaked at number 8 on the US Electronic charts. Their next EP, An Omen EP,  was more successful as it peaked at number 1 on the US Electronic charts.
In the course of her career in music, Mariqueen Maandig has also worked with a number of artists such as BAO, where she was a guest vocalist on two songs from his band.