Life, they say, is full of ups and downs and this is absolutely true. The interesting thing is, no human being alive is free from experiencing the vicissitudes of life as we all are condemned to face our own adversities at one time or another whether we are rich or poor, high and mighty or lowly. Yes, no one, not even celebrities like Mark Ruffalo, can escape these ups and downs.
If you are an avid fan of Hollywood movies, especially Marvel superhero films, then you must have heard of Mark Ruffalo. The American actor who is often thought of as one of the truly versatile movie stars in America has won so many awards for his works and endeared himself to many fans around the world. Apparently, he has had a great career laced with loads of accolades but he has also had to face a lot of tragedies in his personal life.
Mark Ruffalo's Fair Share Of Life's V

icissitude

s

Since rising to stardom and even before that, Mark Ruffalo has suffered a number of tragic occurrences in his life which have oftentimes left him downcast but have not wiped out his enthusiasm for life and work. Beginning from his childhood, Mark Ruffalo suffered a number of both mild and life-threatening health conditions.
Struggles During His Childhood
Mark Ruffalo was born on the 22nd day of November 1967, in Kenosha, Wisconsin, USA, to a father called Frank Lawrence Ruffalo Jr and a mother identified as Marie Rose. His father worked as a painter in a construction company while his mother was a hairdresser and stylist.
Ruffalo has often said that he was a 'happy kid' during his childhood, however, it has been revealed that he actually battled with dyslexia and Attention Deficiency Disorders as a child. These conditions were undiagnosed and he continued to suffer from them till he was a young adult.
The Brain Tumour
In 2001, Mark Ruffalo was diagnosed with a type of brain tumour known as vestibular schwannoma or acoustic neuroma. The interesting thing is that he actually dreamt about having a brain tumour before he even knew he had it.
After having the dream, he decided to get tested and doctors confirmed he did have a tumour on his brain. Ruffalo was scared and did not tell any family member for weeks after his diagnosis for fear of frightening or stressing them out.
Eventually, he told them and then went for surgery. Ruffalo thought he was surely going to die but the surgery turned out to be successful. However, it left one side of his face paralyzed for some time. Luckily for him after one year, the paralysis subsided.
The Threat of Deafness
The surgery carried out on Mark Ruffalo to cut out his brain tumour left him deaf. The operation affected his hearing and for some time he could not hear anything.
Eventually, he regained his hearing ability but only in one ear. At the moment, Mark Ruffalo is still deaf in his left ear but is hoping that the ear opens up soon.
Ruffalo's Brother Was Shot Mysteriously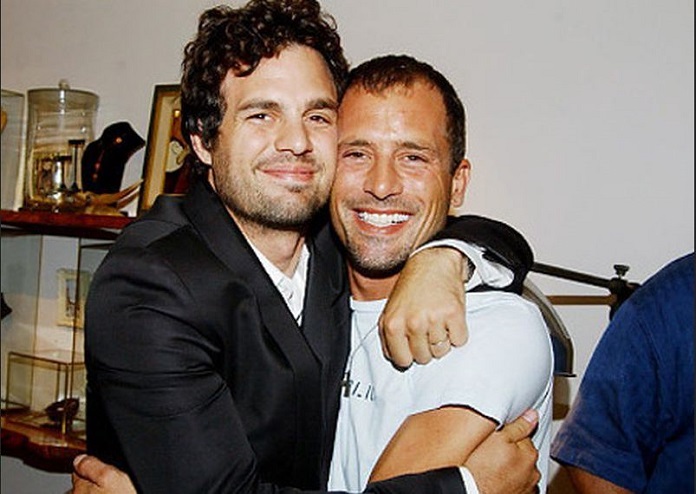 As if Mark Ruffalo's troubles with brain tumour and deafness were not enough, the actor suffered another tragedy in 2008. This time, it was his brother, Scott Ruffalo that was involved.
In December, Mark's brother, Scott was found lying helpless outside his house with a bullet wound to his head. Scott was quickly taken to the hospital to seek medical attention. However, he died one week after the shooting.
Mark Ruffalo was devastated, especially because he shared a close bond with his brother. At the moment, Scott's murder still remains unsolved.
He Has An Incredible Family Providing Warm Support
Mark Ruffalo has an awesome family which is quite close-knit and very supportive. His family, according to him, has been his backbone and motivation to do what he does.
After his battle with the brain tumour, Ruffalo explained in several interviews that he suddenly realized that nothing is worth more than family. Family, in the end, is all he has got.
Ruffalo and his family now live in Manhattan.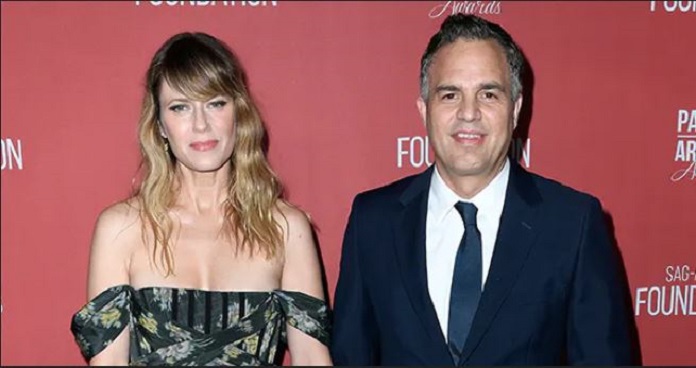 Ruffalo's Wife Is Also A Movie Star
Mark Ruffalo has been married to French-American actress Sunrise Coignery since 2000. The couple met in 1998 when Mark Ruffalo was living in a ramshackle apartment without a credit card or a driver's license. She believed in him anyway and agreed to date him.
He recalls how Sunrise turned him down the first time he proposed and then accepted when he summoned up the courage to ask again.
She was born in San Francisco in 1972 and is famous for roles she played in movies like Campfire Stories in 2001 and The Cut in 2003.
Read Also: Who Is Zoe Saldana Husband, Kids, Parents, Ethnicity (Race)
Who Are Their Kids?
The couple has 3 kids together. A son, Keen, born in June 2001 – who has followed in the footsteps of his parents and appeared with his dad in the movie Begin Again in 2013. His first daughter Bella was born in April 2005 and lastly, another daughter Odette was born in 2007.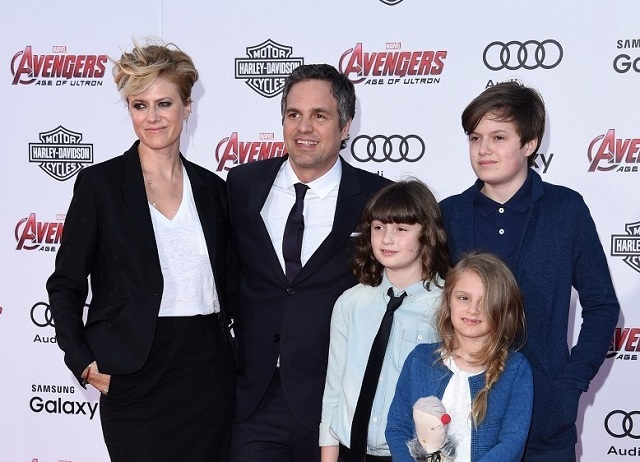 Mark Ruffalo revealed that his kids also shot a scene in the 2017 Thor: Ragnarok. It seems likely that they too will all be considering a career in acting like their parents.
Mark Ruffalo's Path To Global Stardom
Mark Ruffalo's path to superstardom wasn't a rosy one. He didn't become a star in one day. From his first appearance on the big screen in 1989 CBS Summer Playhouse, he spent most of the early part of his career playing minor roles in movies.
Eventually, he gained his first entry into widespread fame when he starred in You Can Count On Me, a 2000 film. He would go on to star in other talked-about movies like 13 Going on 30 (2004) the thrillers Zodiac (2007) and Shutter Island (2010).
The Bruce Banner/Hulk Roles
Mark Ruffalo's biggest work so far which has gained him international stardom is the role he played as Bruce Banner/Hulk in the Marvel Cinematic Universe superhero films. His incredible portrayal of the Bruce Banner character has endeared him to so many superhero fans.
Many fans think no one plays or has ever played Bruce Barner/The Incredible Hulk character in the Marvel series like Mark Ruffalo. He completely nailed it in 2012's The Avengers when he replaced actor Edward Norton to play the role of the soft-spoken Barner and the Hulk.
After starring in The Avengers (2012), Mark Ruffalo has gone on to reprise his role in other superhero films, including Avengers: Age of Ultron (2015), Thor: Ragnarok (2017), Avengers: Infinity War (2018), and Avengers: Endgame (2019).
Today, despite his partial deafness and the troubles he suffered from a brain tumour, Mark Ruffalo continues to work hard and provide fans with his enjoyable work onscreen.