Maroon 5 is a sensational music band which is known for hit songs like; She Will Be Loved, This Love and Girls Like You. They have to their credit 6 studio albums since inception in 2002. The pop band has been nominated for 11 Grammy awards, of which they claimed 3 of such including other numerous awards like The American Music Awards, The People's Choice Awards, and The Billboard Awards to mention but a few.
Their albums have been certified both gold and silver platinum and their lead singer is Adam Levine. Over 20 years ago, in a garage, Adam and his high schools' buddies gathered to form a group called Kara's Flowers; named after a girl they had a collective crush on back in high school.
The band got disbanded after their first failed outings in 1998 to the chagrin of all. However in 2000, after quality expositions, they regrouped, changed their name to "Maroon 5", and got their first breakthrough album which was inspired by the breakup of Adam Levine with his first love, Jane Herman.
The album was released by the Octone Records in 2002 and included a mixture of pop, rock, and soul. The album earned them their first platinum in 2004 and 2 Grammy Awards and sold over 8 million copies.
Maroon 5 Information and Members Profile
The group was originally a 5-member band but has grown to 7 members in recent times and they are Adam Levine, Jesse Carmichael, Mickey Madden, Ryan Dusick (who left later due to the severe wrist and shoulder injuries), James Valentine, Matt Flynn, PJ Morton doubles as vocal support and the versatile instrumentalist, Sam Farrar.
Here are a few facts about each of them:
Adam Levine – Lead Vocalist and Guitarist
Adam Noah Levine was born in Los Angeles on the 18th of March 1979. Adam is a singer, songwriter, actor, voice coach, and Activitist. He said his mum's music idols (such as the Beatles and Fleetwood Mac) greatly influenced is choice and style of music.
He attended the Brentwood High School along with Jesse and Mickey, later proceeded to Five Towns College with Jesse for further studies but ended up quitting. Adam married the beautiful Namibian model, Behati Prinsloo in Mexico in July 2014. He is 5 feet 11 inches tall with an estimated net worth of about $50 million.
Jesse Carmichael – Rhythmic Guitarist and Keyboardist
Jesse Royal Carmichael is an American songwriter and keyboardist for the rock and pop band. He was part of the original Kara's Flowers. He was born in Boulder, Colorado on the 2nd of April, 1979.
He attended the Five Towns College in Long Island, New York along with Adam Levine before they both quit school 2 years later, with their new found inspiration in music. They went back to California, where they met up with other former Kara Flowers crew members and compiled their songs together.
Jesse also took two years away from the group in 2012 to study more of spiritual healing arts and music during which time, he released his 4 EPs. He returned back in time to Maroon 5, for the 5th studio production of V in 2014.
He is married Tara Lankford with whom he has a son and he is 5 ft 11 inches tall. He is estimated to be worth $4 million.
Mickey Madden – Bass Guitarist
Mickey Allen Madden is the bass guitarist of the Maroon 5 band and he was born in Austin, Texas on the 13th of May 1979. He started playing musical instruments in high school along with Adam Levine and Jesse Carmichael and he is an original Maroon 5 member from the defunct Kara's Flowers.
Mickey after their failed first attempt in music went to the University of California, Los Angeles. He is widely known as a vegetarian and animal protection advocate. He is 5 ft 8 in tall and has been in at least 3 known relationships with Zooey Deschanel, Hailey Gates, and Niki Takesh.
He is still very much unmarried. Furthermore, he was caught with cocaine in 2016 which led to him doing community service. He is not a social media person.
James Valentine – Lead Guitarist
James Burgon Valentine is an exceptionally talented musician, composer, songwriter, and instrumentalists; born on the 5th of October, 1978 in Lincoln, Nebraska. He became the Maroon 5 member on the invitation of the band to him in 2001. He was formerly a member of the group called Square.
The multi-talented musician, not only plays just for Maroon 5 but for other bands like the JJAMZ band – an Indie pop band. James attended the Lincoln Southeast High School where he exhibited his mastery for various instruments which got him, a number of high profile music scholarships of which he picked the University of Nebraska, Lincoln.
He proceeded to the music school, Berklee College where he met John Mayer who eventually gave the Maroon 5 the springboard to their fame. Moreso, he has been a recipient of many awards and his net worth is estimated to be $4 million. He is the secret weapon of Maroon 5.
PJ Morton – Keyboardist/Backing Vocalist
PJ Morton was born on the 29th of March 1981 in New Orleans, Louisiana. He is a renowned singer, songwriter, record producer and musician who have written some songs for prominent award-winning artists like LL Cool J, India Arie and he has also collaborated with Young Money Cash Money Billionaires (YMCMB) and he is signed on the Lil Wayne label.
Morton was a student of St. Augustine High School and he read Marketing in Morehouse College, where he graduated in 2003. He has been awarded the Dove and Stellar awards for his songwriting prowess. He joined the Maroon 5 members in 2010, and he is currently married to Kortni Morton. He is estimated to be worth $2 million.
Matt Flynn – Drummer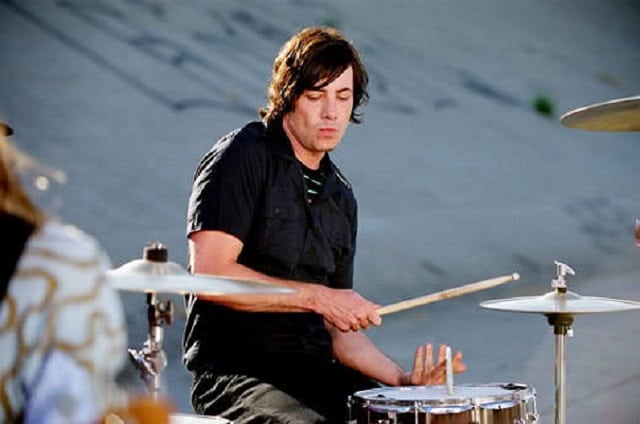 Matthew Flynn was born on the 23rd May 1970 in Woodstock, New York. He is the man who replaced the seriously injured former drummer Ryan Dusick of the Maroon 5, in 2006. He is a drummer and record producer.
He attended the Gunn High School and exhibited his skill in the high school talent show where he was third runners-up. Matt after his high school graduation proceeded to the San Diego State University for further studies. He has played for other bands like the B-52's, Chicago, Gavin DeGraw, and Gandhi before he officially became a full member of the Maroon 5 in 2006, even though he contributed to the making of the first album of the group in 2004.
Matt Flynn was happily married in 2007 to Heidi Ford and the couples have 2 kids with a net worth of $1.5 million. He is said to be as tall as 6 ft.
Sam Farrar – Multi-Talented Instrumentalist
Samuel John Farrar was born on the 29th June 1978 in Los Angeles, California. He joined the Maroon 5 on their tours in 2012 and he was officially made a full member in 2016.
He went to The Buckley School and graduated from the Pitzer College after his studies. Sam Farrar is a versatile instrumentalist who plays several musical instruments. He has contributed to the band's songs since the 1990s.
Prior to joining Maroon 5, he played for other groups like Phantom Planet, Planetshakers, Operation Aloha, Jasmine Ash, etc. Sam is currently married to Stephanie Eitel, they have two children together. He is said to be worth about $8 million right now and he is 6 feet 2 inches tall.
Read Also: Josh Turner Wife, Kids, Family, Age, Net Worth, Height, Biography
Here's Why Adam Levine Is The Only Famous One
Adam Levine has stood out of the Maroon 5 band not only as the frontman but also because of his versatility outside the band. He made two TV comedy appearances on Saturday Night Live and Night of Too Many Stars in 2007. He was a judge/coach in The Voice reality TV show and won in 3 seasons. He starred a role on American Horror Story TV series.
Adam's handsomeness has made him an international sex symbol, he was even named as People's Magazine's Sexiest Man Alive in 2013. His high tenor voice dictates the style of the band, giving it a uniqueness blend and his onstage charisma really kills it. He is no doubt the most outstanding member of the band for the reasons stated above.