Marshawn Lynch, known for his distinguishing running style has continued to live up to the expectation of stakeholders over the years of his professional career. The American football running back plays for the Oakland Raiders which he joined in the year 2017. In the course of his professional career, Lynch has had his presence felt in various teams in the National Football League (NFL) and has also garnered lots of recognition and accolades for his impeccable skills.
The NFL player who has recorded great achievements in the game earned himself the nickname 'Beast Mode' – a name which has become a brand. There is so much more to know about Lynch apart from his professional career. Here are lesser-known facts about the renowned NFL player.
Who is Marshawn Lynch and How Old is He?
He was born Marshawn Terrell Lynch on April 2, 1986, to his parents in Oakland, California. Not much is known about his father but Lynch grew up in Oakland with his mother, Delisa who raised him along with his three older siblings. Sports may have been a matter of heredity for the running back whose mother was very active in track while in high school. Lynch attended Oakland Technical High School where his inclination towards the game of football started to manifest.
It is important to note that Lynch was an all-rounder who made impressive records in basketball, track, wrestling, and of course football. His football records include his 1,722 rushing yards and 23 touchdowns in just eight season games, which was just as impressive as his 375 rushing yards and 10 touchdowns in two postseason games. Marshawn's skills in high school made him very popular among his counterparts and caused him to play different positions including as a quarterback, wide receiver and linebacker. His team truly felt him wholly.
After a successful high school stint, Lynch proceeded to the University of California where he played for the California Golder Bears team. He became the starting running back for the team in 2005 after J.J Arrington graduated from the school. His distinguishing skills as the starting running back earned him the title of 8th best player in the nation in 2006 by Sports Illustrated. In 2007, Lynch knew he was more than ready to go pro; he opted out of his senior season to participate in that year's NFL Draft.
He was selected as the 12th overall pick in the first round by the Buffalo Bills in the 2007 NFL Draft. He became the starter running back for the Bills and recorded an impressive 1,115 rushing yards and seven touchdowns at the end of his rookie season. Lynch's 2008 season with the team ended with 1,036 rushing yards and 8 touchdowns after which he became the first running back of the Bills to head to the Pro Bowl since 2002.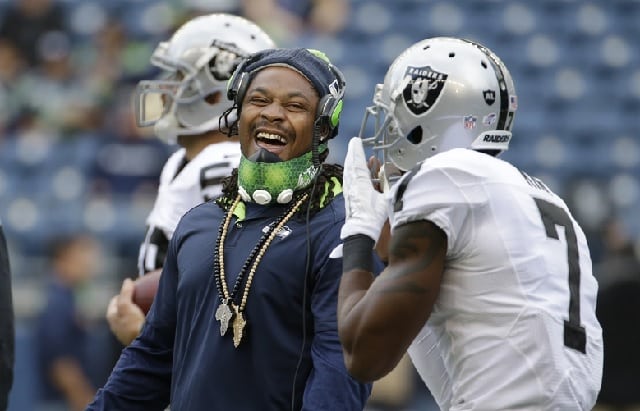 Lynch played for the Bills until 2010 when he joined the Seattle Seahawks. His time with the Seahawks came to an end in the 2015 season when he was billed to undergo a sports hernia surgery. After missing several games, he returned to the team and played in the game against the Carolina Panthers; this would be his last game with the team. He went on to announce his retirement in February 2016 but later retracted his decision. He was then traded to the Oakland Raiders in April 2017 where he signed a two-year contract worth $9 million.
Net Worth and Salary
Marshawn Lynch has garnered so much in the course of his professional career. For a player who went pro in 2007, Lynch has been elevated to a well deserved financial status which he has his impeccable skills to thank for. His $9 million deal with the Oakland Raiders saw him pocket $2,350,000 as his guarantee.
The running back sits on an estimated net worth of a whopping $30 million, which is a result of his various deals and contracts with different NFL teams. The professional football player earns an average of $5 million as his salary per year.
Personal Life – Wife and Kids
Marshawn Lynch, unlike his counterparts, is very private about his personal life, making it difficult for the curious media to dig up information about his love life. Although the NFL player has not gone public with any one of the opposite sex, it is rumoured that he is married to Charmaine Glock a former adult film actress.
See Also: Ryan Tannehill Bio, Wife Injury Stats, Height, Weight, and NFL Career
But after interviews with Glock, she revealed that they are not married and do not have a child together. Lynch is also rumoured to be in a relationship with Netta Brielle, an RnB singer.
Body Measurements – Height and Weight
Marshawn Lynch has got a good body build that suits his daunting career. He may not be the tallest in the sports but has all the height he needs to run over defenders. The distinguished running back stands at a height of 5 feet 11 inches (1.80 m) which is quite proportional to his weight of 98 kg (215 lbs).