From the moment Kristy McNichol began her acting journey with appearances in ads, it was apparent she was headed straight for the top. The top, in this case, refers not only to her acting career but also earning potentials. Acting has always been considered very financially rewarding in the United States and has helped Kristy McNichol to garner her substantial net worth.
Kristy McNichol's eventual ascent into superstardom meant her earning power significantly increased. Thus, ensuring that by the time she walked away from acting in 2001, she was financially set, having built a decent net worth.
Kristy McNichol's Big Break In The Acting Circle
Kristy McNichol first began making her mark on the acting scene as a TV actor. After appearing in a small role in the TV series, Love, American Style, she got her first breakthrough role in 1974.
She later bagged the chance to play Patricia Apple in the series, Apple's Way. Kristy played this role in 15 episodes and the show ran for a year. After this, she guest-starred in multiple other series such as ABC Afterschool Special, Starsky & Hutch, The Bionic Women, and Sara.
The biggest opening of her career then duly arrived. In 1976, she began playing the role of Letitia 'Buddy' Lawrence on the hit show Family.
The role catapulted to stardom and put her on the road to earning the big bucks as a teenager. She was initially paid $7,500 per episode for her performance in the series. It went on for a year until it was reviewed and doubled to $15,000 per episode.
She played this role from 1976 to 1980, which means for four years, Kristy McNichol was earning top dollar. She also won two Emmys for her role as Buddy Lawrence in the series.
Film Appearances Were A Prominent Source Of Income For Kristy
As mentioned earlier, Kristy McNichol began making her name as a TV actress. However, after hitting it big time in 1976, she began her sojourn into movies. Her first involvement, however, ended sadly.
Having made an appearance in the film, Black Sunday, it seemed this would finally be her movie debut. Her scenes were, however, cut out. Her debut eventually arrived when she starred alongside Burt Reynolds and Sally Field in the comedy, The End.
A bonafide TV star in her own right, her movie breakthrough came in 1980. She starred in the coming-of-age film, Little Darlings. Her performance earned rave reviews from critics and the movie was a hit at the box office. It also established her as a movie star.
It, therefore, did not come as a surprise when she became the first teenager in Hollywood to earn a six-figure salary. The record-breaking pay was for her role in the movie, The Night the Lights Went Out in Georgia. She starred opposite Dennis Quaid and Mark Hamill. The film, however, achieved modest success at the box office.
She Also Earned Money From Music
Although the bulk of her net worth comes from her earnings as an actress, Kristy McNichol had a moment as a musician and performed with her brother, Jimmy McNichol. This endeavour also earned her a rewarding amount of money.
In 1978, she collaborated with Jimmy and released an album named Kristy and Jimmy McNichol for RCA records. They subsequently promoted the album at a Studio 54 discotheque with other celebrities in New York. They also appeared on a special episode of The Carpenters in 1978.
McNichol Is A Real Estate Investor Too
Kristy McNichol made some initial financial investments in the past that affected her finances. After seemingly bouncing back, she has invested in real estate and properties. In 1992, she listed one of her properties for sale at an asking price of $975,000.
Kristy McNichol Has A Net Worth Of $4 Million
Kristy McNichol walked away from acting as a profession officially in 2001. The last time she appeared on our screens in an acting role was in 1998. Despite such a long hiatus from the movie industry, her net worth still stands at an impressive $4 million, as of August 2020. She garnered the remarkable fortune, primarily as an actor.
At the peak of her career, she earned big bucks for her acting performances and was one of the highest-paid female actors in the world. Some of her most notable works include the movies Little Darlings, The Night the Lights Went Out in Georgia, Just the Way You Are, Love, Mary, and Women of Valour. She also racked up 100 episodes during a 7-year stint as Barbara Weston in the series, Empty Nest.
Some of her best performing movies at the box office include: The Night the Lights Went Out in Georgia ($14 million), Only When I Laugh ($25 million), and Little Darlings ($34 million). She still earns royalties from some of her involvements on TV shows, and she is rewarded handsomely to date.
She Has Been Dating Martie Allen For More Than Three Decades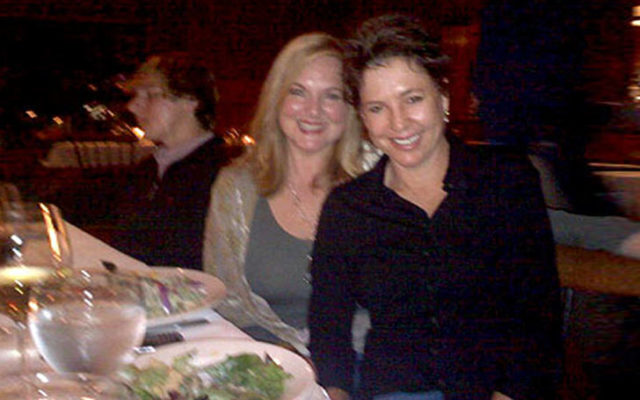 Throughout her career in the spotlight, Kristy McNichol faced numerous speculations regarding her sexuality. The media speculated on the possibility that she is a lesbian. Priding herself on her privacy and silence, Kristy neither confirmed nor denied these speculations.
Eleven years after she quit acting, Kristy McNichol finally came out to the world as a lesbian in 2012. She claimed she decided to show solidarity to bullied people with the hope that it would show them they were not so different or alone.
Her partner is Martie Allen and they have been together for 29 years, having begun their relationship in 1991. They met each other as Martie Allen was trying to establish herself in the acting industry as well. Unable to succeed, she quit.
Not much else is known about her as, like her partner, she is big on privacy. Neither Kristy McNichol nor Martie Allen is on any social media platform. They are both prominent LGBTQ+ personalities and do their best to support the community. Beyond that, we know very little about Allen's life, but the couple lives in Los Angeles, California.
Martie Is Not Her First Love
Although she is the one who has lasted the longest, Martie Allen is not Kristy McNichol's first partner. She was previously involved with Elisabeth Brooks before they separated. Elisabeth Brooks is, however, late as she died of brain cancer on September 7, 1997, four days before McNichol's 35th birthday.