Back in 2006 when Mary Bruce joined ABC News as a lowly desk reporter, she never thought that she would make anything out of that. For her, the job was meant to be a stepping stone to other horizons, however, the reverse turned out to be the case. By a sheer combination of fate, high level of professionalism, perseverance, and extraordinary work ethics, Bruce has grown to become one of the most recognizable and trusted personalities on the network.
She was among the crop of journalists who provided riveting and gripping coverage of the hotly-contested and highly-divisive 2016 American Presidential elections. She has also has provided viewers with a front-row seat to all the disputes that have gone down between the Trump administration and the democratic-controlled congress ever since the administration commenced. This is thanks to her present role as ABC's senior congressional correspondent.
How Mary Bruce Got Into The Media Industry – And Stayed There
Mary Bruce was born in the 1990s in the American capital of Washington D.C. Her actual year of birth is not known but she celebrates her birthday on the 23rd of May. The paucity of available information about Mary Bruce's background also extends to details such as her early life, family background, or high school attended. It is however known that her family has strong roots in Washington D.C. and that she has at least one sister that she loves very much.
As a child, Mary Bruce dreamt of traveling across the globe. She longed for adventure -discovering fascinating facts about humanity – and this inspired her to study for a degree in History and Spanish from Washington University, St. Louis. She graduated in 2005 and promptly delved into the job market, landing her first gig with an industry publication that covered the issue of health care legislation and the pharmaceutical industry. This job lasted for about one year and two months and served as a pivotal crash course for the fresh college grad.
Mary Bruce became staff a member of ABC News Bureau, Washington D.C., in October 2006. She joined the organization as a desk assistant and spent exactly one year in this very role. Even though her position mostly comprised of grunt work such as answering phones, running scripts, and fetching coffees, Bruce still found the whole broadcast environment intoxicating. She, therefore, ditched her plans of going for her master's degree and instead enrolled in the ABC school of journalism.
Great talking with @RepCharlieDent and @jahimes about areas of (gasp) bipartisan agreement on the Hill. https://t.co/znv8HNwC09

— Mary Bruce (@marykbruce) May 1, 2017
Rising from the Position of Desk Assistant to White House Producer
Mary Bruce continued working all throughout the duration of her studies and by 2008, was promoted to serve as a segment producer for the popular Sunday morning political affairs program This Week with George Stephanopoulos. She fulfilled this role for two years during which she helped produce interviews with 2008 presidential candidates –  Barack Obama and John McCain. She was also actively involved in the production of the debates which helped the American people in making their choice.
In May 2010, Mary Bruce was promoted to the position of White House producer. In this role, she produced most of the reports that emanated from the presidential residence to the ABC studios. These reports covered the day-to-day agenda of the then-president, Barack Obama, as well as his successful re-election bid in 2012. In all, Bruce spent a total of five years at the White House during which also served as a reporter. She covered the refugee crisis in Europe, specifically Croatia and Serbia. She also reported on Pope Francis' visit to the White House as well as the historic Iran nuclear deal, both of which occurred in 2015.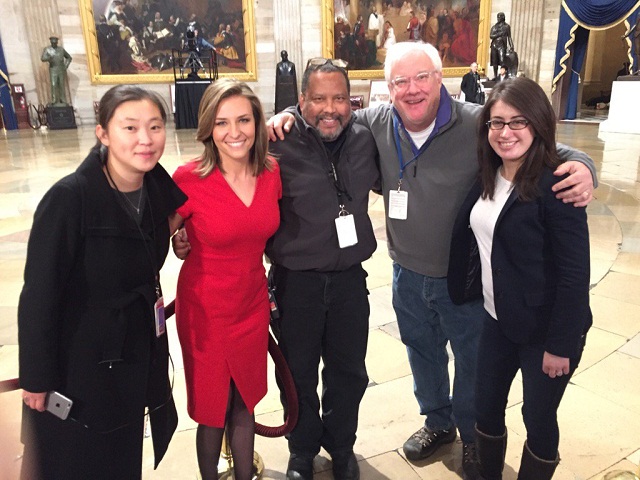 Her Strides as the Senior ABC Congressional Correspondent
As at the time when Mary Bruce made the courageous decision to abandon her grad school plans and embark on journalism school, she would have likely had doubts as to whether she was making the right decision or not. Time has however proven that her decision was the right one as she was promoted to the position of ABC senior congressional correspondent in 2017. In this role, Mary Bruce has covered all of the notable issues that have plagued the Trump presidency.
They include the investigation into Russian interference in the 2016 presidential elections, the battle for health care reforms, the failed attempts to repeal Obamacare as well as the confirmation process of Associate Justice of the US Supreme Court, Neil Gorsuch. As the battle for the soul of America hots up in 2020, Bruce has also covered the whole election build-up including controversial comments made by the two frontrunners – as well as the attendant fallouts.
Her incisive reports have been utilized on several ABC News programs such as World News Tonight with David Muir, Nightline, Good Morning America, and not forgetting the Network's live program dubbed The Briefing Room. An extraordinarily-skilled multi-platform reporter, Mary Bruce's reports have also transcended the traditional TV screens and now extends to online shows such as ABC News Digital.
She Met Her Husband in 2010 
On the TV screens, Mary Bruce exudes the utmost seriousness as a political reporter. However, off the screens, she lets her hair down in the company of the love of her life, husband – Duane Moore. The gorgeous American television personality first met Moore, a native of Alaska, in 2010. They kicked off a love affair and after two years of nurturing their relationship, Moore proposed to Mary Bruce in 2012. A year later, the pair went on to seal their love with a nuptial bond on the 12th of September.
Bruce and her husband have remained together for about seven years now and their love shows no signs of waning. They support each other in their various careers and provides a much-needed listening ear whenever one of them wants to get something heavy off their chest. Meanwhile, the party of two has since expanded to three as the couple welcomed their first child, a son named Elvis, on the 24th June 2018.
Mary took some maternity leave in order to effectively take care of her newborn. She, however, resumed work in September and has combined that with motherhood very efficiently. When she is not at work, the ABC correspondent can be found spending time with family, including her parents and sisters, or testing out new vegetarian recipes in her kitchen.