As far as internet business is concerned, Matpat remains one of the most dynamic and seasoned figures. He boasts a wealth of experience that has helped him in growing his business from one level of greatness to another. Like most successful people, MatPat started out small but today, he makes millions of dollars from his YouTube channels and reality web series.
Who is Matpat and How Old is He?
Though popularly known as MatPat, the YouTube sensation was named Matthew Robert Patrick after his birth in Medina County, Ohio, on November 15, 1986. The only child of his parents, MatPat was raised by his parents in Medina and had his high school education at Medina High School.
Growing up, he had a strong passion for acting and fine arts. However, he didn't allow his love for acting to distract him from paying good attention to his education. He valued education so much that he spent most of his time studying or taking classes outside of school. Sometimes, he skipped his lunch periods just to take classes at college campuses. His enthusiasm eventually paid off as he earned a superlative score on his SATs and became the valedictorian of his class during their graduation.
Matpat's impressive results earned him a full academic scholarship at the renowned Duke University in North Carolina. After completing his studies, the internet personality graduated Summa Cum Laude with a double major in Neuroscience (Psychology) and Theater. Upon graduating, he relocated to New York to give his acting ambition a chase. He would launch his internet business in the year 2009 by creating his first YouTube channel, Game Theory. The success later gave birth to two more channels and many other spin-offs which include 'Breakdown', 'Game Exchange', 'Digressing and Sidequesting', and 'Smash History'.
The millionaire is not only popular on YouTube. He also plies his trade in the entertainment industry as an actor, editor, and producer. Equally a writer, the live streamer launched his first YouTube web series titled 'Game Theory' in 2009. His second channel, 'Film Theory' analyzes cultural and scientific aspects of movies and series. MatPat's third channel, 'GTLive' went live in 2015 and currently streams about five days per week. He basically streams gameplay with his wife on 'GTLive' and each stream pulls in about 80,000 to 110,000 total viewers.
While MatPat discusses topics centering on the gaming industry, video games, and logic on 'Game Theory', his other show, 'MatPat's Game Lab', places video gamers in real life settings that mimic those that take place in video games. The show which was launched on June 8, 2016, features on Google's paid subscription service, YouTube Red. Matthew Patrick, Mat Miller, Dan Levitt, and Kelly L. King are the executive producers of the web series.
The 'Game Theory', as of June 2017, has over 10.7 million subscribers and more than 1.6 billion views while the 'Film Theory' boasts more than 6.6 million subscribers and over 770 million views. Similarly, 'GTLive' has raked in over 1.8 million subscribers and more than 250 million views.
His Interesting Net Worth
From his wealth of business channels, MatPat has amassed for himself a decent net worth estimated to be $18 million. It is believed that he built the eye-popping figure from his lucrative YouTube career as well as his other endeavors.
Is Matthew Patrick Married?
Matthew Patrick is off the market! He is happily married to his longtime college sweetheart, Stephanie Cordato. The pair met at Duke University while working together to create a 'Legend of Zelda' parody titled 'The Epic of Stew'. From working as project partners, MatPat and Cordato turned best of friends and later built a wonderful relationship together. They eventually sealed their love on May 19, 2012, in North Carolina.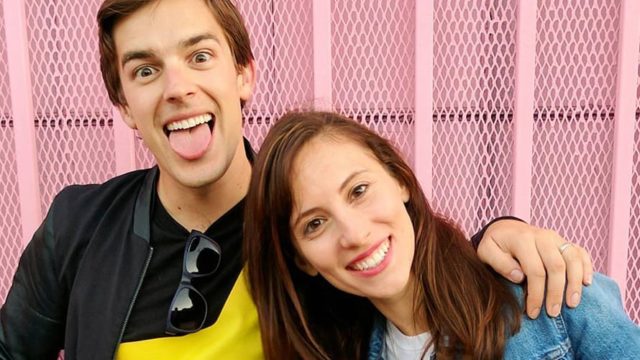 Stephanie and her husband own a couple of businesses together and are parents to a lovely son named Oliver Julian Patrick. The couple had announced on March 12, 2018, that their first baby was due to arrive on July 4, 2018. The YouTuber announced the safe arrival of their baby on July 10, 2018, and later revealed on July 13, 2018, that he has been named Oliver Julian Patrick. Another member of his family is his adorable cat called Skip. Nicknamed CatPat, the cat occasionally makes appearances in his live streams.
How Tall Is He?
The Medina-born millionaire's height is 1.8 meters. His weight and other body measurements are difficult to come by.