If being a university graduate was a determining factor for a person to succeed in life, then Matt Damon would have been a pauper. The actor, film producer, and screenwriter made his movie debut as an eighteen-year-old before eventually shooting into limelight after he starred in the 1997 movie, Good Will Hunting.
Even though the Bourne franchise star never got his English degree from Harvard, Damon's accomplishments as an actor paved way for him to return to the school to receive the 2013 Harvard Arts Medal. He has received numerous awards and recognitions and is on Forbes magazine's list of most bankable stars as he is among the Hollywood actors who receive the fattest paycheques.
Matt Damon was Raised in a Broken Home
The talented actor was born with the full name Matthew Paige Damon on the 8th of October, 1970, in Cambridge, Massachusetts. His dad is a stockbroker with English and Scottish ancestry named Kent Telfer Damon while his mum, professor Nancy Carlsson-Paige, is of Swedish and Finnish descent. Matt has an older brother named Kyle who works as an artist and sculptor.
When he was only 2, Matt Damon's parents' marriage went sour, resulting in them getting a divorce in 1973. After the couple parted ways, the future actor and his brother were left to be cared for by their mother. She solely raised them in a communal house built for six families.
Matt schooled at Cambridge Alternative School and Cambridge Rindge and Latin School. His journey to becoming an actor began around this time as he featured in different high school stage plays. According to him, his drama teacher Gerry Speca influenced him artistically.
He Played Several Minor Roles Before Coming Into The Big Picture
After high school, Matt was admitted to Harvard University to study English in 1988. While there, he continued honing his acting skills by taking part in different student theatre plays. In the same year he joined the school, at age 18, he made his film acting debut with a single line in the romantic comedy-drama film, Mystic Pizza.
Matt Damon continued playing small roles in films until he decided to abandon his university education in 1992 to take a role in the 1993 film, Geronimo: An American Legend. A few years later, he starred as an opiate-addicted soldier in 1996's Courage Under Fire. His performance in the movie gained him critical notice.
The Roles That Made Him A Global Celebrity
1997 proved to be Matt's breakthrough year as he starred in The Rainmaker, Chasing Amy, and Good Will Hunting which he co-wrote. Good Will Hunting received nine Academy Award nominations, including Best Actor for Damon. He and co-writer Ben Affleck, however, won an Oscar and Golden Globe Award for Best Screenplay. The movie made $225 million at the box office globally and earned him a salary of $600,000.
In 1998, Rounders and Saving Private Ryan came to light. Between 1999 and 2000, he appeared in several productions like Dogma, The Talented Mr. Ripley, All the Pretty Horses, Finding Forrester, and The Legend of Bagger Vance.
A clear indication that Matt Damon was now becoming an A-lister was the fact that he was paid $5 million for his role in The Talented Mr. Ripley and $7 million for The Legend of Bagger Vance. He further received $5.5 million for All the Pretty Horses.
Matt enjoyed more fame and acclaim with his role in 2001's Ocean's Eleven alongside several other already-made actors. The movie was a box-office success and was well received by the viewing public, grossing $450 million from a budget of $83 million and made him $5 million richer. He reprised his role in Ocean's Twelve and Ocean's Thirteen.
Matt Damon Attained Legendary Status With The Bourne Trilogy
The actor's next role as amnesiac assassin Jason Bourne in The Bourne Trilogy; starting with The Bourne Identity then The Bourne Supremacy and The Bourne Ultimatum cemented his status as a Hollywood star. Consequently, he joined the league of actors who earn above $10 million for a role.
In 2015, his role in The Martian added an additional $25 million to his bank account. For his effort in the movie, he won a Golden Globe Award for Best Actor – Motion Picture Musical or Comedy and was nominated a second time for an Academy Award for Best Actor.
Other notable projects Matt Damon has made outstanding performances in are Stuck on You, Spirit: Stallion of the Cimarron, The Brothers Grimm, Syriana, The Departed, The Informant!, Invictus, Contagion, The Adjustment Bureau, Behind the Candelabra, Elysium, Interstellar, and The Monuments Men among many others.
Apart from acting, Matt has also produced several movies that were successful globally, pushing his fame over its peak. Thanks to all of these endeavors and more, he sits pretty with a net worth of over $170 million.
The Onset of Matt Damon's Relationship with Luciana Bozán Barroso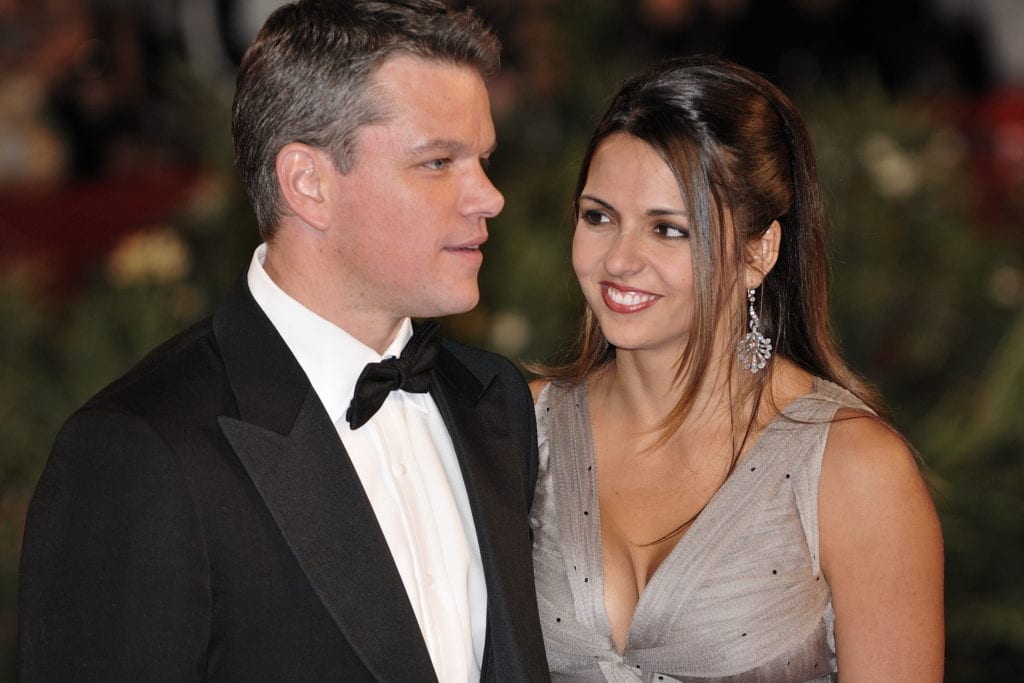 Matt Damon got married to his wife, Luciana Bozán Barroso, on December 9, 2005, in a quiet ceremony held inside New York City Hall. The couple met at a bar in Miami while Matt was filming the comedy film, Stuck on You, in 2002. After a two year relationship, the actor, who was certain that he had found 'the one', proposed to Luciana in September 2005 and she said yes.
One interesting fact about Matt Damon's wife is that she is Argentine and was working as an air hostess when she met the actor. Today, she is the wife of one of the highest-earning entertainers in the movie world.
Luciana has participated in her husband's philanthropic work which is dedicated to providing clean water to the needy in Africa. Matt Damon is also a keen supporter of other causes, including combating AIDS, war atrocities, and poverty through a number of other organizations.
The Couple Blew A whopping $600,000 Renewing Their Marriage Vows
After eight years of staying married, the couple renewed their vows and unlike their first wedding, the celebration was big and attended by many of their family and friends. According to reports, the ceremony which took place in Saint Lucia gulped a whopping $600,000.
The couple's marriage has been blessed with three daughters. Luciana was already three months pregnant with their first daughter when they got married and on June 11, 2006, the baby named Isabella, arrived.
Isabella was followed by Gia Zavala on August 20, 2008, and Stella Zavala on October 20, 2010. Damon is also a stepfather to his wife's daughter, Alexia Barroso, from her previous marriage to a man named Arbello "Arby" Barroso.