Both professionally and personally, McKinzie Roth is considered a successful woman. The beautiful journalist has been in active practice for more than a decade working on both the radio and TV. While she may not have gotten to the peak of her profession yet, it's been a jolly good ride for Roth who has arguably carved a niche for herself in the field. Explore some of the facts that have made her appear increasingly endearing to fans.
McKinzie Roth Biography
An Indiana native, McKinzie Roth was born on January 8, 1982. Going by public records, it is apparent that McKinzie is one of those who prefer to separate their professional and personal life, choosing to keep the latter under wraps. Besides Roth's birthdate and birthplace which is Carmel, there is little or nothing known about her parents, siblings, family background, and early life. If her academic records are anything to go by, then it is safe to say Roth was raised in her hometown. She first studied at Carmel High School before proceeding to bag a degree in Broadcast Journalism from Indiana University.
McKinzie Roth launched her journalism career right after college. In the course of her career, Roth has served in different capacities and gained experience from a good number of media outlets. Her earliest job record was a brief stint as an official NBA anchor for Pacers Sports & Entertainment.
Thereafter, McKinzie landed a job as a columnist for Intake Magazine. She has worked in different positions at other media outlets including hosting shows at Indy's Music Channel, Comcast & Cumulus Media, Emmis Communications, Alpha Media LLC, WISH-TV, as well as WXIN-TV. The broadcaster also has media credits at Bull radio station channel 98.7, and on Radio One. McKinzie currently works as a reporter at a Portland-based station KGW-TV.
From educating citizens on entertainment and local news updates to covering and reporting red carpet events such as the Super Bowl, Grammys, and interviewing A-list stars at notable events, Roth has arguably achieved enviable heights in her profession. The passionate and charismatic journalist continues to work her way to the top while also endearing herself to many.
Net Worth
McKinzie Roth is a seasoned journalist whose numerous efforts have undoubtedly yielded financial rewards. Though her exact salary and net worth have not been disclosed, Roth is believed to have amassed a decent net worth and can afford to lead a comfortable lifestyle.
Body Measurements and Other Facts
Height
The blonde-haired journalist has enviable physical features. Though Roth's exact height isn't known, she apparently falls in the 5 feet category. It is apparent that she has maintained a good physique over the years.
Husband and Kids
Both professionally and personally, McKinzie Roth is considered a successful woman. She is happily married to her heartthrob Patrick Michael Roth. The longtime couple's love journey dates back to their childhood. Interestingly, Roth and Patrick were neighbors who lived just a few houses apart. Though they initially began as friends, their relationship later blossomed into a romance and today, the rest is history.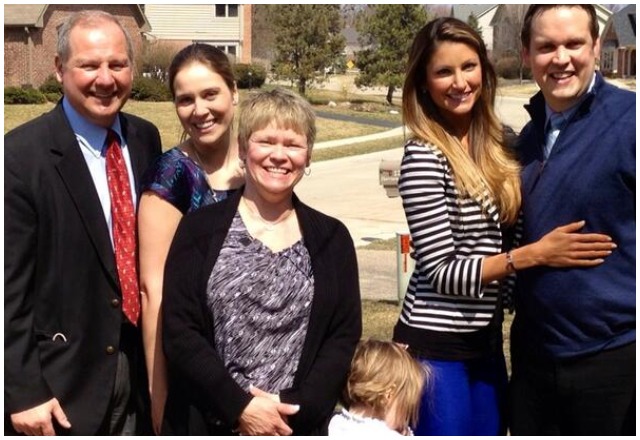 The cute couple courted for eight long years before stepping things up a notch. They eventually sealed their journey to forever after exchanging marital vows on February 14, 2004. The family-oriented couple who live in Portland, Oregon, has since expanded their small circle. They are proud parents to a daughter Lucy, who was welcomed on February 17, 2010. McKinzie and Patrick have apparently found true love in each other's arms as they are all lovey-dovey about their romance on social media. They continue to wax stronger together, with no signs to the contrary.
Hobbies
McKinzie Roth is obviously an outdoor person. When not working, she unwinds through various fun activities. In addition to spending quality time with her family, she derives pleasure in listening to music, redesigning homes, cooling off at the beach, and traveling around the world. Roth also relaxes by watching good movies and TV series. Some of her all-time favorite shows are Flipping Out and Gossip Girl.
Animal Lover
Animals have a special place in McKinzie Roth's heart. While it is uncertain if she currently keeps any species as pets, we do know she loves koalas.
Fitness Enthusiast
As earlier mentioned, McKinzie Roth has maintained a good physique over the years. She leads a healthy lifestyle through a regimented diet and fitness routine that includes mojitos and pilates.
Social Media
McKinzie Roth entertains her audience on the mainstream media and also on social media. The journalist has amassed a huge fanbase on Instagram, Twitter, and Facebook.