Meagan Good began her showbiz career as a child in the 1980's and 1990's when she spent time as a teen star appearing in TV shows and now that she is an adult, she has become a film, TV and music video favorite. She is best known for playing a lead role as Joanna Locasto in Think Like a Man. Other great films she starred in include Venom (2005) One Missed Call (2008), Saw V (2008) and many others. Read her journey into the entertainment industry and how far she has come.
Early Life and Career
Born on Agust 8, 1981, to Tyra Wardlow-Doyle and Leondis Leon, Good was raised in a home with parents of multiple racial identities. Her maternal grandparents were of Cherokee, black and African descent while her paternal grandparents were Puerto Rican, black, and Barbados. Her parents have four children (a son and three girls) and all four of them grew up together in Canyon Country presently Santa Clarita, Califonia. Her birth sign is Leo and she holds an American nationality.
Not much is known as about the Panorama-born education background but at age 4, just when she started pronouncing some words with a little more clarity, she was already engaging in projects of varying sorts including being an extra on TV shows like Amen and Doogie Howser and M.D. In 1995, soon after becoming a teen, she made her first film debut in the blockbuster film, Friday. 
Interest in Acting
The African-American actress scored a big point in her career in 1997 when she was nominated twice in two respectable award shows which include the NAACP Image Award for her superb portrayal of the Cisely Batiste character in the film Eve's Bayou.
The fame that came with the film's success smoothened out the journey to stardom for Meagan, earning the TV queen a steady spot on Nickelodeon's memorable show Cousin Skeeter which aired from 1998 to 2001. Following that, she played other small roles in movies like House Party 4: Down To Last Minute and 3 Strikes.
Read Also: Sophie Okonedo, Daughter (Aoife Martin), Husband, Family, Biography
Acting Career
Her career took a more mature turn in 2003 with roles that no longer portray her as a child but a grown-up woman such as her role in Deliver Us From Eva and Biker Boyz. Next was an impressive entrance to the third season of ABC TV show My Wife and Kids, Stomp The Yard, and Anchorman 2: The Legend Continues.
More memorable film appearances of Meagan Good include roles in Deception, Venom, You Got Served, and D.E.B.S. Amid the relevance and fame, she also starred in the horror drama One Missed Call, The Love Guru and voiced the hit video game Scar Face: The World Is Yours. Meagan has since preserved her fame in the film industry with consistent appearances in TV, music videos, and films and appears ready to take on ever more film roles in the future.
Does Meagan Good Have A Husband?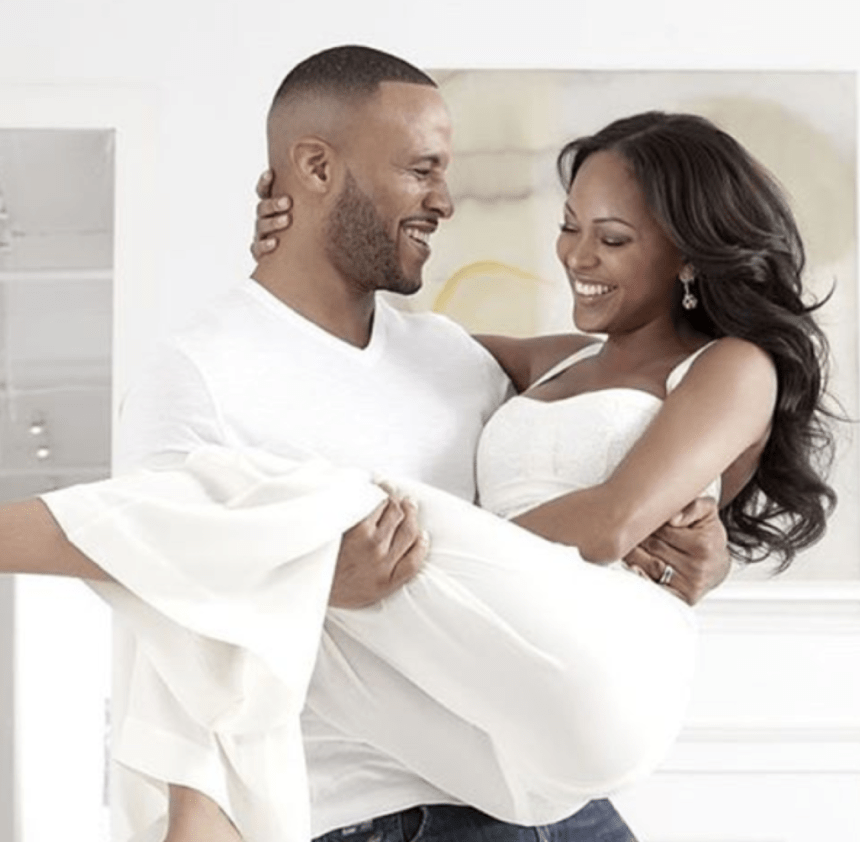 Meagan Good is one of those rare Hollywood celebrities whose morals will not be undermined in the face of the industry's fame and glamour. The actress has, in all carefulness, done a good job at steering clear of the endless relationship dramas and controversies common with Hollywood stars. With her past relationship experiences, the beautiful actress rather than gamble with her heart one more time decided to take a vow of chastity and entirely focus on her career at age 22.
Luckily for her, she didn't have to break her vows even though her heart connected with that of Devon Franklin, a preacher who does what he preaches and was also embarking on the same journey of purity at the time.
She and Devon who is famously known as Seventh-day Adventist preacher started dating in 2011. They got engaged in 2012 and later the same year, the two in the presence of their families and friends were wedded at Triunfo Creek Winey located in Califonia. According to her, she and husband had sex for the first time on their wedding night. The lovers have stayed happy ever after and are ready to take on the journey forever.
Apart from being a preacher, Devon Franklin is also popular as a very successful author, motivational speaker and Hollywood producer who serves as the executive for Columbia Pictures.
What Is Her Net Worth?
Having muscled her way to becoming one of the best black actresses of Hollywood, Meagan Good has accumulated enormous wealth from the industry she entered as a child. Her net worth is estimated at $10 million and that is enough compensation for a woman who didn't get to enjoy her early life as a kid as other kids would.
Height and Other Facts 
1. Meagan Good is not a tall woman. She is only 5 feet 2 inches (157.5 cm) tall but height doesn't matter when you are an achiever accomplishing seemingly impossible goals.
2. The charming actress didn't have the best-looking faces on earth while growing up. She was very skinny and nerdy yet she didn't allow her looks to become a chain withholding her dream. She built her confidence quite early and has retained it.
3. Unlike many teens stars, Meagan grew up without a role model. She didn't have anybody to look up to rather she motivated herself but just recently she started admiring actress Charlize Theron.
4. Meagan Good grew up in church and is a devoted Christian. She calls herself a very spiritual person at any chance during interviews and unapologetically rejects roles that might jeopardize her relationship with God. According to her, Jesus is her number one hero.