Nigerian ex-banker, fashion designer, real estate expert, and oil mogul Folorunsho Alakija is a mother of four. The female billionaire's children have been identified as Ladi Alakija, Folarin Alakija, Rotimi Alakija, and Dele Alakija. While Folarin is the best known among them, thanks to his plush wedding with Iranian model, Nazanin Jafarian Ghaissarifar, his other brothers are not so much visible in the public eye. However, Rotimi's name once hit the airwaves when he was confused with the artist, DJ Exclusive who share the same name with him. Ladi, who is the oldest of the Alakija clan has never really made the news neither has Dele, the last bachelor in the family.
The four sons of Mrs. Folorunsho Alakija are the products of her marriage to Lagos-based lawyer, Barrister Modupe Alakija who doubles as the chairperson of her oil exploration business Famfa Oil Ltd. Flo, as she is called by friends and loved ones, has only been married once and her union has been an enduring one, steadily inching towards the fifth decade. We have seen women of lesser wealth who couldn't tolerate staying in their marriages for long, but Mrs. Alakija has proved that a woman can be a billionaire and be submissive to her husband at the same time. As a marriage counselor, the female billionaire has been relentless in dishing out marriage advice to the younger generation who can't help but wonder about the secret of her long-standing relationship.
Folorunsho Alakija's Children Are Now Full Grown Men
Folorunsho Alakija is a mother of four – all-boys, and according to the richest woman in Africa and Nigeria, her sons are next in line after her husband on the hierarchy of the most important people in her life. All the men of the Alakija clan have stakes in their mother's oil business, Famfa Oil Limited, including Folarin, Rotimi, Dele, and Ladi Alakija. The Nigerian oil mogul did a good job of shielding her children from the limelight right from their formative years, consequently, facts about their early lives never made it to the public space.
Folarin Alakija
Among all Folorunsho Alakija's children, Folarin Alakija who is an investor, entrepreneur, and cinematographer is the one that has attracted most media attention, thanks to his lavish wedding in the United Kingdom. Folarin, who was previously married to Chena, lost his first wife to cancer and after a few years, decided to have another go at marriage. He was already a father of one prior to his second wedding. Alongside his brothers, Folarin works at his mum's company, Famfa Oil Limited.
His Wife Is From Iran
Folarin's current wife hails from Iran and her dad is an Iranian businessman known as Tehran. Nazanin Jafarian Ghaissarifar as she is called is an alum of the University of Manchester where she graduated with a degree in Bioengineering and Biomedical Engineering. The Iranian lady later acquired a graduate Diploma in Law following which she worked as a marketing consultant and also walked and worked for different fashion brands as a model. Before she met Folarin, Nazanin was once an item with Kim Kardashian's brother, Rob Kardashian.
Their Star-studded Wedding Was One Of The World's Most Expensive Events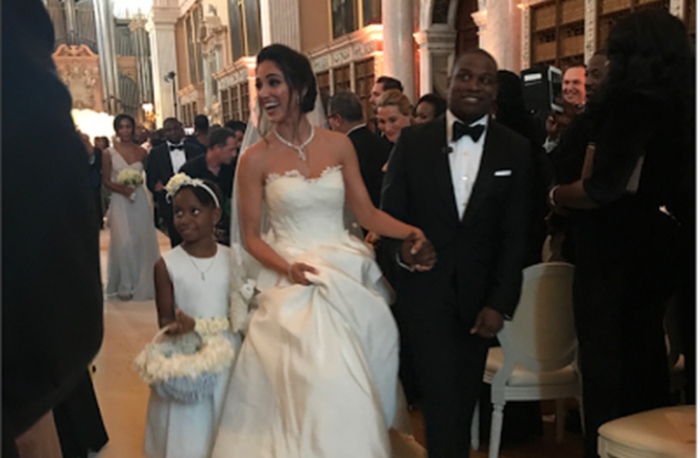 Nazanin and Folarin's wedding happened in June 2017 and contrary to expectations; it did not take place in Nigeria. The venue for the ceremony was Blenheim Palace in England – Duke of Marlborough's main residence and the birthplace of England's royalty, Sir Winston Churchill. There in the grandeur and opulence of the grand hall, the couple exchanged the forever commitment vows in the presence of family, friends, and a good number of A-list celebrities. Among the notable guests at the wedding were; Shanina Shaik – Victoria's Secret Angel who graced the occasion in Galvan-designed apparel, jewelry by Gemporia, and footwear by Giuseppe Zanotti.
With all the trappings and trimmings of opulence, the ceremony became a nine days wonder for the world as social media went into overdrive with the tales of sheer display of luxury. The mainstream media equally had a field day in reporting events at the wedding. Nazanin had one flower girl and a total of eight bridesmaids. For the ceremony, she appeared in a spectacular strapless white dress, sporting a train and for the evening dancing, the bride came in a sheer lace dress.
The Daily Mail reported the cost of the wedding to be in the neighborhood of £5 million which many have compared to the costs of the past royal weddings in England. The ceremony was later listed among the most expensive weddings worldwide.
Jeff Leatham – a celebrity florist was the man behind the incredible arrangement of flower displays featuring a million white roses. The wedding cake was 12-feet-tall, and the least intricate detail was carefully thought through to go with the fairytale-like theme. Robin Thicke – an American singer-songwriter put on a surprise performance, serenading the guests. For the guests, they were treated to a sumptuous five-course menu, including delicacies like foie gras, beef, and sole; there were alternative choices such as guinea fowl and crispy duck egg. The night was wrapped up with what was described as a magnificent display of fireworks.
In fact, the oil mogul Folorunsho Alakija spared no expenses in ensuring that the wedding was a memorable one for her family, quite beautiful and unforgettable.
Rotimi Alakija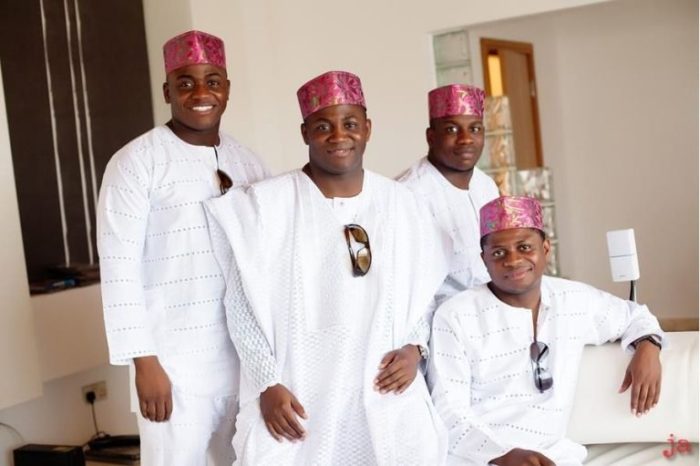 Just like Folarin Alakija, the birth details and academic background of Rotimi Alakija are equally not known. But unlike Folarin, Rotimi is one of the lesser-known sons of Folorunsho Alakija. However, his name once hit the airwaves after he was mixed up with DJ Exclusive – a Nigerian artist who shares the same name with him. When the mix-up in identity was finally cleared up, it was discovered that they were actually related as DJ Exclusive is his cousin.
Mrs. Alakija put all her four sons in strategic positions in her oil exploration company and in Rotimi's case, he functions as the chief executive officer of Famfa Oil Ltd. Rotimi also has a hand in the real estate business. Daily Mail UK mentioned him among the most significant investors in the real estate sector. Rotimi has been spotted on IG with big names like Aliko Dangote and Lagos State Governor Sanwo Olu.
Rotimi Alakija is a married man; his wife has been identified as Kike Fejemirokun but the details of their union are not known. It is not equally known if they have children or not.
Ladi Alakija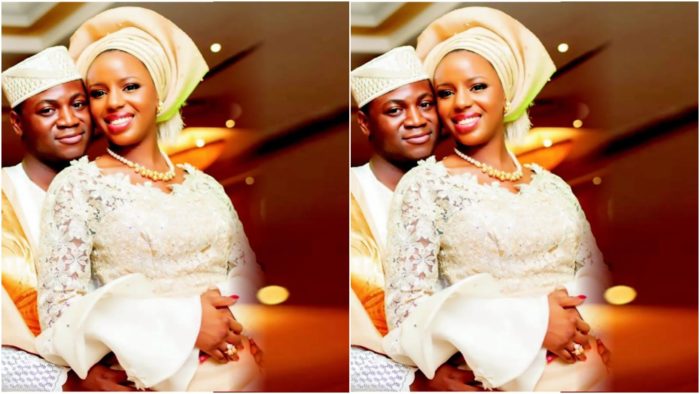 The oldest son of Folorunsho Alaki goes by the name Ladi Alakija. Though not as known as his younger brother Folarin, Ladi also sits on the board of Famfa Oil Ltd as a shareholder. Being the son of the billionaire businesswoman, his birth details and academic history are equally shrouded in mystery.
However, it is public knowledge that Ladi is married. The name of his spouse is Lolade Cardoso, reports have it that she comes from an affluent background. Her dad has been identified as Mr. Olayemi Cardoso who served Lagos State as one of its Commissioner for Economic Planning and Budget. Mr. Cardoso is currently with Citibank as its chairman. When the news of the wedding came up, it made headlines just like what happened in the case of Folarin and his spouse Nazanin. The first phase of their wedding ceremony took place in August 2012 in Lagos State, Nigeria, precisely at Eko Hotel and Suites. The couple traveled to London for what was tagged the official wedding where the occasion was graced by family and friends.
The duo has since become parents to a beautiful baby girl who was born in the United States of America.
Dele Alakija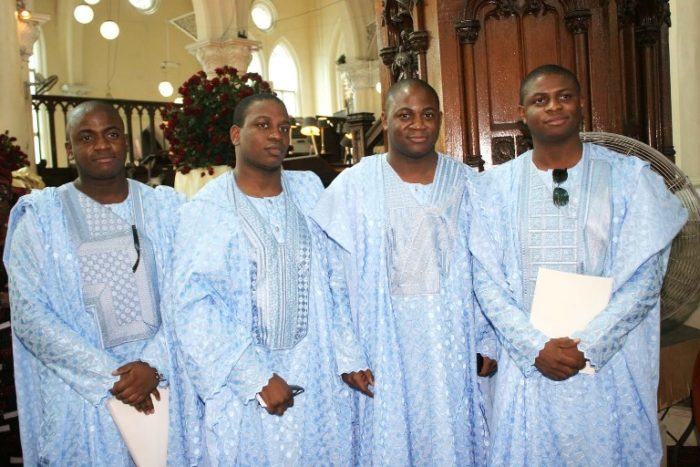 It would appear that the only time the Alakija sons appear in public is during their weddings and from what is perceivable, the family still has one more wedding to go. Dele Alakija is the remaining bachelor in the fold; he has been described by many as the most modest son of Mrs. Folorunsho Alakija and her husband Modupe. No doubt, the internet is going to explode with stunning photos when the wedding will come to pass.
One thing that can be said for the Alakija children is that they are enjoying the pecks that come with being the children of a billionaire. Their mom woke up one day and decided to gift her four sons with exotic vehicles and behold, they were four brand new G-Wagons worth an astounding ₦22 million each.
From what is obvious, Folorunsho Alakija influenced all her children's career paths since the four of them are working with her in the oil exploration business. Even Rotimi Alakija's foray into the real estate sector has something to do with the female billionaire as she is a known name in the industry.
Folorunsho Alakija Has Been Happily Married To One Man Since 1976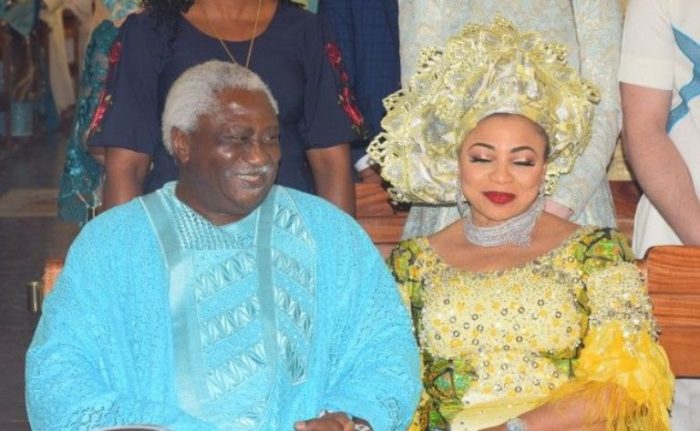 Mrs. Folorunsho Alakija's success in the wheeling-dealing world of business is reflected in her personal life. The richest woman in both Nigeria and Africa is a married woman. The wife of Modupe Alakija (a member of the Adeyemo Alakija family) – a Lagos-based legal practitioner, is an epitome of what a typical African woman is expected to be, married and submissive. Little wonder their union has endured for almost five decades.
Reports have it that the duo tied the connubial knot in November 1976 when Folorunsho was barely 25 years of age. This was around the time that she was still trying to create a niche for herself in the business world, thus, she hadn't hit the billionaire milestone when they exchanged the forever commitment.
The couple was obviously well into their union when Famfa Oil Ltd broke even and became a money-spinner. However, Folorunsho Alakija's ensuing financial status never had a negative impact on their union. Going by what the mother of four said in an interview session, being exceedingly rich can never change her personality, it is not enough to change her husband, and has not changed her children one bit.
The Nigerian Oil Mogul and Her Husband Have Diverse Personalities
You will not find many men of African origin who would tolerate a situation where their wives will become more prominent than they are. However, the case seems to be totally different for Folurunsho Alakija's husband, Modupe Alakija, thanks to the kind of woman he has as a wife. The mother of four made sure that her enormous wealth does not result in conflict between them. A good instance can be taken from the hierarchy of authority at Famfa Oil. Even though Flo is credited with founding the oil exploration company, it is her husband that wields the big stick as the company's chairman while she is comfortable with just being the Vice-chair.
Mrs. Foloruinsho Alakija's kind of humility and submission is very rare in present-day marriages, especially among the rich and the famous. Speaking about her spouse, the oil mogul described him as an extremely shy person who would never court public attention. This she said is in complete contrast with her own personality; Flo is an extrovert, who doesn't mind publicity, she loves throwing parties and attending them and is equally at home at glamorous events. But despite all the differences in the couple's personalities, their union has managed to survive for so long. This gives rise to another question, what is their secret?
Folorunsho Alakija On The Secret Of Her Enduring Marriage
When quizzed on how they have managed to sustain their union for so long, the oil boss was unequivocal in her answer. In her speech, Flo said she has observed that marriages cannot break suddenly; the process is always a gradual one, and if it is not nipped in the bud, may result in separation and ultimately divorce. For the Alakijas, the oil mogul said they learned how to solve their little issues early before they become major issues; monitor and correct any small obstacle as it will become a big obstacle if left unsolved.
Emphasizing communication, Mrs. Alakija described it as a major ingredient of a successful relationship. She said they always keep in touch whenever either of them has to go abroad for any reason. In fact, the minimum number of times they can call each other in this kind of situation is two times daily, it may not be something serious but they must talk throughout the day.
Friendship is another vital ingredient in marriage. Far from just being her husband, Barrister Modupe Alakija is her friend, brother, lover, and better half. She doesn't forget to greet the father of her children with a kiss every morning, when talking to him, she makes sure to talk kindly and has always shown him respect. This kind of attitude she said would get your man to go the extra mile in doing things for you no matter the cost. Flo mentioned another important trick; which is asking your spouse to do insignificant things that you would be able to do for yourself; the man needs to feel needed. Besides, the businesswoman is equally a minister in the house of God which has helped her in dealing with life's challenges.
On quarrels between couples, the oil tycoon said they do have their share of quarrels but a timely solution is key. Besides, keeping grudges is another thing that crashes marriages and they have always ensured they don't keep grudges against each other. She also condemned keeping separate bedrooms as nothing beats sleeping in the arms of your loved one. Again, your matrimonial bed shouldn't be too large; sleeping very close to your spouse solves a lot of issues, especially if the two of you just quarreled; Folorunsho Alakija said it aids in eliminating resentment and at the same time, encourages feelings of tenderness. Even after many decades, there has never been any major scandal in their union.