Priscilla Ojo is a young and talented Nigerian actress, model, and businesswoman best known as the daughter of Iyabo Ojo, the popular Nigerian Nollywood actress
In life, there are people who get famous by working hard from scratch to become great in varying fields but some other persons are easily thrust into the spotlight simply by being linked to another famous person. The latter is the case with Priscilla Ojo who happens to be the daughter of Nigerian superstar actress, Iyabo Ojo whose popularity rubbed off on her daughter.
However, even though she got in contact with fame through her very famous movie star mother, Priscilla has swiftly gone on to make her own name, establishing her business enterprise and setting her own standards. Subsequently, she became one of the most sought-after child celebrities and is now admired for her business acumen and acting talent. Her growth as a model, businesswoman, and actress over the past few years has stunned many people who have been following her progress.
Priscilla Ojo Was Born Shortly Before Her Mother Became Famous
Priscilla Ojo, whose full name is Priscilla Ajoke Ojo, was born on the 13th of March 2001 and is now 22 years old. The Nigerian actress was born in Lagos where she grew up with her mother and brother. At the time Priscilla was born, her mother was just about to start gaining massive popularity as an actress. Iyabo Ojo got her big break as an actress in 2003 when she starred in the drama movie called 36 Kiniun. This was about two years after Priscilla was born.  She has since gone on to do great exploits in the movie industry.
Sadly, Priscilla's parents parted ways in 2001, the same year she was born. After leaving her husband, Iyabo got herself together and focused completely on her movie career as she was bent on giving the best life to her kids.
She Has A Brother
For the record, Priscilla has an older brother called Festus Oladunjoye Ojo. The young man was born almost two years before Priscilla in 1999 which was the same year their parents got married. After Priscilla's birth in 2001, their parents parted ways. So, they were left with their mother who saw to it that they were brought up well.
Priscilla is very fond of her brother who is popular as Festo Baba on social media. She usually posts photos of Festus on her Instagram page to celebrate him. Some of the photos show the siblings striking fond poses together.
She Is Very Fond Of Her Mother
Priscilla is also very close to her mother. In fact, the young actress considers her mother to be her best friend and hero and is always talking about how priceless her love for her mom is. On several occasions, including, her mother's birthday, Priscilla takes time to compose lengthy notes on why her mother is her hero.
Apart from showering her mother with praises, Priscilla is also known to love playing with her mother. In 2018, one of their dancing videos went viral. It showed them wearing matching clothes and dancing to Nigerian singer, Skiibii's song, Sensima.
The love Priscilla has for her mother is deeply connected to the kind of upbringing she got. It is noteworthy that her mother, Iyabo Ojo is known for giving her children the very best life has to offer, including introducing them to life-chancing opportunities and setting them up for success in life while providing them with the best education. Over the years, Priscilla and her brother, Fetus, who are very appreciative of what their mother had done for them, have come to love her so much.
Is Priscilla Ojo's Father Involved In Her Life?
Priscilla Ojo's father has not been too involved in her life. At least, not as involved as her mother has been. Since the man parted ways with her mother, she and her brother, Festus have only seen him a few times. The rest of the time, they spend with their mother. In fact, there are times that they spend many years without seeing the man.
For six long years, between 2012 and 2018, Priscilla and her brother, Festus did not see their father. They finally saw him in 2018. In July 2018, Priscilla took to her Instagram page to make a rare post about her father. She posted photos showing her and the man together and revealed right there that she had not seen him for about six years prior to that day but that she is glad to be finally hanging out with him. Her brother, Festus also made the same post about their father.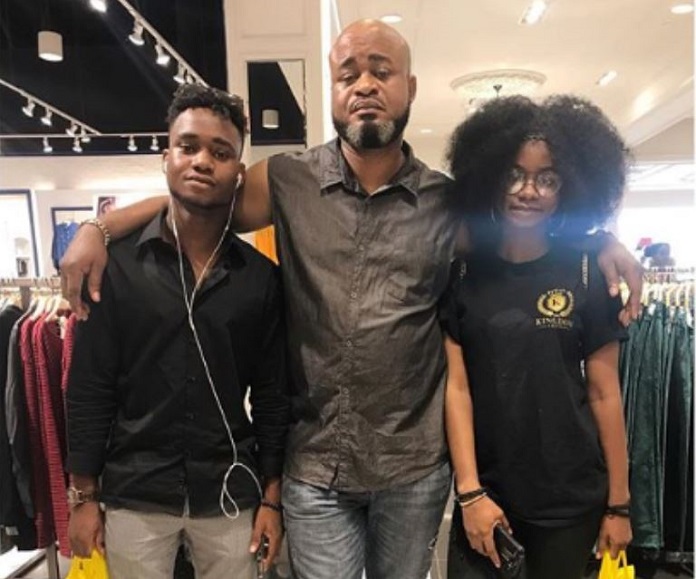 A close look at her Instagram page and other social media handles show that since then, Priscilla has not posted any more photos of her father online, indicating that they may not have seen him since the last time they saw him in 2018. However, her pages are littered with images of her mother and brother.
Priscilla Is Now A Graduate
Details about where Priscilla Ojo had her primary and secondary school education are not known. However, we know that she attended the popular Babcock University from where she graduated with a bachelor's degree in 2021.
Following her graduation, Priscilla Ojo's mother, Iyabo was really ecstatic. On June 27, 2021, she showed her excitement by making posts on Instagram where she hailed her daughter. She also shared several photos of Priscilla clad in her convocation gown.
Weeks later, in July 2021, Iyabo Ojo threw a graduation party for her daughter. Different celebrities also attended the event. She's apparently very thrilled with her daughter's achievement.
Priscilla Ojo's Exploits In Nollywood
Priscilla Ojo has enjoyed a good ride in the Nigerian movie industry so far. Getting into the industry in the first place was not too difficult for Priscilla because of her mother's influence. It is noteworthy that Iyabo Ojo is not just an actress but is also a movie producer, director, and scriptwriter. It was therefore easy to insert her daughter into a role seeing how talented the young lady is.
Priscilla Ojo started acting even before she turned a teenager. In 2012, when she was just about 11 years old, she starred in the drama film, Jejeloye. She caught the attention of many with her stunning acting skills. In fact, her performance was so good that she ended up winning the Best of Nollywood Award for Best Child Actress for her role.
In 2014, she starred in another movie, Silence alongside her mother and other top stars, including Joseph Benjamin, Alex Usifo, Tina Mba, Fathia Balogun, and others. The movie made waves after it was released and earned Priscilla some more praise for her performance in the movie. In fact, that year, Priscilla won another Best of Nollywood Award for Best Child Actress. It was clear that she
Priscilla Ojo has also starred in other movies including Beyond Disability, a 2015 drama movie for which she also earned a nomination for Best Actress.
The Actress Has Built A Business Enterprise
Apart from being an actress, Priscilla Ojo is also a businesswoman who has delved into the fashion world. The actress now owns a clothing line called Priscy's Closet and it is located in Lekki phase 1, Lagos.
The brand deals mainly in women's clothes and is patronized by many people. At the moment, Priscy's Closet is followed by more than one hundred thousand people on Instagram alone. Priscilla is also a brand influencer who is an ambassador for different brands.
She Models Her Own Clothes
Priscilla Ojo, who is blessed with a great body, models her own clothes. A quick visit to the Instagram page of Priscy's Closet shows the actress clad in several dresses as she strikes alluring poses for the camera while beckoning customers to buy the cute dresses.
Interestingly, Priscilla's mother, Iyabo Ojo also models clothes for Priscy's Closet. It is clear that mother and daughter share an unbreakable bond that has grown stronger over the years.