King Goodwill Zwelithini kaBhekuzulu ruled over millions of Zulus, which is South Africa's biggest ethnic group. The first son of King Cyprian Bhekuzulu kaSolomon and Queen Thomo, he was born in July 1948 at Nongoma, Natal, present-day KwaZulu-Natal. He attended the Bekezulu College of Chiefs. After his father died in 1968, a regent was appointed to take care of the Royal affairs while young Goodwill Zwelithini completed his education.
On the 3rd of December 1971, during the apartheid era in South Africa, Goodwill Zwelithini kaBhekuzulu, at the age of 23 was installed as the eighth monarch of the Zulus at a ceremony that had over 20,000 people in attendance. King Zwelithini's finances are controlled by the KwaZulu-Natal Provincial authorities and he is known to have lived a lavish lifestyle that has been a matter of debate for the Zulu royalty.
King Zwelithini Had Six Wives and Lived in Nongoma, KwaZulu-Natal
He first got married to MaDlamini, formerly known as Sibongile Winifred Dlamini on December 27, 1969, at St Margaret's Church, Nongoma. His second wife, Buthle MaMathe was born in 1951. In May 1996, Buthle and her daughter were seriously wounded in an assault that saw them stabbed.
Mantfombi Dlamini is the daughter of Sobhuza II of Swaziland and she was born in 1956. Before her marriage to the king, she gave him a condition that she would become the first wife, which by implication will determine the king's successor.
King Goodwill got married to his fourth wife Thandikela Jane Ndlovu in 1988, a union that gave birth to three children. Next was Nompumelelo Mchiza who got married to the king on the 25th of July 1992. Zola Zelusiwe Mafu is the last wife of king Goodwill and they got married in 2014.
King Goodwill died on March 12, 2021, at the age of 72, a death that resulted in a succession battle between his children, including his daughters.
How Many Daughters Did The Late King Goodwill Zwelithini Have?
Just like most monarchs in Africa, King Goodwill Zwelithini had a large family built with six women he loved dearly. It is widely reported that the late king's union with his wives was blessed with at least 26 children of whom 12 are female. Let's have a look at the lives of King Goodwill's daughters where they are and what they do.
Meet King Goodwill Zwelithini's First Daughter, Princess Sibusile Zulu
Date of Birth: 1972
Age: 51
Profession: Undetermined
Husband: Undetermined
Sibusile Zulu is the first daughter of Queen Buhle and King Goodwill, and indeed the oldest daughter of the late king. It has been erroneously claimed in some quarters that the Zulu princess was killed in 1996 during an attack at the Royal Residence that left her mum injured.
It is said that there have been tensions between the Zulu Royal family and Inkatha since 1994. Although Inkatha denied allegations that they were responsible for the attack, thousands have died in the past years fighting for supremacy between the two groups.
Queen Buhle who was 45 at the time, underwent surgery after she sustained head injuries during the attack. Princess Sibusile was also hospitalized but the princess reported death was the king's niece, Princess Nonhlanhla Zulu.
Princess Nombuso Zulu
Date of Birth: December 25, 1973
Age: 49
Profession: Business Woman
Marital Status: Divorced
Ex-husband: Seshi Chonco
Nombuso Zulu is often reported as the first daughter of the famous king Goodwill Zwelithini, this is not true. She is only the first daughter of the king and his first wife. Nombuso is a product of the union between her mother, Queen Dlamini and King Goodwill. Nombuso Zulu is the second child of her mother and was born in 1973. She has four siblings named Prince Lethukuthula Zulu (who is the firstborn, died in 2020), Princess Ntombizosuthu Zulu-Duma, a businesswoman, Princess Ntandoyenkosi Ngacaweni an Asset Manager, and Princess Sinethemba Bati Zulu, who is the last born of their mother.
Princess Nombuso got married to Seshi Chonco who is also a businessman in July 2005. It is believed that King Zwelithini never wanted his daughter to wed Chonco because he was a commoner but he was later convinced that Choco is a respected businessman in South Africa. The couple later got divorced after two years of being together and they cited "irreconcilable differences" as the reason for their split.
Princess Ntombizosuthu Ka Zwelithini Duma
Date of Birth: 1979
Age: 44
Profession: Businesswoman, co-owner of Strategic Persuasions and Zamalwandle Transport Logistics
Marital Status: Married
Husband: Mbongiseni Duma
Princess Ntombizosuthu Ka Zwelithini Duma is the second daughter of King Goodwill and his wife Queen Dlamini. She is married to Mbongiseni Duma. A versatile businesswoman, Ntombizosuthu co-owns Strategic Persuasions and Zamalwandle Transport Logistics with her husband, Mbongiseni Duma.
Princess Ntandoyenkosi Ka Zwelithini Ngcaweni
Date of Birth: 1982
Age: 41
Profession: Asset Management
Marital Status: Married
Husband: Busani Ngcaweni
Princess Ntandoyenkosi Zulu is another daughter of Queen Dlamini. Ntandoyenkosi is known to have a good relationship with her late father. In 2005, King Goodwill appointed her as the head of all Zulu maidens. She got married to Busani Ngcaweni in August 2008. Her husband Busani, is said to be a high-ranking government official.
The princess who was 25 years old at the time of their wedding got married to a 34-year-old man in a series of events that are described as a glittering wedding. "Umkhelo" which is a private traditional wedding was first conducted on August 20, 2008, followed by the main ceremony on August 22, the same year.
Their wedding saw thousands of guests in attendance, including business people, politicians, and many people from other royal families. At the time of her wedding, Princess Ntandoyenkosi Zulu was furthering her education in Johannesburg and she currently works as an Asset Manager in the public investment corporation.
Princess Ntandoyesizwe Zulu
Date of Birth: 1976
Age: 47
Profession: Former Model
Marital Status: Married
Ex-husband: Oupa Moilwa
Current Husband: Moses Tembe
No. of Children: 5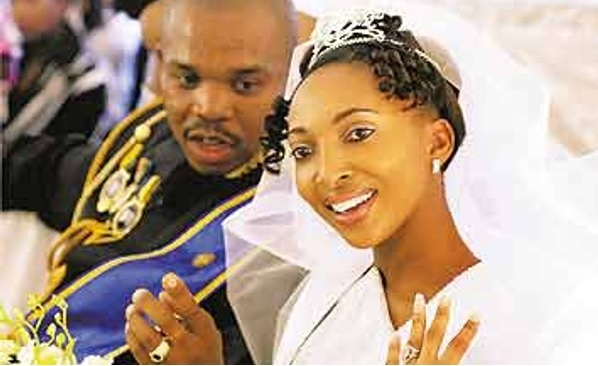 Ntandoyesizwe is the first daughter of King Goodwill and Queen Mantfombi, the former beauty queen was previously married to Oupa Moilwa of the Bahurutse Kingdom in a ceremony that had over 5000 people in attendance on July 11, 2004, just two years after their traditional ceremony at Enyokeni Royal Palace, Nongoma.
Her marriage to Oupa did not last long as it ended in a divorce. The Zulu princess later got married to Moses Tembe in a union that saw them give birth to 5 children named Zamatonga, Nosipho, Nellie Tembe, Mbali, and Vukile Tembe. Moses Tembe has a degree in Public Administration and Political Science after which he completed a course in Financial Management at the University of Cape Town. Tembe, together with his wife, owns several fast-food outlets, shipping companies, and filling stations.
Her mother Queen Mantfombi Zulu who is a member of the Seventh-day Adventist Church died just one month after she became regent. The Queen's death took everyone by surprise as she was selected as the interim leader of the Zulu kingdom just a month after the death of her husband. Although there were speculations that the queen had been poisoned, the prime minister dismissed the rumors, assuring the people that there would be no leadership vacuum in the Zulu Nation.
Princess Sinethemba Bati Zulu
Date of Birth: 1989
Age: 34
Profession: Student
Princess Sinethemba is the youngest daughter of King Goodwill and Queen Dlamini. She is currently pursuing a degree in international relations at the University of Witwatersrand. Apart from this, it is hard to tell anything else about her and what she has been up to.
Princess Nandi Zulu
Date of Birth: May 30, 1977
Age: 45
Profession: Philanthropist
Marital Status: Divorced
Ex-husband: Mfundo Mtirara
Princess Nandi Zulu is the second daughter of Queen Buhle and King Goodwill Zwelithini. She is known for her philanthropic works for children and she is the founder of Princess Nandi Zulu Foundation, a foundation that focuses on sending children to school. When she was three years old, she was sent to live with her aunt in Swaziland. According to Princess Nandi, growing away from her biological parents has helped her become independent.
Princess Nandi attended a boarding primary school in Durban after which she went to Hilton to attend St Anne's Diocesan College. She is a graduate of Business Communications from the Tshwane University of Technology Pretoria. She also possesses a Management Advancement Programme Certificate from Wits Business School and a National Certificate in Project Management. More so, Princess Nandi has a diploma in public relations and she has worked with Mpilonhie, an organization that is funded by Oprah Winfrey's Angel Network. She also worked on Charlize Theron's African Outreach project.
The second daughter of Queen Buhle got married to Mfundo Mtirara who is the chief of the BaThembu clan in a marriage that attempted to unite the two powerful kingdoms in South Africa. Nandi got divorced after two years of marriage and the details of her divorce are not available to the public because she was banned from talking about her marriage.
8. Princess Nomkhosi Zulu
Date of Birth: 1978
Age: 45
Profession: Founder of Magogo foundation
Marital Status: Married
Husband: Melusi Moyo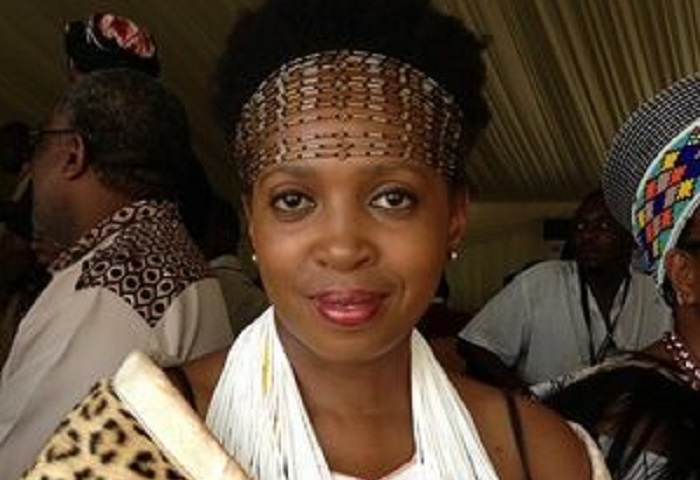 Princess Nomkhosi Zulu is the third of eight children from her mum's side of the family. Her mother was Mantfombi Dlamini, the third wife of the late king. Princess Nomkhosi is a graduate of Wykeham Collegiate after which she furthered her education at the Pretoria Technikon.
She is married to Melusi Moyo and is the founder of the Magogo foundation that aims to address the challenges faced by young girls by helping them become better women.
Princess Cebolabo Zulu
Date of Birth: Undetermined
Age: Undetermined
Profession: N/A
Marital Status: Single
Princess Cebo Zulu is the daughter of the fifth wife of King Goodwill, Queen Nompumelelo. She has two siblings named Princess Nqobangothando and Prince Nhlangano. Princess Cebo is popular for leading the royal maidens during the annual Umkhosi Womhlanga known as the reed dance in 2008. Her mother Queen Nompumelelo is Xhosa and she got married to King Goodwill in 1992.
Princess Bukhosibemvelo
Date of Birth: 1985
Age: 38
Profession: Somatology
Marital Status: Married
Husband: Sipho Nyawo
Princess Bukhosibemvelo is one of the daughters of late Queen Mantfombi. She got married to a businessman named Sipho Nyawo on August 15, 2009. The South African princess has a degree in Beauty Technology. After their father's death, it is reported that Princess Bukhosibemvelo is among those who wrote a letter to her brother, Prince Misuzulu Zulu, in an attempt to dethrone him.
Princess Mukelile Zulu
Date of Birth: Undetermined
Age: Undetermined
Profession: Project Manager
Marital Status: Undetermined
Princess Mukelile is the daughter of Queen Thandi and she heads the ZAZI campaign that encourages women and girls to draw on their inner strength and self-confidence to understand themselves. She visits schools and community groups, addressing children on reproductive health and problems of sexual abuse and neglect.
She has partnered with the local non-profit organization, uThungulu Community Care, in Richards Bay, and has hosted a toddler abuse awareness campaign in Brackenham; it was a campaign that encourages children to feel safe to talk and report abuses.
Are Late King Goodwill Zwelithini's Daughters In the Battle For The Throne?
At least two of the late king's daughters have voiced their dissatisfaction at their father's will as there is a clause that stated "any of the king's wives who challenge the will in court will lose their share of his estate". This led the daughters to take up the matter in court, claiming some of the will clauses are infringing and at the same time disrespectful to their mothers. After the demise of their father, there was confusion among his followers concerning who will ascend the throne of the great Zulu Kingdom, this led to tensions across the public with different groups of people believing both princess Nombuso and Prince Misuzulu are the rightful heirs to the Zulu Kingdom. The late King's first wife, Queen Sibongile Dlamini, had to take the issue to court. It was reported that the Queen wants to inherit at least 50 percent of the late king's estate based on the well-known fact that she is the first wife.
On a separate note, her two daughters, Princess Ntandoyenkosi and Princess Ntombisuthu Zulu are also challenging the credibility of the king's decisions, alleging that some signatures are possibly forged, therefore cannot stand. According to sources close to the royal family, Princess Nombuso seems to have accepted King Misuzulu as the king and successor of her late father on the condition that he assures her that her mother wouldn't be stripped of her royal benefits as the first wife of the late king. These allegations were later denied by Princess Nombuso, she insisted that they only met as siblings to discuss issues threatening their family's unity.
Amidst the crises surrounding the kingdom, Prince Mangosuthu Buthelezi, who is the traditional prime minister of the Zulu Kingdom, denied the allegations that he tried to block the meetings between the family members. Buthelezi told the media that he had advised Misuzulu not to go ahead with a meeting with Princess Nombuso, who is believed to have aligned with a faction of the royal family that wants Prince Simakade as the next king. It is believed that Misuzulu is not happy as the misunderstanding gave him sleepless nights. Therefore, to proffer a solution and also avoid a legal battle that might span over years, he opted to meet with the family members to settle the dispute outside the walls of a courtroom.