MacDonald Ndou (born 14th March 1984) is a 39 years old South African actor known for his role on the popular SA drama series, Muvhango. The actor has won hearts with his role-interpreting skills and how much life he brings into the character that he portrays.
Since he started making waves as an actor, MacDonald Ndou has garnered a lot of fans who appreciate his work. He is now quite huge on social media and has nearly 200k followers on Instagram alone, with the numbers increasing steadily. However, despite his fame, he is one person who loves to keep his private affairs private and has left fans guessing about some aspects of his life, including who his wife is.
Profile Summary of MacDonald Ndou
Full Name: MacDonald Tshifhiwa Ndou
Gender: Male
Date of Birth: 14th of March, 1984
MacDonald Ndou's Age: 39 years old
Place of Birth: Vuwani, Vhembe, South Africa
Education: University of Venda
Nationality: South African
Ethnicity: Venda
Religion: Christian
Sexual Orientation: Straight
Marital Status: Married
Children: One
Famous For: His role on Muvhango
MacDonald Ndou's Net Worth: $100,000 – $200,000
Instagram: macdonald_ndou
MacDonald Ndou Was Born 39 Years Ago
MacDonald Ndou, whose full name is MacDonald Tshifhiwa Ndou, was born on the 14th day of March 1984. He is 39 years old at the moment. The actor was born in Vuwani, a town in Vhembe District Municipality in the Limpopo province of South Africa. According to some reports, this is also where he grew up with his family.
Very little is known about MacDonald Ndou's childhood and the events that shaped his dreams as a child. This is mainly because of the fact that the actor is not fond of talking about his personal life and has generally kept details about himself from public scrutiny. Most of the things known about him are details of his career.
As a result, details about where he had his primary and secondary education are not known. Also, not much is known about the identity of his parents or what they do or did for a living. Details about the actor's private life are so scarce that it is not certain if he is an only child of his parents or if he has siblings with whom he grew up in South Africa.
MacDonald Ndou Is Proudly A Venda Man
MacDonald Ndou is a proud Venda man. It is noteworthy that the actor is from the Venda tribe, a Bantu-speaking people who inhabited the region of South Africa that was known as the Republic of Venda from 1979 to 1994. However, that area is now a part of the Limpopo province.
Even though he is very quiet when it comes to talking about his private life, MacDonald is quite vocal when it comes to talking about his people, culture, and heritage. In fact, he is widely known to be among the few South African actors who actually love and pay homage to their traditions and homeland whenever they get the chance. He has often been on record to have encouraged South African parents to focus on teaching their kids their native language and not just focus on the English language.
He Loves Connecting With The Community
MacDonald Ndou has assumed the role of a philanthropist in his community. In his quest to connect more with the people in the Vuwani community where he was born, the actor has become quite active, frequently engaging people on the importance of upholding their tradition and motivating pupils to stay focused. He is also known to hand out stationery to young people every now and then as a way of encouraging them to read and write.
What Ndou Was Doing Before Fame Came Calling
MacDonald Ndou is known today to be a very popular actor who has won several hearts with his acting talent. However, this has not always been the case with the Venda man. In fact, before fame came calling, he was struggling financially and struggled to make ends meet during that period.
In an interview that he granted in 2016, Ndou revealed that he once had to work as a griller at Wimpy just to make ends meet. However, even at that time, he still had dreams of working as a full-time actor someday. Acting fascinated him and he saw himself as someone who would do really well in the industry.
He Trained To Be An Actor
With the desire to become an actor still burning hot in him, MacDonald Ndou decided to go to school and study acting. He then enrolled at the University of Venda where he trained to be an actor. This period of his life opened his eyes some more to the wonders of acting and he was even more determined to make things work as an actor.
Ndou also proceeded to study stage performance at the State Theatre. This move was made because he not only wanted to act in movies and TV series but also to star in stage performances in theatres.
He Started Out His Acting Career In The Theatre
Before he became one of the popular faces on TV in South Africa, MacDonald Ndou started out his acting career as a stage performer in the theatre. The actor acted in several stage productions and wowed the audience with his acting skills. Some of the dramas he participated in at the time include Distance Past, a play that was staged at the State Theatre in Pretoria.
MacDonald Ndou also acted in Joburg's Market Theatre with Humbulani Tsharani, who, interestingly also plays Mulimisi in Muvhango today. MacDonald was so good at stage performance that he actually won the Best Actor award at the Sibikwa Drama Festival together with Humbulani.
In addition to acting on stage, MacDonald Ndou also did radio dramas. According to our findings, the actor did radio dramas on Phalaphala FM, a radio station operating through SABC, South Africa's government-owned national broadcaster.
Muvhango Launched Him To Immense Popularity
After appearing in different stage productions across South Africa, MacDonald Ndou finally made his cross-over to TV when he was cast to star in Muvhango, one of South Africa's most popular TV series. It is not clear how the actor got the role but we know that he started appearing in the series in 2008 when he was about 24 years old.
The Muvhango series introduced MacDonald Ndou to the larger South African public who were already obsessed with the Muvhango show at the time. Ndou, who had mainly performed before audiences in theatres before this time, was launched to immense popularity as the show announced his creativity to more people than he had dreamed possible.
Ndou was cast to play the main role of Khakhathi Mulaudzi also known as "KK" in the series and he quickly got fans of the show hooked to his character right away. The character KK is a colorful villain who is notorious for wearing shiny suits all over the place. KK is haughty, cunning and never apologizes even when he is wrong. He is seen as a cheater and a dubious man who uses people to achieve his own selfish desires. But he is also a very enjoyable character to watch because of his manipulations and all the intrigues he brings to the show. So, even though he is a villain who is really proud and arrogant, MacDonald Ndou's character, KK, is also loved by the Muvhango-viewing public.
In fact, MacDonald Ndou has become one of the most popular figures on Muvhango and many people claim he is one of the reasons why the show is still so relevant today, more than two decades after it first premiered. Having begun starring in the series in 2008, Ndou has now been a part of the show for more than a decade and is respected for the part he has played in it. He is widely considered to be the life of the show and that nearly everything revolves around him and his cunning moves. Nearly every week, new discussions are raised by fans of the show about KK's new, cunning, dubious moves and if karma would eventually catch up with him.
MacDonald Ndou Is The Opposite Of His Character On Muvhango
Like we have explained, MacDonald Ndou's character on Muvhango, KK is a proud, loud, and manipulative villain who never apologizes when he does something wrong. He is unfeeling and cruel with his moves. This has led to many people wondering if Ndou is the same way in real life. Some people have opined that he is also vile and proud in real life and that this is why he has been able to portray the KK character so well.
However, MacDonald Ndou has since debunked the allegations. In an interview that he granted in 2016, the actor explained that he is nothing like the character he portrays on TV. According to him, he is actually the opposite of KK because he is very calm in real life and also not abusive at all. He also revealed that he is very reserved and is just a regular guy who loves wearing jeans, takkies, and T-shirts, unlike his character who is often clad in shiny suits.
Ndou also claimed that he is so quiet and reserved that he can walk into a room and no one will even notice that he is there. He went on to explain that he really hates it when fans confuse his real self with the personality that he portrays on television and that they must realize it is all make-belief. However, he also revealed that he does love meeting the fans whenever he gets the chance.
It is noteworthy that fans have come to believe that MacDonald Ndou's real life is the same as the character he portrays on TV mainly because of how believable he portrays the role. He has become so good at what he does that many believe he is acting from experience and that his real-life manners fuel the way he gives life to his onscreen character.
He Is Fashionable On Instagram 
In a move to further prove to fans that he is not in any way like the character he plays on TV, MacDonald Ndou has deliberately filled his Instagram page with photos showing him dressed in fashionable suits and other apparel. Take note that the KK character on Muvhango is known to wear shiny shirts and suits which are actually out of date and considered old-fashioned. In fact, KK is widely considered by many Muvhango fans to be TV's worst dresser.
Also, Ndou himself has often spoken about the fact that he actually hates the shiny, old-fashioned suits he is made to wear on Muvhango and that he can't wait to stop wearing them. So, the actor has made it his duty to prove he can actually be fashionable in real life and let fans know the difference between his onscreen fashion sense and the real way he likes to dress.
A quick look through his Instagram page shows it is filled with pictures of MacDonald Ndou clad in trendy shirts and suits and having the time of his life; a subtle reminder that he is actually very different from how he is seen on television. He has also built a community of loyal fans who monitor his every step on Instagram and also engage him on the platform.
MacDonald Ndou Is A Happily Married Man
MacDonald Ndou is a happily married man at the moment. The popular actor is married to a truly gorgeous woman who is only known as Mrs. Ndou. The actor, who is very secretive with his private life, has made sure his woman is kept out of the spotlight as much as possible. In fact, even her actual name remains unknown at the moment.
As expected, the story behind how the couple first met and fell in love with each other is out of the reach of the public. Also missing from public attention is the number of years they dated before settling down as husband and wife. Also, what his wife does for a living is unknown at the moment.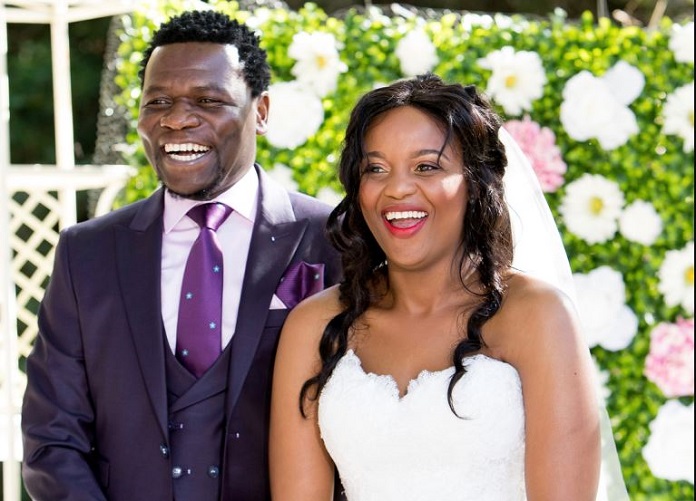 However, we know that their marriage happened in 2018 in a private ceremony. When the couple tied the knot, their wedding photos went viral on the internet exciting his many fans who expressed admiration with how beautiful the star actor's wife is. The interesting thing is that Ndou did not share photos of the event on his Instagram page when his marriage took place.
Instead, it was his co-star and friend, Tshinondiwa Thovhakale, who took to Instagram to announce the wedding and share photos from the event. MacDonald Ndou and his wife have remained together as a couple ever since.
Their Marriage Has Been Fruitful
The marriage between MacDonald Ndou and his beautiful wife has been fruitful as the couple has since welcomed a son. It is not clear exactly when the boy was born. But, in December 2019, photos of MacDonald Ndou with his son and wife got fans excited. The actor appeared really happy as he posed with his son and his wife.
Occasionally, MacDonald Ndou posts new images of his baby boy on the internet and, at other times, posts videos of them having a good time together. The actor is apparently a proud and doting father who appears ready to do anything to ensure his son is given all and raised well.