Oluremi Tinubu (born 21 September 1960) is a 63 year-old Nigerian politician currently serving as a senator representing Lagos Central Senatorial District at the Nigerian National Assembly. She is also a former first lady of Lagos State as a result of her over three-decade-long marriage to former Governor and Senator of Lagos State, Bola Ahmed Tinubu.
Remi, as she is fondly called by many, came into contact with politics after her husband became Governor of Lagos State in 1999. In addition to her career, she is a mother of three children and a stepmother to her husband's children from previous relationships.
Profile Summary Of Oluremi Tinubu
Full Name: Oluremi Tinubu
Date of Birth: 21st of September 1960
Age: 63
Nationality: Nigerian
Education: Adeyemi College of Education, Ondo State, Obafemi Awolowo University, Ile-Ife
Parents: N/A
Height: N/A
Occupation: A politician, businesswoman, an author, a pastor
Years Active: 1999 to date
Net Worth: N/A
Who Is Oluremi Tinubu?
Oluremi Tinubu's roots are in Ogun State in the South-Western part of Nigeria. Though very little is known about her early life and family background, it is common knowledge that the Ogun State native came from a large family of 12 children where she ranks as the last child. Remi's date of birth is captured as the 21st of September 1960 and her family is a Christian belonging to the Anglican Church of Nigeria.
She has not said much about her family, but from what is obvious, her father is the caring type who caters to the wellbeing of his children. According to the wife of Bola Tinubu, her father's first question for Asiwaju after he declared interest in marrying her was that he should not stop his daughter from practicing Christianity as Asiwaju is a Muslim. Remi's mum on the other hand has never been mentioned, thus, nothing can be said about her. It would appear that none of Oluremi's siblings is in the limelight, but the former First Lady of Lagos hass mentioned her sister whom she gives the credit for introducing her to Bola Tinubu.
Oluremi Tinubu's Academic Background
The details of Oluremi Tinubu's early educational history have never been revealed, but the facts about her higher academic qualifications are bare. After completing secondary school, the Ogun State native proceeded to Adeyemi College of Education for further studies. Majoring in Botany and Zoology, she received an NCE (National Certificate of Education) from the institution. Not satisfied with an NCE, Remi joined the Obafemi Awolowo University in Ile-Ife where she earned her first degree in Biology Education.
How Oluremi Met Bola Tinubu Through Her Sister
According to the former First Lady of Lagos, Bola Tinubu was already a family friend before they became an item. In an interview session, She narrated how her sister introduced the two of them because she was rather too worried about Remi's lifestyle. In her own words, Oluremi said she was the shy and taciturn type and even after graduating and landing a job, she still couldn't bring herself to mix up with people, though she loves to dress up and look good.
It was Remi's anti-social disposition that led her sister to introduce her to Tinubu who was already a family friend before he traveled out of the country, but because of Remi's detached nature, she couldn't even place the guy. Her sister really worked hard to remind her and they took it up from there.
Remi Tinubu Said It Was Bola's Eyes That Attracted Her To Him
In her own words, Oluremi Tinubu said the first thing she noticed about Ahmed Bola Tinubu was his pair of kind and piercing eyes that led her to like him instantly. Being somebody who believes that the eyes are the mirror of the soul, it was easy for Bola to capture her attention with such penetrating eyes. However, as they commenced dating, Remi said she got to discover other parts of his personality and ambition that made her take the life-changing decision of exchanging the forever vows with the man.
At the time, Bola was just an employee but serious about his job responsibilities and harbored very lofty plans for the future. Asiwaju would normally tell her about his love for helping people even though he didn't have much wealth then, and being someone who is equally generous, Remi immediately concluded that she wanted to be part of his journey.
The Duo Got Married In 1987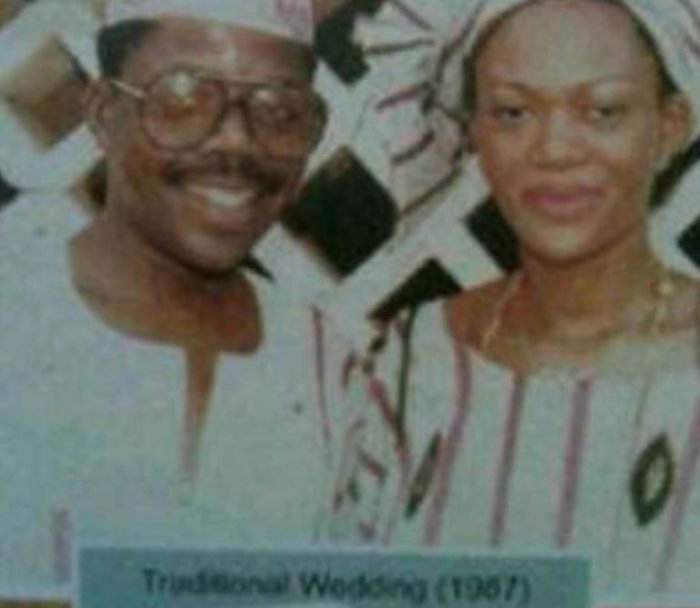 With two people who already know what they want from life, courtships don't last very long. Such was the case with Oluremi Tinubu and Asiwaju Bola Ahmed Tinubu. Though no one knows the exact time they became an item, their courtship was said to be short-spanned, culminating in a traditional marriage that was held in 1987.
Going by their official dates of birth, Oluremi was barely 27 at the commencement of their union while her spouse Bola was already in his mid-thirties. Their wedding was a low-key one as the Asiwaju of Lagos was just in paid employment and was yet to acquire all the wealth and accompanying aggrandizement that is now the trademark of the self-acclaimed Lion of Bourdillon.
News Has It That Oluremi Tinubu is Not Asiwaju's First Wife
Going by what we could sieve from the records, Oluremi Tinubu is far from being the first wife of the All Progressive Congress party chieftain. The Jagaban of Borgu Kingdom was married to an unidentified woman who is believed to be the mother of his first son Jide Tinubu who died in 2017.
It was a year after Jide's death that the news about the identity of his biological mother hit the airwaves but unfortunately, the news was orchestrated by the woman's death in 2018. Thus Oluremi may not be the first wife of Bola Tinubu but she is his only surviving wife.
Oluremi Tinubu is a Mother of Three
Oluremi's marriage to the Asiwaju of Lagos has been quite fruitful but the actual number of her biological children has always been a subject of debate. while some think that Oluwaseyi is her first child, other's believe she is just the step-mum, but the truth is stated below
There is This Widely Held Belief that She Gave Birth To Oluwaseyi Tinubu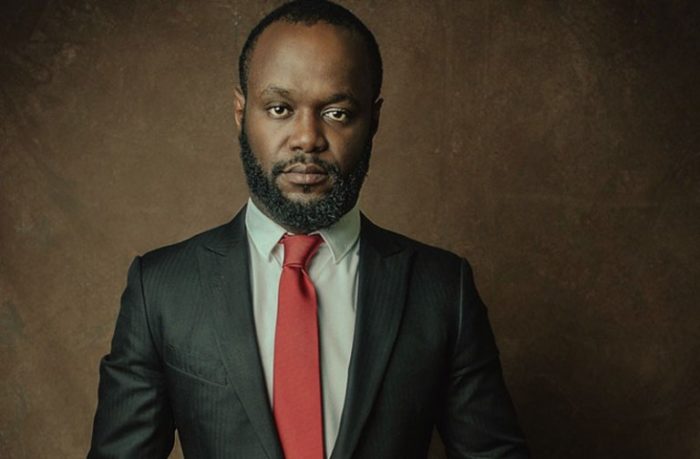 While many believe that the first surviving son of Bola Tinubu, Oluwaseyi is Oluremi's first fruit, this is very far from the truth. According to reports, Seyi actually came from Tinubu's affair with an air-hostess turned prophetess, Bunmi Oshonike whom he met on a flight a few years before marrying Oluremi.
Besides, considering Seyi's year of birth which reads 1985, it becomes glaring that he was already a toddler by the time Bola and Oluremi Tinubu became man and wife. Remi may have brought Seyi up but he is not her biological son. However, they seem to have a good mother and son relationship – Remi acted as the mother of the groom at his wedding, even though his biological mother was said to be present at the venue but had to lie low.
Oluwaseyi is into digital and outdoor advertising and he is in line to be the next governor of Lagos State, according to the grapevine.
Zainab Abisola Tinubu is Oluremi Tinubu's First Child With Asiwaju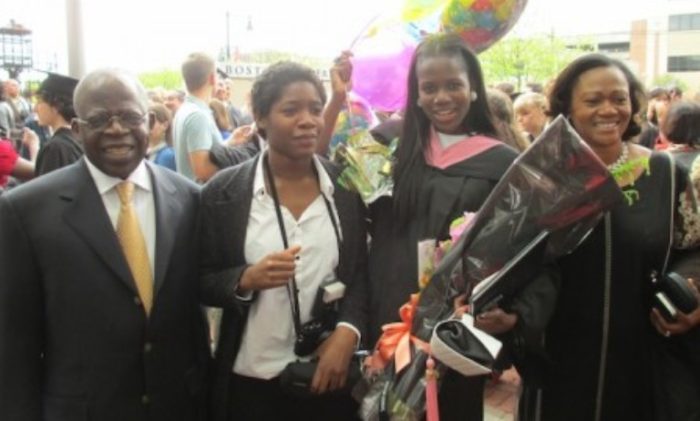 In truth, Oluremi's first child with Bola Tinubu is a girl named Zainab Abisola Tinubu but unfortunately, no aspect of her life has made it to the public arena. Consequently, her date of birth, place of birth, and academic institutions attended are not known. In the same vein, no one knows the career path she has toed. People just assume that she must be through with university education since her younger sister, Habibat is already a graduate.
The Senator's Second Child is Called Habibat Tinubu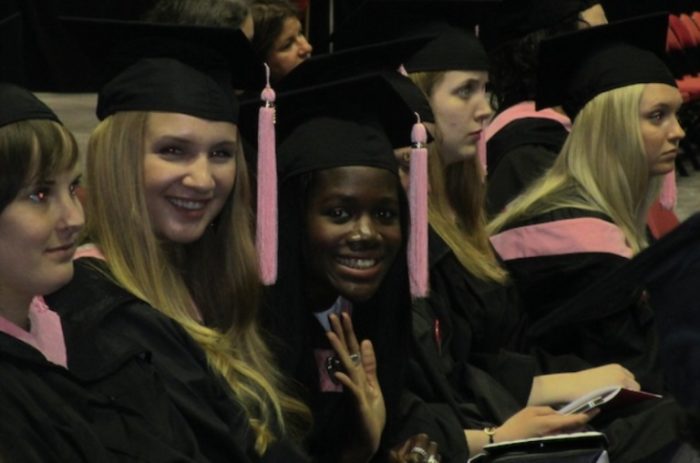 Her second child with the Lion of Bourdillon is also a girl who goes by the name Habibat Tinubu. Habibat's life is equally hidden from the public space like her big sister Zainab but it is known that she is the last daughter of Asiwaju. However, in 2013, the Nigerian public was treated to a glimpse of Habibat's life when she became a graduate after years of study at the Berklee College of Music, Boston, Massachusetts; she majored in music at the prestigious institution. Bola, Oluremi, and Zainab were on hand to support Habibat at her graduation ceremony on the 11th of May in Boston.
Olayinka Tinubu is Remi's Last Child and the Second Surviving Son of Bola Tinubu
Bola Tinubu's last child is called Olayinka Tinubu and he is Oluremi's only son with the Jagaban. From what is perceivable, the senator representing Lagos Central seems to be serious with the business of keeping her children off the limelight as practically nothing is known about Olayinka.
Remi's Career Progression, First As the First Lady Of Lagos
Though Oluremi Tinubu claimed to be already working in paid employment before she met her significant other, Bola Tinubu, nothing was heard about her until May 1999 when the Asiwaju of Lagos assumed office as the elected governor of Lagos State. Bola's new post conferred on Remi the status of the First Lady of Lagos, and needless to say, she soon became a household name in the country.
Oluremi's first tenure in office as the First Lady led to the establishment of some charity foundations in support of what her husband already has on the ground. Bola Tinubu is the founder of several foundations that have continued to take care of the underprivileged population in Lagos and his wife followed suit. She worked with the poor and less privileged throughout her time as the First Lady and is still involved in philanthropy.
Her Career As Senator
Oluremi Tinubu's best-known role to date is serving as the First Lady of Lagos State for eight years, especially since it marked her first step into the Nigerian political realm. However, the mother of three later went ahead to create a niche for herself in politics by becoming a direct participant in the 2011 general elections. Her personal political journey started when the wife of the Asiwaju of Lagos picked a nomination form to run for the office of a senator through her husband's former party, Action Congress.
Oluremi Tinubu emerged successful in the general elections of 2011 as she was elected into office as the senator representing Lagos Central. Towards the end of her first tenure, Remi made a re-election bid and at the elections in 2015, she returned to office for the second time. Her success made the mother of three one of the six women who made it into NASS but this time around, AC was no longer existing and she contested under the umbrella of the All Progressive Party (APC) where her husband reigns supreme.
She contested for the next general elections which took place in 2019 and like the first two; Remi was pronounced the winner making it three successive tenures as a senator of the Federal Republic of Nigeria.
Since she started operating at the national level as a senator, the mother of three has also kept in touch with Lagos State. COWLSO (Committee of Wives of Lagos State Officials) has her as one of its grand matrons and she has continued to touch lives in Lagos and beyond through her foundations.
Remi Champions The Cause of Nigerian Women as a NASS Member
So far, Oluremi Tinubu has spent over a decade in office as a member of the National Assembly and during those 10 years, the wife of the Asiwaju of Lagos has been seen championing the cause of women. A good instance can be drawn from the 2016 National Budgetary Allocation where the Federal Ministry of Women Affairs and Social Development got just N4 billion in total allocation. On the debate floor of a senate plenary in Abuja where the general principles of the budget proposal were discussed, Mrs. Oluremi Tinubu made it known that the amount was inadequate as it was too small to take care of the welfare of Nigerian women who came out in their numbers to support the ruling party.
According to Remi, the budgeted amount will be less than adequate to meet the aspirations and yearnings of Nigerian women who are dependent on the All Progressive Congress-led government for succor. She reminded them that the women's expectations are only in line with the party's campaign promises of 2015.
Laying her case on behalf of the women in Nigeria, the former First Lady of Lagos State said it was not likely to go down well as it appeared as if women have been used for campaigns and not compensated during budget allocation.
Calling on the APC government of change, she urged them to ensure that their change mantra changes things across the board and condemned what the Ministry of Women Affairs got as discouraging.
The Senator also supported a bill of life in jail for kidnappers.
Oluremi Tinubu is Also a Writer
Even with her busy career in the National Assembly as a Senator of the Federal Republic of Nigeria among other duties and obligations to the Nigerian State, Mrs' Oluremi Tinubu still finds the time to put ink to paper. The wife of the Asiwaju of Lagos has proved that she can hold her own among the authors of our time by releasing a book entitled Stewardship Report; a collective of town hall meeting speeches. This publication was launched at Remi's public presentation at a town hall meeting in Lagos.
The mother of three also has a good business head on her shoulders as she is believed to be involved in the management of several of her husband's assets scattered all over the country, especially in Lagos State.
Mrs. Tinubu is an Ordained Pastor of the Redeemed Church of God
Talking about her experience in exile when her husband and a few others were hunted by the Abacha administration in Nigeria, Oluremi Tinubu narrated how she went to seek the face of God while saddled with two children alone in America. According to the Honorable senator, she went into exile as an Anglican and came back as a Pentecostal. Her quest to know God better landed her at the Redeemed Christian Church of God led by Pastor Enoch Adeboye and since then, she has shared a close affinity with the general overseer and his wife who would always attend any event hosted by the Tinubus, even Remi's birthdays. In turn, Remi always graces any event by the Adeboyes and has been steadfast in the work of God, attending all the workers in training class and going through the preparatory stage prior to baptism.
She qualified for the ordination of an assistant pastor after attending Redeemer's School of Disciples and in August 2018 at the 66th annual convention of RCCG themed "Dominion", the wife of Asiwaju of Lagos was ordained alongside 3, 406 others. The ordination ceremony which was hosted at the RCCG's old arena on the Lagos/Ibadan expressway was attended by Remi's husband Bola Tinubu who was on hand to show his support to her faith despite coming from a Muslim background.
Even before she became a pastor in the church, Mrs. Oluremi Tinubu has already extended her milk of human kindness to the church. In June 2012, her Youth Musical Fiesta program was floated and has been ongoing to date. It is an annual program that conveys youths of different musical groups and church denominations together. The program scouts for people between the ages of seven and 18 to participate in the fiesta.
Oluremi Said Her Marriage To Bola Tinubu Made Her A Better Christian
According to the wife of the former governor of Lagos State said that, though she came from Anglican family background, she was far from being born again before getting married and wasn't really the type that goes to church regularly. Narrating how her dad appealed to Bola to allow her to continue in the Christian fate, Oluremi said her relationship with the Lion of Bourdillion has made her a better Christian, even though he is a staunch Muslim.
Going on, she stated how she now knows God more, becoming a born-again Christian and presently an ordained pastor in the church, Bola has never tried to impede her in any way since they became husband and wife. She described the Asiwaju of Lagos as a man who is set in his ways with a sure knowledge of the direction his life is heading unlike her that needed some assistance to get her life figured out. Mrs. Tinubu said, having a man like Bola has helped in stabilizing her home.
The Former First Lady Of Lagos is Neck-deep into Philanthropy
With her long history in the Nigerian political realm from the First Lady of Lagos State to becoming a three-time senator of the Federal Republic of Nigeria, people naturally expect Oluremi Tinubu to be involved in philanthropy and she has not disappointed. In fact, Remi, Bola, and Seyi, who is being groomed to take over Lagos State as its governor are all neck-deep into philanthropy.
While her husband already has a handful of charity organizations running, Remi complimented his effort by founding New Era Foundation. The NEF is an NGO committed to the wholesome development of Nigerian youths. The foundation is constantly engaged in community services and often goes to the streets to create public awareness on issues like environmental health.
The milk of human kindness really flows in Remi as she has constantly shown her commitment towards taking a lot of indigent youths out of the doldrums of want, poverty, and neglect.
She really gave other organs of government that were into social welfare programs a push in the right direction as many of them were forced to sit up and pay attention. They just had to tap ideas from NEF to up their game.
Oluremi is as Accomplished as Bola Tinubu
It may not appear right to place Oluremi Tinubu on the same pedestal as Asiwaju Bola Ahmed Tinubu, but, the Ogun State native has really come a long way in her career. We are not denying the fact that she only became popular through her association with the Jagaban after he assumed office as the Governor of Lagos. However, since she finished her tenor as the first lady, the mother of three has made her mark in the National Assembly.
People would naturally ascribe Remi's success in NASS to the influence of her powerful husband but according to the senator representing Lagos Central, the mark she has made in politics today is not solely dependent on Asiwaju's clout. In fact, she revealed how her spouse tried to talk her out of going for the second tenure as a senator, but she insisted, meaning that her victory didn't come from him.
In another news, Oluremi Tinubu narrated how she fights her battles herself without going to Bola for succor. Many may find her narrative hard to believe but Remi's accomplishments speak for themselves, besides, her effort in politics has not gone unnoticed as the mother of three has harvested quite a handful of prestigious awards in the course of her career;
She has been bestowed with the prestigious OON (Officer of the Order of the Niger) national Award
In 2004, Kings' University Ode-Omu named her Member of their Board of Trustees
In Ghana, she received the Noble International Award for Leadership
In 2005, her huge contribution to the liberation of people from penury earned her the Gambian Diamond Award
Considering all these, one just has to agree that Oluremi Tinubu is indeed an accomplished woman and has continued to accomplish even more.