Ryuta Otani is the elder brother of Shohei Ohtani, a Japanese professional baseball pitcher. Like his famous brother, Ryuta is a baseball player who plays as an amateur in the Japanese Industrial League. The 35 year-old is also doing well as a coach for a corporate baseball team.
The Japanese sporting scene will count it a blessing having the talented brothers Ryuta Otani and Shohei Ohtani project them to the world. They have brought pride to baseball fans and teams both locally and internationally.
Ryuta Otani's Biography Summary
Full name: Ryuta Ohtani
Gender: Male
Date of birth: 20th March 1988
Ryuta Otani's Age: 35 years old
Ethnicity: Asian
Nationality: Japanese
Zodiac Sign: Pisces
Sexual Orientation: Straight
Religion: Christianity
Ryuta Otani's Parents: Toru Otani (Father) and Kayoko Otani (Mother)
Siblings: Yuka Otani (Sister), Shohei Otani (Brother)
Ryuta Otani's Height in Inches: 6 feet 1.3 inches
Ryuta Otani's Height in Centimetres: 187 Centimeters
Famous for: Being Shohei Ohtani's brother
Ryuta Otani's Instagram: @ryuta.otani
Ryuta Otani was Born in Japan in 1988
Born in Oshu, Japan, on the 20th of March 1988 as the second child and first son to parents Toru Otani and Kayoko Otani, Ryuta was indeed a blessing to his family. He was born six years earlier than his famous younger brother – Shohei Ohtani.
According to his parents, they made sure their children didn't lack anything while growing up, they worked really hard to provide for their family. His father used to work at a local automobile manufacturing plant, and he had to take up lots of night shifts. It was considered a privilege whenever he sat down to dinner with his family.
Ryuta and his siblings had a very ordinary childhood and attended local schools in Oshu, Iwate Prefecture. He attended Hanamaki Higashi High School, where he began to hone his skills as a sportsman.
Ryuta Otani is From a Family of Sports-inclined People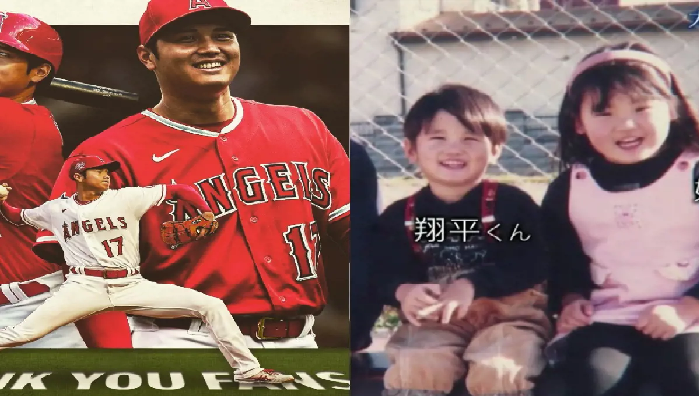 Many people do not find it surprising that the Otani family is enjoying the attention they have today because the sports gene seemed to have been passed from the parents to the children.
Starting from Ryuta Otani's mother, Kayoko, who was a badminton player in high school where she had the privilege of playing at the national level, and also the patriarch of the family Toru Ohtani who seems to have handed down his baseball-playing skills to his sons. Toru was an amateur baseball player for several years, and he played in the Japanese Industrial League.
Ryuta Otani's younger brother, popularly known as 'Shotime', is a well-celebrated professional baseball pitcher, designated hitter, and outfielder who plays in the Major League Baseball (MLB) for the Los Angeles Angels.
Shohei Ohtani's Brother, Ryuta, Fell in Love With Baseball From a Young Age
Ryuta grew up watching his father, which was how he came to love baseball. He got all the training and encouragement he needed at home, and he started playing baseball in elementary school. He had a great coach in his father, who trained him alongside his younger brother.
According to his father, Ryuta and his brother had always had different personalities while growing up. While Ryuta will hesitate to play on playground equipment because he was scared, his brother would always go all in.
Toru has also shared that he had some regrets about how he raised Ryuta. According to him, while Ryuta was young, he spent a lot of time at work doing both day and night shifts, so was not able to spend enough time with him, especially in training.
He recalls how disappointed Ryuta was at one time when his high school team wasn't qualified to move forward in the prefectural qualifying round, and he kept thinking if only they had worked together more, maybe things could have been different, and he vowed to give Shohei what he couldn't give his older brother.
Ryuta's Only Sister, Yuka Ohtani, Pursued a Career in the Medical Field
Yuka Ohtani is the first child and only daughter of Toru and Kayoko Ohtani. Unlike her brother and other members of her family, Yuka lives her life away from the media scrutiny. Just like her brothers, she was born and raised in Oshu, Iwate, Japan, but her actual date of birth is not known as she is a private person. Even though she has chosen her career in a different field, Yuka has her own fair share of her parent's sports genes.
She was said to have played Volleyball even until her collegiate days. She then enrolled at the University of Nursing, where she studied to be a nurse. She is said to be a practicing nurse presently, but other details about her life remain a mystery.
Ryuta's Younger Brother, Shohei, is More Famous Between the Ohtani Brothers
Shohei Ohtani is actually six years younger than his big brother-Ryuta Otani. Shohei was born on the 5th of July 1994. He is a professional baseball pitcher, designated hitter, and outfielder who currently plays for the Los Angeles Angels in the Major League Baseball (MLB).
Shohei, who is nicknamed "Shotime," was considered an elite two-way player early in his career, and he once played for the Hokkaido Nippon-Ham Fighters of Nippon Professional Baseball's (NPB) Pacific League. The Fighters first selected him in the 2012 draft.
Amongst other accolades, Shohei had the fastest pitch by a Japanese pitcher in NPB history at 165 kilometers per hour (102.5 mph). He also earned the American League Rookie of the Year Award in 2018 and the American League Most Valuable Player Award in 2021.
The year 2021 was indeed a great one for Shohei as he had an outstanding record play bagging several awards, accolades, and recognition. He was described as a historically significant player who has made a major impact on the sport. He has been dubbed the Japanese Babe Ruth due to his exceptional ability to pitch and hit at a very high level.
The Talented Ohtani Brothers Have a Good Relationship
There is no doubt that Shohei Ohtani has enjoyed more success in his career compared to other members of his family. Despite all this, he has remained humble, which is one of the major values that his father tried to inculcate in all of his children at a young age. It is not uncommon to have the lives of the two brothers compared, especially because Ryuta is the older brother.
The brothers aren't prone to sharing their private and family business with the media, but they are said to have maintained a close relationship over the years. They have a mutual love for sports, and they grew up training and playing together. Shohei, on the other hand, has always been more driven and gave sports his 100 percent, which has yielded good returns for him.
Ryuta Otani Doubles as a Coach and Player: He Led His Team to the Nationals
Ryuta also plays baseball but as an amateur. He is part of the Toyota Motor East Japan Inc. baseball team called the Morioka. He acts as the coach and also a player on the team, which has been a major motivation for his teammates.
Ryuta is a valuable member of the team, and he proved his worth in 2018 when he won his team a ticket to the Tohoku area qualifier's second round. This was the first time the team was qualifying for the Baseball Tournament in Japan since its inception several years ago.
Just like his younger brother, Otani had the dream of playing professional Baseball but chose to play in the local leagues for reasons known to him. Even though he is playing for local teams in Japan, he is good enough to pursue professional heights if he chooses to.
Just Like His Brother, Ryuta Otani's Relationship Status is Unknown
By virtue of his brother's popularity, Ryuta has caught the attention of the media. From all indications, the Otanis are very private people and have chosen to remain so. Just like his younger brother, there is no definite information about his relationship status. It is not known if he has a wife, a girlfriend, or any kids.