Fela Kuti was a Nigerian musician who had seven children in his lifetime. Among them are Femi Kuti, Seun Kuti, Yeni Kuti, Kunle Anikulapo Kuti, Shalewa Kuti, Sola Kuti, and Motunrayo Anikulapo Kuti.
Fela Anikulapo-Kuti, also known as the "Abami Eda," is arguably the greatest musical legend to have come out of Africa's most populous country, Nigeria. Fela stood for and represented so many things while he was alive; he was the voice of the voiceless and the downtrodden, a thorn in the flesh for the corrupt military and civilian governments in his country, a seer who saw far ahead of his time, and an eccentric individual who lived his life to the fullest as it pleased him. Fela Anikulapo-Kuti's children, amongst other things, remain his greatest legacy to date.
Many people wondered at the time of his death, who will ever replace Fela Anikulapo-Kuti? The simple answer is that no human being alive (or dead) can ever replace the legend himself, but some of his children have stepped up to the plate to try and match their father's giant footprints and to make sure that his legacy continues to live on in our minds and consciousness. While some of Fela Kuti's children are afrobeat musicians who have achieved international reputations in their own rights, others have learned astute management skills to ensure that the name of their father and what he stood for continues to live on till eternity.
Fela Anikulapo-Kuti Became A Polygamist By Virtue Of Circumstances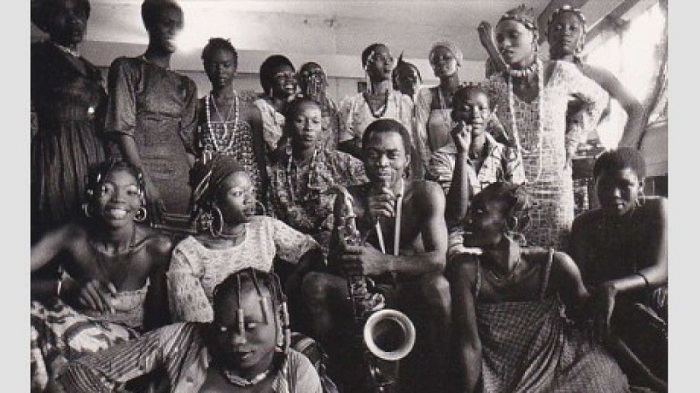 Fela Kuti started off as an individual who was passionate about making music and making people happy and merry, but the circumstances around him and his experiences shaped not only his music but his lifestyle as well. He never planned to be a polygamist, nor did he show signs of being one, especially when he married his sweetheart, Remilekun Taylor, in 1960, who bore his first three children for him.
In the 1970s, when Fela changed the lyrical theme of his music from merriment and love to addressing topical societal issues, he also enlarged his band to include several female dancers, backup singers, writers, etc. After the Nigerian governments he often spoke out against began to arrest and detain him incessantly, one of the accusations they often leveled against him was that he was involved in woman trafficking and kidnapping – due to the number of women around him at the Kalakuta Republic, as his commune and self-declared republic was called then.
In 1978, after General Olusegun Obasanjo's regime destroyed the Kalakuta Republic, Fela, on the anniversary of the destructive event, decided to marry 27 women – mostly those working with him at the shrine for several years, and secondly to formalize his marriage with these ladies to defeat the spurious allegations by oppressive regimes that he was involved in kidnapping women for his pleasure at the shrine.
The names of some of his 27 wives were Adunni Idowu, Damiregba Anikulapo-Kuti, Ronke Edason, Laide Anikulapo-Kuti, Omowunmi Afesumo, Funmi Kuti, Tokunboh Akran, Suru Eriomola, Lara Anikulapo-Kuti, Bose Anikulapo-Kuti, Adejonwo Ogunitiro, Ihase Anikulapo-Kuti, Kevwe Oghomienor, Emaruagheru Osawe, Najite Kuti, Adeola Williams, Shade Sodeinde, Alake Anikulapo-Kuti, Omowunmi Oyedele, Omotola Osaeti, Sewa Kuti and Naa Lamiley.
Things probably weren't rosy in this first-of-its-kind marriage to 27 women all in one day, especially as the task of handling 27 different personalities with their attendant issues began to prove cumbersome even for the Abami Eda himself. He somehow found a way to prune down the number of his wives till they got to a more manageable number of 12.
Reports had it that most of his wives fought both in private and in the open, and things really got out of hand, especially at those times when he was incarcerated. After his release from detention by General Ibrahim Babangida's government in the mid-1980s, he divorced his remaining 12 wives, citing the reason that marriage (to so many women at the same time) brings selfishness and jealousy. He became a polygamist by his circumstances, but he gladly enjoyed and endured it, ending the union on his own terms and for the benefit of all concerned.
Meet The Seven Children Fela Anikulapo-Kuti Had In His Lifetime
Fela Anikulapo-Kuti had a larger-than-life persona while he was alive, and his fame was definitely not limited to his country of birth, Nigeria, nor the African continent; he was highly regarded and generally revered all over the world. Many people worldwide know the musician and legend that Fela was, but not many really know his children, who they are, and what they have been up to. Well, here is your opportunity to meet the seven children Fela Anikulapo-Kuti had in his lifetime.
Omoyeni Anikulapo-Kuti
Date of Birth: May 24, 1961
Age: 62 years old
Profession: Dancer, Television Personality
Marital Status: Divorced
Children: 1 (Daughter)
Yeni Kuti, or "YK" as she is fondly called by her friends, fans, and admirers, is the first and oldest child of the music legend, Fela Anikulapo-Kuti. She is a product of the union between Fela and Remilekun Ransome-Kuti (Fela's ab initio name, nee Taylor). The pair met while studying in the United Kingdom and got married before giving birth to Yeni on May 24, 1961, in the United Kingdom. She is presently 62 years. Yeni relocated back to Nigeria when she was 2 and had both her primary and secondary school education in the country. She holds a diploma in Journalism, having graduated from the Nigerian Institute of Journalism.
If you call Yeni a woman of many parts and skills, you will not be wrong as she is super talented and wears many hats. She revealed that she had to learn to fend for herself at a very young age, as the life and times of a musician in Nigeria wasn't as lucrative back in the days, as it is now. Besides, her father was serially jailed by several dictatorial and corrupt regimes, which he criticized and exposed via his music all the time, so the family's finances were severely impacted negatively.
At a point in Yeni's life, she was a fashion designer and a businesswoman. Having grown up under the roof of a music legend and around musicians, her preferred artistic expression was dancing, and she joined her younger brother's band in the mid-1980s, making her first appearance as a professional dancer at a concert the band had in 1986.
After the death of her father in 1997, she conceived an idea to stage an annual musical concert/festival in celebration of her father's contributions to music in Nigeria and the world alongside her brother, Femi Kuti, and this annual music festival has become what is now known as Felabration. Yeni is the manager of Felabration and The African Shrine, and she is currently also one of the hosts of a contemporary issues program on television called Your View – where like her father, she has always given her voice to the oppressed and downtrodden at every given opportunity.
Yeni Kuti was married to an ace broadcaster and compere, Femi Segun, and their union for the time it lasted produced a wonderful daughter named Rolari Segun – a Leeds University graduate, who got married to Benedict Jacka, an Australian at the New Afrikan Shrine in 2015. Yeni's current romantic partner is Theo Lawson, and their love has been growing over the past couple of years, with rumors flying around that the pair are secretly engaged, with a wedding in the future.
Olufela Olufemi Anikulapo-Kuti
Date of Birth: June 16, 1962
Age: 60 years old
Profession: Afrobeats Musician
Marital Status: Divorced
Children: 9 (5 biological, 4 adopted)
Femi Kuti, as he is popularly known by his fans and the world at large, is the second of Fela Anikulapo-Kuti's children and the oldest male child. He was born in the union between Fela and Remilekun Kuti on June 16, 1962, in London, the United Kingdom, making him 60 years old presently. When his parents broke up, Femi's mother had custody of their children, so his early years were spent more with her than her father, and to date, he regards her as the one who has the most influence on his life.
When Femi turned 15, he decided to move back in with his father, and it was at this point that he began to learn how to play the saxophone – just like his father. He joined his father's band shortly after and began to teach himself how to play the saxophone till he mastered it. He continued to tour and play with his father's band for more than a decade, learning to play a few more instruments with great dexterity. While in the band, he also used the opportunity to learn what it takes to manage a diverse and large band, such as the Egypt 80 had become over the years.
In the late 1980s, Fela intended to bequeath his band to his son, Femi, but the young musician had other plans on how he wanted to play his own music, and after defying his father's wishes, he teamed up with Dele Sosimi – a keyboardist in his father's band, to form his own band called The Positive Force. It wasn't easy for Femi Kuti in those early months of forming his band, as his father's legendary status in the Nigerian (and even International) music scene was just too big. His career really took off in 1988 when a few invitations from Christian Mousset and the French Cultural Center in Lagos saw him perform at the Moers Festival in Germany, the New Morning Club in Paris, and the Festival d"Angouleme in France.
He has released several albums over the years that have caught the ears of the international community, using his music to speak for the downtrodden and against corruption in high places in his country and all over the world. Femi Kuti's music is probably the closest to the king of music and genre pioneered by his father.
He was married to a member of his band named Funke, but some controversial circumstances led to their divorce several years ago. He has 9 children – 5 of whom are legally and biologically his, while 4 are adopted, children. His first son, Omorinmade, has already taken after his father and grandfather and has already released an album of his own. Made as he is fondly called has performed alongside his father on several stages all around the world. He is the only one of Fela's grandchildren who have shown an inclination to toe the music lane. Just like his grandfather, he attended London's Trinity Laban Conservatoire of Music and Dance.
Femi has been nominated four times for a Grammy Award in the World Music category and is yet to win. His name was mentioned in the Guinness Book of World Records on May 15, 2017, for the (longest) single note held on a saxophone, set in 51 minutes and 35 seconds – achieved by a breathing technique known as circular breathing.
Olusola Anikulapo-Kuti
Date of Birth: 1963
Age: 60 years old
Profession: Dancer
Marital Status: NA
Children: NA
Sola Kuti was the third of Fela Anikulapo-Kuti's children, another child born in the marriage between Fela Kuti and Remilekun Kuti. She was born sometime in 1963 and would have been 60 years currently if she had not passed on in 1997, aged 34. Though not much is really known about her, she grew up under the custody and watchful eyes of her mother, Remilekun, and like her older siblings, she never saw too much of her father – who was constantly thrown in prison by the despotic military junta and corrupt politicians in the country.
She was beautiful and had a cheerful personality to go along with her endearing looks.
Sola did not have the gift to sing or compose melodious and thought-provoking songs like her father, she rather chose to express her artistry through dancing and was a dancer in her brother's band – the Positive Force, and she toured with them quite exhaustively.
She passed away in 1997, just shortly after the Anikulapo-Kuti family lost the music legend, Fela, who died of AIDS-related complications. Her demise was a tough blow to take for the whole family, and her brother, Femi, mourned her the most as they were quite close. The cause of her death was cancer-related or misdiagnosis of her ailment, even though many stated that it was AIDS-related as it was rumored in the grapevine.
Kunle Anikulapo-Kuti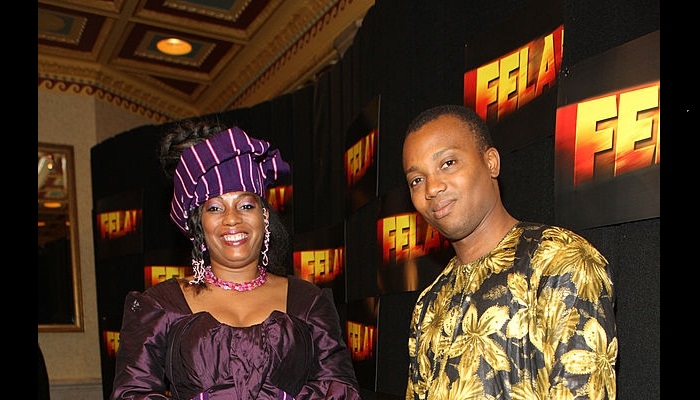 Date of Birth: 1971
Age: 52 years
Profession: Entrepreneur, Management
Marital Status: Married
Children: NA
The fourth of Fela Anikulapo-Kuti's children is Kunle Anikulapo-Kuti, who was born sometime in 1971 and is presently 52 years old. He passed through both Adrao International School and Government College, Victoria Island in Lagos, for his secondary school education before proceeding to Lexington College in the United Kingdom for his tertiary education.
Among all of Fela Kuti's male children, Kunle Kuti seems to be the only one who did not directly follow in his father's footsteps by becoming an afrobeat musician, but the work he does to promote his father's legacy cannot be understated at all. As music runs through the veins of Fela Kuti's children, Kunle chooses to rather identify and develop upcoming musicians by floating his own record label called Afro Fusions – though he has a bias for young talents in the afrobeat genre. He also has a clothing line called Urban Clothings.
He is currently in charge of running the Kalakuta Museum – (which was the brainchild of his elder sister, Yeni, and her partner, Theo Lawson) set up to honor the life and times of their father. The museum holds important items and memorable personal effects used by the music legend during his life, and it also serves as a relaxation spot of some sorts for lovers of the legend. He is currently married and is blessed with two sons, having chosen not to be a polygamist like his father.
Omoshalewa Anikulapo-Kuti
Date of Birth: October 14, 1976
Age: 46 years old
Profession: Disc Jockey, entrepreneur, lawyer
Marital Status: NA
Children: NA
Omoshalewa Anikulapo-Kuti is the fifth of Fela Anikulapo-Kuti's children and was born on October 14, 1976, in Lagos, Nigeria, making her 46 years old presently. She is the product of the union between Fela Kuti and Adefunmilayo Anikulapo-Kuti. Just like her other siblings who have one thing or the other to do with music, Shalewa does too, but her involvement with music is quite different from what the others are doing.
Shalewa is a qualified lawyer – a professional her father needed very much while he had his run-ins with Nigeria's military regimes, but she has an undying passion for music which made her put the practice of her legal profession to the side and pursue her passion full time. She is a Disc Jockey (DJ) and goes by the moniker DJ Shaarks. She has stated in several interviews that nothing gives her more joy than seeing people happy, glad, and dancing, and anytime she is behind the wheels of steel, she gives her all to make people lose themselves in the dance. She is not all about DJ-ing and mixing records; she also has an entrepreneurial side, which gave birth to a record label called Shaarks Records, which she leads as the Chief Executive Officer. She hopes to help budding artists who are not being given the opportunity to grow by big record labels, the much-needed opportunity to kick start their careers and make them household names and global entertainers.
She teamed up with DLA World Founder, May7ven, to organize the United Kingdom version of Felabration – which had the who-is-who in Afrobeats music in the UK in attendance, with a performance by popular Nigerian rapper Falz d Bad Guy. It is not clear if she is married and has a family of her own, or perhaps she has chosen to keep information about her personal life private to shield her loved ones from the probing eyes of the media.
Motunrayo Anikulapo-Kuti
Date of Birth: January 5, 1980
Age: 43 years old
Profession: Dancer
Marital Status: NA
Children: 1 (daughter)
Motunrayo is the seventh of Fela Anikulapo-Kuti's children, and the last child to be officially recognized as one of Fela's children. Her mother, Najite Anikulapo-Kuti was a dancer in Fela's band and one of the 27 wives that he married at a time. She was born January 5, 1983, and is presently 40 years old. She stated that she was the only child of her mother, and it is not clear whether her mother remarried after the divorce by Fela Kuti or his death.
She stated in an interview that she took after her mother and was a dancer in her father's band for a while, but was too shy and timid to stay as a member of his band. She was also a dancer in her elder brother, Femi Kuti's band, but she was on and off due to her academic pursuit and consequent mandatory national youth service program. She graduated from the Igbenedion University, Edo State in 2009, having studied International Relations.
As a true child of Fela Anikulapo-Kuti, she is known to be quite outspoken, fearless, and not too far from controversies. She stated in an interview that Fela's name has not opened doors for her, and she believes only a few of her siblings actually profit from their father's name. In 2015, her then-lover threatened to release her nude pictures to the public, and when she had the opportunity to speak about it, she said he hurt her and she simply paid him back in kind, and that they had resolved their differences and were still lovers.
Comments from her over the years also suggest that she may not really have a close bond with the rest of her siblings as she had stated that they were not helping her, probably in the pursuit of her dreams. She is also known to have a very controversial and public dislike for the Nigerian music sensation, Davido, as she has openly criticized his person, talent, and music on several occasions.
She has a daughter named Ifeniolami Akhitome from a past relationship, who she said means the whole world to her. She is currently in a relationship with an undisclosed lover, and they are engaged and expecting the wedding bells to ring soon. She also floated a record label called Ifeniomus Entertainment, which she intends to use to promote young talents, but lack of access to the big bucks is in the way of the big bang take-off of the label.
Oluseun Anikulapo-Kuti
Date of Birth: January 11, 1983
Age: 40 years old
Profession: Afrobeats Musician
Marital Status: NA
Children: 1 (daughter)
Seun Kuti, as he is simply known by his fans and family, is the sixth of Fela Anikulapo-Kuti's children and the third son born to the late music legend's family. His mother, Fehintola Anikulapo-Kuti, was married to his father between 1978 to 1986, and he was born on January 11, 1983, in Lagos, Nigeria, making him 40 years old.
Seun is Fela's second son (after Femi) who directly took after his father and is actively playing afrobeat just like him. In fact, he took over the Egypt 80 band after Fela's demise, and they are currently known as Seun Kuti and the Egypt 80 band. He started off leading the band to play Fela's evergreen music, but as time went on, his own unique songs have also been added to the library of music of the band. He has indeed come a long way from the 5-year old who began to show and develop an interest in music to the well-rounded professional and multi-instrumentalist that he is today.
He is the second pure Afrobeats musician to be nominated for Grammy Awards – just like his brother, in 2018 after the release of his album, Black Times. He has also continued to promote the legacy of his father through his music, ideology, pan-Africanism, and, when necessary, activism, just like his father and elder brother, Femi. Seun is engaged to his longtime partner and heartthrob, Yetunde Ademiluyi, and they have a daughter named Ifafunmike Anikulapo-Kuti, who was born on December 16, 2013.
Who is the Most Famous Amongst Fela Kuti's Children?
Popularity, its attainment, and measure thereof is a matter of one's personal views/opinion and perception, and what or who is popular with one individual may not be with another individual. Determining who is the most popular amongst Fela Anikulapo-Kuti's children is definitely a matter of individual views, acceptance, and perception.
Fela left seven children that are well known and they all have their unique talents, fan base, and skillset. Two of Fela Kuti's children – Femi and Seun, took after their father in the sense that they are both musicians who have upheld the true Afrobeats genre pioneered by their father. Femi defied his father when he refused to take over the leadership of his Egypt 80 band when it was offered to him, instead he chose to set up his own band and make Afrobeats music with his own unique twist.
In terms of international recognition and acceptance of their songs, one could say Femi Anikulapo-Kuti's songs such as Shoki Shoki, Sorry Sorry, and particularly Beng Beng Beng – which enjoyed great airplay in Europe and the rest of the world, and is perhaps his most recognized song till date – has set him apart and given him an edge over Fela Anikulapo-Kuti's other children. It's also worth noting that Femi Anikulapo-Kuti has received four Grammy nominations for his songs and artistry over the years.
Seun Anikulapo-Kuti, on the other hand, is the youngest of the Fela Anikulapo-Kuti children and the second son to take after their father in terms of playing Afrobeats. He didn't only inherit his father's legendary band – the Egypt 80 but has been performing with them ever since he took over. Seun has also released a few albums of his own, infusing his more energetic blend of music into his father's mellow and rhythmic afrobeat music. He is also a master of the saxophone and other instruments, just like his father and brother. He has received one Grammy nomination and is yet to cart home the prestigious award just like his brother. Seun and the Egypt 80 band do play most of Fela's music and original compositions, but he also plays his own songs and compositions as well.
Yeni Kuti is the oldest of Fela Anikulapo-Kuti's children and for pretty much of her adult life was known as a dancer in her brother's band, until she came into the limelight on her own terms. When a daily contemporary issue-based program was to begin airing on a local television station in Nigeria – Yeni Kuti was one of the ladies considered for the all ladies show, and her ability to say things as they were quickly endeared her to so many fans of the show. Just like her father, who said what had to be said no matter whose ox was gored, she also spoke truth to power even though the television station that she works with is believed to be politically biased. This program really gave her the platform to air her views and gain her popularity independent of her father's name and legacy.
So, the question of who is more popular amongst all of Fela Anikulapo-Kuti's children is left to whom amongst them appeals to you more – the musicians or the television personality as these three are generally considered the most successful. Be rest assured though that whosoever you consider to be the most popular amongst them all, you will definitely be right and find many more people who will be in agreement with you.
Fela Anikulapo-Kuti Probably Has More Than The Recognized Seven Children 
Officially, only the seven children discussed here are recognized as Fela Anikulapo-Kuti's legitimate children, but that can't be the only number of children from a man who had 27 wives at a time and who regularly slept with all of them during the course of their marriage. The fact is that the seven children discussed here came from between three to five of these wives, and definitely, there would be more than what has been presented to the family and whose identities has probably been kept secret by his children – most of whom never really liked or could phantom the idea that their father had a staggering harem filled with 27 different wives – excluding concubines, occasional lovers, and such other "friends".
News circulated in the media some time ago that Fela actually had a lover (or one-night stand) with an Australian woman, and that the relationship produced a son named Cornelius, who came to Nigeria to meet with his siblings and to know where he came from – which unfortunately was after the legendary musician had passed on.
It is never an easy task to fill the shoes of a father who had a larger-than-life personality and a huge fan base. Many people all around the globe have given Fela Anikulapo-Kuti's children thumbs up in terms of carrying on their father's legacy. Fela left an indelible mark in the music industry and that void will be hard to fill by anyone. Asides from his children, Fela had many disciples who continue to uphold his legacy.
His children have been very wary about Fela's so-called disciples who use his name as an excuse to misbehave and disrespect their elders in society. According to Seun, Fela's life went beyond smoking weed and being with many women. Seun opines that Fela's life and lifestyle were a rebellion against the oppressive government of his time.
It's safe to conclude that all of his children have become successful in their own right and by their own terms and that is something any father (dead or alive) would be proud of.