Not long after the Afrobeat king of Nigeria surfaced on the music scene, information about his family started seeping into the public arena. We soon got to know that Wizkid is the only son of a Lagos-based Alhaji – a devout Muslim cleric and a titleholder in the Shitta Main Mosque, Surulere, Lagos.
Being a staunch Muslim, it was not surprising to note that the music hitmaker's dad is a polygamist and a father of 13 children. Wizkid happens to be the man's only son as the rest of his siblings are all girls. From what is perceivable, the Nigerian vocalist is very close to both his parents and siblings, especially his direct siblings, and there is no bad blood between him and his half-siblings.
Wizkid Comes From A Large Polygamous Family
According to what the popular Nigerian singer said in an interview session, his family is quite a large one as his father married three wives. Alhaji Muniru Olatunji Balogun is a typical Yoruba polygamist and a current resident of Shitta in the Surulere area of Lagos. The Alhaji's three marriages birthed a total of 13 children out of which Wizkid, named Ayodeji Ibrahim Balogun, is the only son. The other 12 are all girls.
The order of marriage for the three wives of the Alhaji is not public knowledge, thus, it is difficult to say whether Wizkid's mother, Jane Dolapo, is the first, second, or third wife. Unlike several other polygamists, Alhaji Muniru Balogun brought up all his 13 children in his Surulere house and had all his three wives cohabiting under one roof. From what is perceivable, the Alhaji was adept at taking good care of his family, thus, no negative news ever came out of the Balogun household.
The Balogun household happens to be an interreligious one. While the patriarch of the family Alhaji Muniru Balogun is a staunch Muslim, his wife Jane was born into Christianity. Obviously, she didn't see marriage to a Muslim as enough reason to change her religious inclinations. Besides, she even took the Starboy who is the only son in the Balogun home into Christianity and the Alhaji seems to be ok with that.
Wizkid's Relationship With His Father
Very little about the music superstar's father is in the limelight but, it is common knowledge that Alhaji Muniru is not just a mundane Muslim, he is in fact a religious cleric that wields the Islamic title known as Mogaji Adinni. The cleric earned this prestigious title, thanks to his extensive contributions to the Muslim community in Shitta Surulere. His prestigious position as a Muslim Mogaji Adinni was the main reason he had issues with the Starboy when his professional music career commenced.
Because of the ensuing issues, it was perceived that the singer's relationship with his dad was less than perfect. However, the truth was that Alhaji's religious perspective made it difficult for him to see things in the same light as his only son. In the long run, Wizkid's dad finally had a rethink and gave his consent. He equally blessed the singer to pursue his singing career.
Despite Wizkid's affluent financial standing, Alhaji Muniru who was once speculated to have passed on still prefers to live a modest life with his family. His residence in Shitta Surulere was revealed to be a rented apartment which the singer rushed to fix immediately fortune smiled on him. However, his dad declined to move into the 60 million Naira property Wizkid bought for them in the Lekki part of Lagos.
This incident sparked speculations that Alhaji Muniru was still angry with the Caro crooner for becoming a musician. They also alleged that part of his father's displeasure stems from the fact that Wizkid dropped out of school in favor of his music career. Many orders said the Alhaji had to decline the offer of the plush house as he never wanted to be part of his son's musical achievements, even though he now supports the music hitmaker's career. However, all these were mere speculations and very far from the truth.
Close sources have revealed that the music hitmaker and his dad share a close father/son bond as evidenced in some of the songs he sang about his family. Wizkid has continued to show support to his family and they do appreciate it all, but the true fact about the house in Lekki has remained shrouded in secrecy. The Nigerian singer has even shared photos of his dad on social media, confessing his wish to ink a special tattoo in Alhaji Muniru's honor.
The Singer and His Mother Share a Very Close Relationship
It goes without saying that Jane Dolapo wields a strong influence on her only son as she was able to pull him into the Christian religion, despite his dad being a Muslim cleric. In fact, it was Wiizkid's activities in the church that birthed his music career. After the youngster joined the choir, he had his mother's full blessings. When he decided to go professional with his music, Jane Dolapo did not waste time in giving him her unflinching support.
In an interview session, Jane Dolapo revealed how proud she is to be the mother of one of Nigeria's most celebrated musicians. While returning all the glory to God, the mother of three was radiating happiness. Madam Jane was once spotted in Festac Town, Lagos, attending a wedding ceremony where she was accosted by DailyPost. There at the premises of The Church of the Pentecostal Hall, she spoke extensively about her relationship with Wizkid.
According to Jane, she calls the singer IB-boy instead of Ibrahim and she is happy with the way his life has turned out. Calling on all aspiring singers, the Starboy's mother advised them to always put God first in their individual endeavors. Madam Jane said that's the only way to attain success in life.
This Is What Wizkid Has To Say About His Parents
Wizkid is often caught talking about his parents. The Caro crooner is full of gratitude to Alhaji Muniru and Jane Dolapo for making it possible for him to go in pursuit of his dreams.
In an interview session, the music star stated that he owes his present success to his mum and dad who gave him everything even when they had little or nothing.
Going further, the vocalist said it is really difficult to find the right words that can express the extent of his love for his parents. He even shared an Insta Story with a shout-out of love and affection for them.
Even before his staggering fortune, Wizkid has always promised to make his parents proud. His song "Jaiye Jaiye" featured a part where he was promising to buy his parents a house and take them out of the overpopulated Shitta, and needless to say, that dream was actualized.
Wizkid Has Twelve Siblings
It is a known fact that the music crooner is blessed with a wonderful family but they prefer to live the quiet life, well away from the prying eyes of the media. Consequently, most of them don't have a presence on social media platforms, and the only few that do have made their accounts private.
The only information readily accessible about Wizkid's family members are the ones he revealed in interviews. According to Starboy, all the three wives contributed to the 13 children of Alhaji Muniru. However, out of his 12 sisters, only two are his direct siblings, the others are step-siblings, born to the other two wives.
Among Jane Dolapo's children, Wizkid happens to be the second child with an older sister named Yetunde Awoniyi (nee Balogun) and a younger sister named Lade Balogun, whom he adores so much.
Yetunde Awoniyi
Gender: Female
Marital Status: Widowed
Residence: United States
Parents: Alhaji Muniru and Jane Dolapo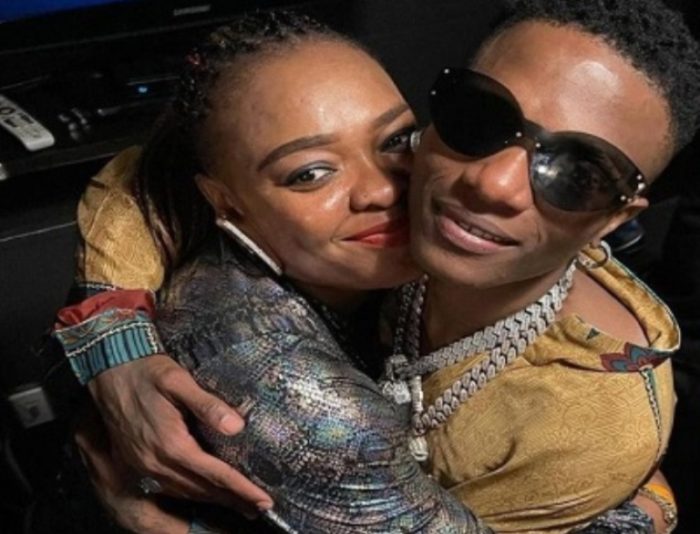 Very little is known about the early years of Yetunde Awoniyi (nee Balogun). Her date of birth and important bits like level of education and institutions attended have never made it to the public arena. However, it is common knowledge that she was a married woman till October 9 2016 when she became a widow. Yetunde has a presence on the picture-sharing platform, Instagram where she is popularly known as Yteetec.
According to reports, she lived in the United States of America with her husband, Seun Rowland Awoniyi, where he was diagnosed with cancer. Seun commenced treatment in the United States and stayed put till October 9 2016 when he finally kicked the bucket. Seun was a University of Ibadan alum who majored in geology. Three months before his demise, the geology graduate shared a touching IG post with pictures of him on a hospital bed. The post was captioned.
'I always Thank God for the gift of life, when I look back. Still living… Oluwaseun!!!'
Before his demise, Seun fathered two children with Yetunde, but their sexes are not known. The children are currently growing up under the watch of their mother.
Yetunde Shared Emotional Moments As She Met With Wizkid In Houston
Being a US resident, Wizkid's big sister does not always get the opportunity to meet up with family as most of them reside in Nigeria. Thus, it was a golden opportunity on the 10th of October 2021 when the two Balogun siblings got to share the family bond once again. It happened that Starboy was in Houston for a high-profile concert, delivering hit tracks from his wave-making "Made In Lagos" album. Yetunde, who was present at the show, went backstage to meet her younger brother, and the ensuing scene was so emotional, given the fact that it has been two years since the siblings met.
Yetunde was quick to share the emotional moment on Instagram. A photo of the two surfaced on her Insta Stories with the caption: "After 2 years. Good to see you blood."
Fans wasted no time in leaving comments to the IG upload. While many appreciated the siblings for sharing a great family bond, others claimed they never knew Wizkid had a sibling.
Yetunde is One Big Sister That Looks Out For Her Brother
Yetunde Awoniyi once took to her Yteetec handle on the picture-sharing platform to play the big sister role with her younger brother. Though she never named names, Mrs. Awoniyi leveraged her Insta Stories to shade a celebrity hater of the afrobeat king, Wizkid.
The mother of two shared a video of the music hitmaker on her handle, saying Wizkid does know the best way to chill and enjoy life while ignoring haters. Yetunde also said she really envies her brother's ability to ignore all bad peeps and one hypocrite in particular.
Lade Balogun
Gender: Female
Marital Status: Single
Residence: Nigeria
Parents: Alhaji Muniru and Jane Dolapo
Wizkid's younger sister goes by the name Lade Balogun. She is the last child born to Alhaji Muniru and his wife Jane Dolapo. Nothing much is known about the singer's younger sibling, her existence wasn't even known till recently when the young lady surfaced on the internet space. Soon, online sources carried some reports about her but sadly, the content was very sparse.
We only got to hear that Lade is so dear to Wizkid's heart and he doesn't joke with the lady's wellbeing. Reports also said Lade is still undergoing the process of education and is currently schooling in the Southwestern part of Nigeria. Details about the school she attends are not readily available but it is believed to be one of the most expensive academic institutions in that region.
The Music Hit Maker's Half-siblings
Even though we have seen several photos of Wizkid and his family member flying all over the internet space, it is sad to note that nothing much is known about them. Perhaps, the reason we were able to see titbits about Yetunde and Lade is that they are the singer's full siblings and share a very close bond with him. However, the same cannot be said for his 10 half-siblings; their names are not known and nothing has ever been written about them.
Though they are not well known, sources reported that the Caro crooner has the biggest fans in his parents and siblings.