In a career stretching over four decades and counting, this American-born Australian Hollywood star has been mired in several controversial incidents including accusations of antisemitism, sexism, racism, and even domestic violence. Such hefty allegations would have ended the career of an average Hollywood star but not Mel Gibson's.
After about a decade of alienation from Hollywood, the Aussie star returned in full glory and has continued doing what he knows best; starring in front of the cameras, directing, producing, as well as penning scripts. Gibson has not only starred in many highly-acclaimed films and box office blockbusters but has also proven his massive worth as a filmmaker with movies like The Passion of the Christ, Hacksaw Ridge, Braveheart, and Apocalypto.
He has received several awards for his work, including the 1996 Academy Award for Best Director which saw him make history as the sixth actor-turned-filmmaker to achieve such a feat.
Emergence as One of the Biggest Hollywood Action Star of the 80s
Although originally from Peekskill, New York, Mel Gibson's family moved to Australia when he was 12 years old and there he continued his education. He subsequently enrolled at the National Institute of Dramatic Art (NIDA) at the age of 18 and went on to appear in several stage productions.
In 1976, Gibson hit the screen for the first time in a television series titled The Sullivans. Three years later, he got his breakthrough role in the futuristic action film titled Mad Max. Gibson played the lead role of Max and his brilliant performance propelled the film to the top echelons of international and Australian box office takings. The movie was so successful that it later spurned three sequels out of which Gibson headlined two.
Another franchise that cemented Mel Gibson's reputation as one of the biggest movie stars of the 80s was the action-comedy series, Lethal Weapon. Gibson played the lead role of LAPD detective Martin Riggs; a recently widowed Vietnam vet who has a penchant for violence and gunplay. His combustible character is balanced out by his reserved partner named Roger (portrayed by Danny Glover).
The first Lethal Weapon film dropped in March 1987 and it was a mega box office hit; grossing $120.207 million on a mere budget of $15 million. This feat convinced the producers that they had a gold mine on their hands and they went on to produce three sequels. Gibson co-starred in all and they were box office hits as well.
It has been about three decades since Lethal Weapon and in that time, Gibson has gone on to feature in more than 50 movies including light-hearted fares such as Daddy's Home, What Women Want, Air America, and The Singing Detective.
He's the 6th Actor-turned-director to Win the Academy Award for Best Director
With the dawn of a new decade in the 90s, Mel Gibson decided to try his hands at another aspect of the movie-making business. He made his directorial debut with the 1993 drama film, The Man Without a Face. The film about a disfigured recluse and his student did quite well with the critics. Gibson was also singled out for praise for his directing expertise and this spurred him to continue in that direction. To date, the Lethal Weapon star has directed about five films including hugely-successful projects such as Braveheart, Hacksaw Ridge, and Apocalypto.
Braveheart is a 1995 war drama about William Wallace, a 13th-century Scottish warrior who leads the scots in their first war of independence against the English. Gibson did not only play the lead character but also directed the movie. His efforts were well rewarded as the film grossed $213.2 million on a budget of at least $65 million. Critically, it was even more successful as it garnered a total of six academy awards including Best Picture and Best Director gongs for Gibson. With that, the Aussie made history as the 6th actor in Hollywood to achieve that feat.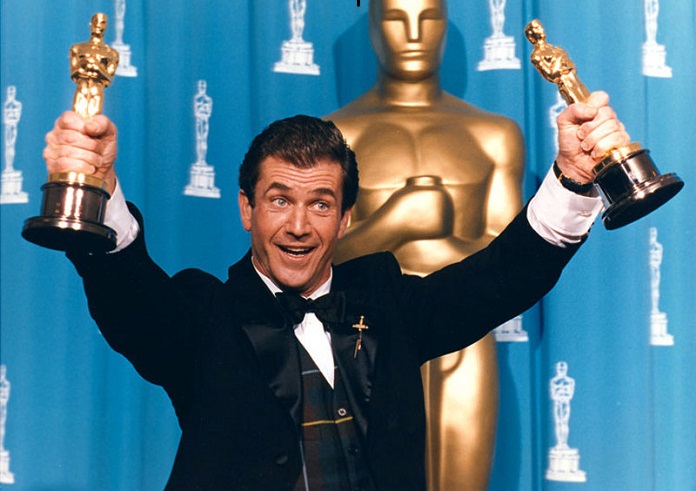 It has been about 15 years since Braveheart but Gibson is yet to win another Oscar for Best Director. However, he received a nomination to that effect in 2007; this was for yet another war drama titled Hacksaw Ridge. It revolved around the real-life story of Desmond T. Doss, a conscientious objector who refuses to pick up arms during WWII but still proves to be of invaluable service to his platoon through his courageous medical services. Hacksaw Ridge featured Andrew Garfield in the lead part whilst Gibson directed the movie. It grossed $180.4 million on a budget of $40 million. It also fetched Gibson two Academy Award nominations for Best Picture and Best Director.
Mel Gibson Produced the Epic and Controversial Film – The Passion of the Christ
Never one to rest on his laurels, Mel Gibson has also turned his sights to producing and has equally made a mark there. The very first film he produced was the 1995 epic, Braveheart, which he also directed and starred in. Since then, he has produced about eight more movies including The Singing Detective, Leonard Cohen: I'm Your Man, The Professor and The Mad Man, Apocalypto, Get the Gringo, Stonehearst Asylum, and The Passion of the Christ.
The latter is a 2004 biblical drama film that covers the last 12 hours of Jesus' life as chronicled in the synoptic gospels of Matthew, Mark, Luke, and John. Events depicted include Jesus' agony in Gethsemane, his betrayal by Judas Iscariot, eventual crucifixion, and resurrection. The movie was done in the Aramaic and Latin languages (with English subtitles) and was released in February 2004. It went on to become one of the most polarizing films of the year.
Many hailed it as a classic religious film while others pilloried the gratuitous violence. Even more controversial was the accusation that it was antisemitic. According to Jewish groups, the film perpetuated the misconception that it was blood-thirsty Jewish officials and mob who caused the death of Jesus Christ. Despite these controversies as well as calls for boycott, The Passion of the Christ went on to become the highest-grossing Christian film of all time with $622 million. It was also nominated for three Oscar awards and received a four-star rating from famed film critic, Roger Ebert.
Another violent and foreign-language feature that has brought Gibson much acclaim is the 2006 historical adventure film, Apocalypto. Set in a Mayan civilization that is declining in power and believes in human sacrifices as a way to reclaim its status, Apocalypto tells the story of a hunter who escapes from being sacrificed. Gibson did not only produced the film but also directed and contributed to its script. The movie did well at the box office and also received glowing tributes from fellow filmmakers including Quentin Tarantino who described it as a "masterpiece" and Martin Scorsese who hailed it as a "vision".
He Co-Wrote the Script for the 2012 Action-Thriller – Get The Gringo
Mel Gibson has also tried his hands at scriptwriting and is credited as one of the scriptwriters on three of his projects – The Passion of the Christ, Apocalypto, and Get The Gringo.
Get The Gringo is a 2012 action film about an American career criminal who wounds up in a Mexican jail run by a notorious crime family. He quickly works his way up the prison's hierarchy and helps a little kid and his mother incarcerated there to escape.
Gibson played the lead role (Gringo) and served as one of the producers of the film. He also joined hands with two other writers, Stacy Perskie and Adrian Grunberg, to pen the script and the film went on to become a critical success. It holds a rating of 85% on Rotten Tomatoes and received praise from The Guardian and Time Out London.
Mel Gibson Owns Choice Properties in Fiji, Costa Rica, and Australia
The Oscar winner has built his fortune from investments, especially in the real property sphere. Gibson is the owner of several choice properties in Malibu, including an ocean-front property and a 5.5-acre mansion worth $11.5 million. He also owns properties in other parts of the United States such as an Old Mill Farm Estate in Greenwich, Connecticut, which he sold for about $35 million.
In 2005, Gibson purchased the northern Fijian island of Mago as well as the surrounding Lagoon for about $15 million. The island measured about 216 hectares and he stated that he wanted to use it as a private getaway. The actor also promised not to disturb the island's pristine conditions or its environment.
This was however not enough to quell the anger of some villagers who alleged that their ancestors were forced off the island at gunpoint in the 19th century. They challenged the sale in court but it doesn't seem like they made much headway.
He Earned about $300 Million from The Passion of the Christ
Mel Gibson now has a net worth estimated at around $450 million and this is primarily from his acting career. Asides professional fees for acting and directing, the Braveheart star is also the owner of a largely successful production company called Icon Productions, which has brought him good returns.
For instance, Gibson and Icon Productions provided about $45 million for the production and publicity efforts behind The Passion of the Christ. They later reaped their investments in multiple folds as the film made about $622 million at the box office with Gibson pocketing about half of that amount.
The Actor Has Been Fingered in a Controversial Off-Shore Investment
Gibson has also reaped returns from some smart, high-yielding, offshore investments. Back in 2014, the International Consortium of Investigative Journalists uncovered the fact that he was one of 20,000 individuals who invested their money with a wealth management firm called Kleinwort Benson in the Jersey Islands.
The Jersey Islands is a tiny U.K Island which has emerged as an offshore haven for the super-rich, thanks to the tax benefits it offers. This status is further bolstered by the fact they are under Britains' political supervision, thus ensuring political stability.
It is not known how much Gibson invested in the Island but it must be quite large given that he and five of his children are named as trustees. Other celebrities who were also fingered include champion motorcycle racer, Valentino Rossi, and former football-player-turned manager, Bryan Robson.
Mel's Struggles With Depression and Drinking Ended His Marriage of 26 Years
Mel Gibson has been married only once and that marriage was to an Australian lady named Robyn Moore. The couple met in the 1970s when Gibson was yet to find his footing as an actor and Moore was a dental nurse. They walked down the aisle in 1980 and would remain together for about 26 years. During this time, they welcomed a total of seven children: six sons (Thomas, Milo, Louis, William, Edward, and Christian) and a daughter named Hannah.
The family primarily resided in Malibu and Robyn took charge of the home front. She did an incredible job of raising seven kids and made sure that they did not turn out to be entitled brats. Daddy, on the other hand, focused on his burgeoning career. This formula worked for the couple for about 26 years until they separated in 2006.
The split was attributed to Mel's struggles with depression and alcoholism which stressed his wife out. The fact that he was also apprehended for a DUI, during which he unleashed an infamous antisemitic tirade did not help matters. The couple officially filed for divorce in 2009 and it was finalized two years later with Robyn walking away with about half of Gibson's wealth, a mind-blowing $425 million settlement.
His Former Girlfriend Oksana Grigorieva Accused Him of Domestic Violence
Following his crashed marriage, the actor found love in the arms of Oksana Grigorieva; a renowned Russian pianist, music teacher, singer, and songwriter. Gibson and Oksana commenced their relationship in 2007 while his divorce was underway. They dated for about three years during which they welcomed a daughter named Lucia (b. October 2009). The two later called it quits under acrimonious circumstances.
The couple went their separate ways in April 2010 and by June of that same year, Oksana accused Gibson of domestic violence. The pianist alleged that he had hit her while she was holding their daughter; threatened her, and used the N-word whilst verbally assaulting her. These accusations affected Gibson's career as his agent dropped him and he became persona non grata in Hollywood.
He and Oksana later reached an agreement in 2011 which saw her drop the charges against him in return for a settlement of about $750,000. The couple also agreed on shared legal custody of their daughter while Oksana retained physical custody of the girl until she reaches the age of 18.
He Welcomed His 9th Child With Rosalind Ross in January 2017
Mel Gibson is now going steady with a championship-winning equestrian and budding Hollywood scriptwriter, Rosalind Ross. Ross is a native of California and was born in July 1990. She spent much of her early years in equestrian vaulting, likened to ice skating on a horse, and won four medals including gold at the 2010 World Equestrian games. She now has a degree in screenwriting and has co-written the scripts for several projects including a TV film titled Matador.
Indeed, it is Ross' interest in scriptwriting that led her to Gibson. As the story goes, the pair met when she applied to work in his production company in 2015. They took a shine to each other and have been together ever since. The couple has been spotted at several red carpet ceremonies together. They also welcomed a son named Lars Gerard in January 2017.
Their love journey hasn't been an easy one though. They have faced a lot of scrutiny for the 35 years age difference between them and Gibson has admitted being worried about it himself. Nonetheless, the actor has decided to not stress himself over it.