Mel Gibson is no doubt one of the best actors of our time. He has starred in a lot movies and TV shows some of which include, Mad Max and Lethal Weapon. Aside from acting, Gibson has also directed some very popular movies like The Passion of Christ and Braveheart, amongst others. Before the list of Mel Gibson's movies and TV shows ranked from best to the worst, take a look at his background, childhood life and how he began his career.
Gibson's Background and How He Began His Career
Mel Colmcille Gerard Gibson was born in Peekskill, New York, USA, on January 3rd, 1956. When he was 12, his parents Hutton and Anna Gibson moved to Sydney, Australia. He is the sixth of eleven children. His Irish family members are predominantly Roman Catholics.
Hutton Gibson moved his family to Australia after the Civil War because he was scared that his sons will be drafted to the military. When they got there, Mel Gibson got enrolled into a boys high school, St. Leon's Catholic College. He was later transferred to Asquith Boys High school, in New South Wales, Australia.
When he was done with High school, he weighed the options of being a chef or a journalist but he later made a different choice altogether, after his sister applied on behalf of him to the National Institute of Dramatic Art in Sydney. Mel auditioned and was accepted even though he had no previous acting experience.
Instantly, his acting career kicked off. The talented actor has directed some high profile movies. Here are some of his movies, and TV shows ranked from best to worst according to critics and fans reviews irrespective of its box office success.
Mel Gibson Movies and TV Shows Rated From Best To Worst
Mad Max 2: The Road Warrior (1982)
This movie is about a community settlement that rose and defended themselves against a band of bandits. It shows Mel as Max, who out of his humane nature, decided to help the community. Mad Max 2: The Road Warrior was received well by fans and critics as well. It was scored 98% on Rotten tomato. It is no doubt, one of the best Mel Gibson movies you should see.
Chicken Run (2000)
This is an animated comedy movie that tells the story of a group of chicken that plans to run away from the farm when their owner decided to turn them into chicken pies. The rooster named Rocky which was voiced by Mel was seen as their means of escape. It has a score of 97% on Rotten Tomatoes and grossed $225 million in Box office.
Mad Max (1979)
This Mel Gibson movie portrays a typical decay in society. It has murder, crime, and revenge enmeshed in it. Mas Max depicts a certain policeman that is involved in a violent face-off with a particular violent motorcycle gang. It had a positive reception from critics and fans as it scored 90% on Rotten Tomatoes.
Hacksaw Ridge (2016)
Gibson directed Hacksaw Ridge which is about the World War II experiences of a Seventh-day Adventist Medic, who because of his faith, refused to take up a weapon. But that did not stop him from carrying out his duties and tending to the wounded. The movie scored 85% on Rotten Tomatoes, and it has grossed $67.2 million in Box Office. It is no doubt a ready mention on any list of the best Mel Gibson's movies every of his fan should see.
The Simpsons (1989)
This is an animated sit-com TV series. It shows the regular working-class family life, epitomized by the Simpsons Family. The show is a parody of American culture, society, and the human condition. The Simpsons was ranked 85% on Rotten Tomatoes.
Lethal Weapon II (1989)
This is the second addition to the Lethal Weapon Series. This second edition is about two police officers, protecting a federal witness, placed in witness protection, while also taking on South African drug dealers that have diplomatic immunity. It is rated 83% on Rotten Tomatoes. It also grossed $227. 9 million in the Box Office, as against $50 million budget.
Braveheart (1995)
Braveheart is another classic war movie directed by Mel Gibson. It tells the story of a Scottish warrior that led his people to wage a revolutionary war of independence against England. The movie is rated 77% on Rotten Tomatoes and it grossed $210.4 million in Box Office, as against $70 million budget.
The Passion of Christ (2004)
This is a biblical drama that was directed by Mel Gibson. It portrays the passion of Christ as was recorded in the gospels. The movie is all about how Christ came and suffered for sinners. Although this Gibson movie was poorly rated by Rotten Tomatoes at 49%, it had a successful outing at the Box Office, grossing $611.9 million as against $30 million budget.
Read Also: Bruce Willis Movies And TV Shows Rated From Best To Worst
The Expendables 3 (2014)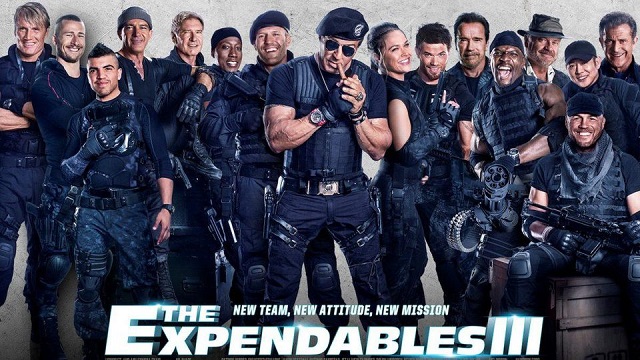 This movie is an ensemble cast of numerous A-list actors. The movie is about the face-off between a mercenary group fighting for justice and an arms-dealing group. It is rated 32% on Rotten Tomatoes.
Air America (1990)
This is one of Mel Gibson's movies that was very poorly rated by critics and all. It is about some American pilots that flew missions during the Vietnam War. They discovered that their aircraft were being used by the government to smuggle heroin and had to do everything possible to avoid being framed.