Melissa Hudson Bell is an American choreographer, avid researcher, teacher, dancer and the lovely wife of the television star and comedian W. Kamau Bell. Apart from being a lovely wife, she is also a mother of three children whose accomplishments have inspired many and drawn several awards and honor to her person. Let's learn more about her bio, family and everything else in between the celebrated wife of Kamau Bell below.
Melissa Hudson Bell's Bio
The celebrated wife of Kamau Bell is a native of San Francisco Bay who is yet to let the public have knowledge of her date of birth. The young Melissa Hudson right from childhood had the inert desire of becoming a dancer thus it was not surprising when she pursued her dream as a dancer later in life.
After her high school days, Mellissa Hudson Bell enrolled into the Santa Clara University where she studied theatre arts before she proceeded to the Pilates Training Institute where she bagged Pilates Teacher Training Certification Course sometime in 2007.
Not content with the level of educational exposure she had acquired, Melissa went further to obtain a master's in Fine Art specializing in choreography at UC Riverside in 2009 then she cemented it with a Philosophy doctorate degree (Ph.D.) in critical Dance Study in 2013.
Her tireless acquisition of knowledge has reflected in her various career endeavors as the brilliant woman is a woman with many parts. She is a teacher at Core Pilates since 2010 while also serving as a lecturer at the UC Berkeley and Santa Clara University.
Melissa Hudson Bell is also a writer for the Performance Lecturer at UC Berkeley. Moreso, she has featured regularly at BreadnButter Dance Company where she ekes a living from choreography. Some of her outstanding performances include Canvas Underground, CounterPULSE, Anatomy Riot, Bodies Between the list goes on.
She has also done some scholarly research works on the subject of dance such as her presentation on Audience Engagement in San Francisco 's Contemporary Dance Scene: Forging Connections Through Food (2014), and Gutsy Series (2016). Melissa Hudson Bell has successfully researched on many more body of works bordered on food and dance and more are still expected from this relentless dance scholar.
Melissa is also a member of notable professional bodies like California Dance Network, Slow Food Nation, Society of Dance History Scholars, Congress on Research in Dance, among others.
Family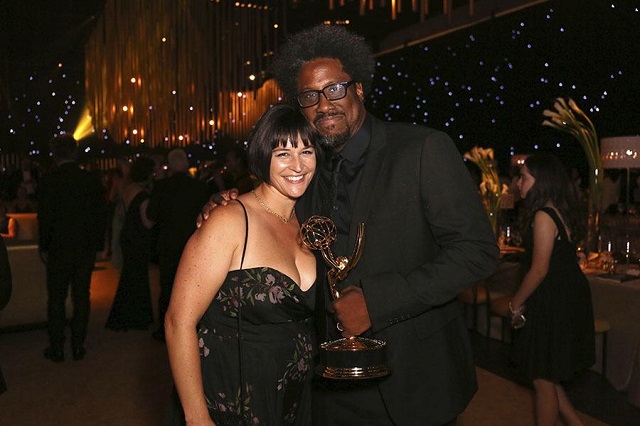 Dr. Melissa Hudson Bell and W. Kamau Bell were introduced by a mutual friend named Jill and from thereon, they built a lasting friendship that led to the altar. The duo took their forever vows sometime in March 2009 and they have been together through thick and thin. The union has been blessed with three children so far – Sami Bell, Juno and Asha all born in 2011, 2014 and 2018 respectively.
Her husband, Walter Kamau Bell is a 6 feet 4 inches tall native of Palo Alto, California renowned for his comic show United Shades of America where front-burner issues and policies are addressed in a comic way. The award-winning comedian/television personality was born on 26th January 1973.
W. Kamau Bell has over the years used his comedy to address issues like racism, LGBT+ causes, among others. Some of his other noteworthy body of works includes Totally Biased with W. Kamau Bell, Denzel Washington Is The Greatest Actor of All Times Period, A Face Full Of Flour, Semi-Prominent Negro, and so on.
Everything About Melissa Hudson Bell – Kamau Bell's Wife
Honors And Awards
The thoroughly bred academician has won several recognition and awards for her outstanding and superlative body of works on foods and dance some which are 2007-2008 Dean's Distinguished Fellowship, 2009-2010 Gluck Program for Arts Fellow for her works on Dancing Daily Life, MoveMore series (2010-2012) and 2013 Pilot Program for Humanities Dissertation Writing Retreat, UC Riverside nominee, etc.
Net Worth
Her net worth may not have been disclosed as of now but we know that her comedian husband W. Kamau Bell has amassed a wealth estimated to be in the range of $1.1 million to $1.5 million which is not so bad an amount for the family to live on.
See Also: Derek Hough – Bio, Wife, Girlfriend, Age, Net Worth, Height, Is He Gay?
Social Media Presence
The work-driven mother of three has a functional website where she clearly states her services and uploads upcoming information of dance tours as well as future work related endeavors and even her past works. She currently does not have a known Instagram and Twitter accounts except for a Facebook account she sparingly posts. Her husband, however, is a social bee found in most if not all social media platforms with sizable followings.
How Tall Is She? – Height
The height of the avid researcher is not known as of now but on standing, she seems to have a modest average American female height of 5 feet 7 inches which is some inches shorter than her husband's height of 6 feet 4 inches.