Melissa McCarthy is currently one of Hollywoods' most funny actresses and she attracted fame when she appeared on the comedy-drama television series, 'Gilmore Girls' as Sookie and as Dena in 'Samantha Who?' before going on to star in 'Mike & Molly' and Molly Flynn.
McCarthy, who has received more than 70 award nominations, including a Golden Globe Award, a Screen Actors Guild Award, a BAFTA Award, and an Academy Award, but has won 20 of which do not include those mentioned, is also a stand-up comedian, producer, writer, and fashion designer. Read on to find out more about her early beginnings, career, personal relationships, and net worth.
Melissa McCarthy's Bio
McCarthy was born Melissa Ann McCarthy to her parents; Sandra and Michael McCarthy on August 26, 1970, on a farm in Plainfield, Illinois. She was raised a Catholic and is of Irish, English, and German ancestry.
She attended St. Francis Academy in Joliet, Illinois after which she enrolled at Southern Illinois University where she studied Textiles. Upon graduation, Melissa McCarthy moved to New York to attend the Fashion Institute of Technology but later decided to pursue a career in stand-up comedy.
She famously performed at The Improv a number of times among other places as she further trained to become an actor. McCarthy performed in a few stage productions before choosing to move to Los Angeles sometime in the late 1990s.
In LA, she joined The Groundlings, a legendary improvisation, and sketch comedy troupe. She spent nine years with the group and made her first television appearance from there in her cousin Jenny McCarthy's 1997 comedy variety show on NBC titled 'Jenny'. Her first film appearance was in 1999 in the movie Go after which she started landing supporting roles in movies like The Kid (2000), Charlie's Angels (2000) and The Life of David Gale (2003).
Her breakthrough role was as Sookie St. James in Gilmore Girls and the rest, as they say, became history.
Net Worth
Melissa McCarthy is said to have an estimated net worth of $60 million which she has earned through her various roles in the entertainment industry. In 2015, the actress and movie producer reportedly earned a whopping $33 million and is today one of the highest-paid women in Hollywood.
That figure is set to go up in the coming years as McCarthy's profile continues to rise in the industry. She also has a thriving clothing line for plus-size women called Melissa McCarthy Seven7.
Family – Husband, Kids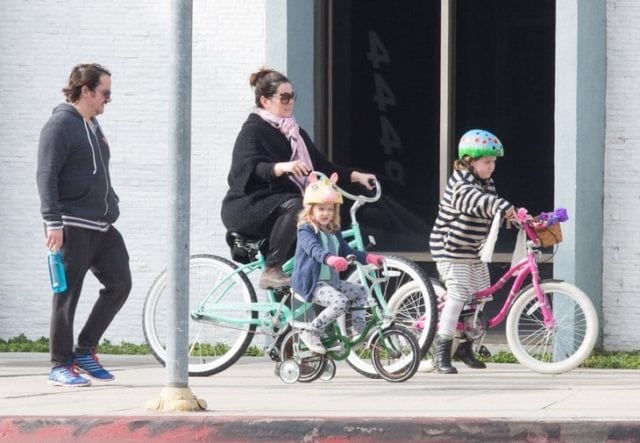 In October 2005, Melissa McCarthy married an actor, comedian and filmmaker Ben Falcone whom she had been dating for a long time. For more than a decade, the couple has remained very close and can be seen goofing around, sharing laughs on their social media pages. They have even collaborated on a few projects, on and off screen. Some of them include Gilmore Girls, Bridesmaids, Tammy, Identity Thief, and The Boss.
Together, Melissa and Ben have two daughters; Vivian who was born in May 2007, and Georgette "Georgie", who was born in March 2010. It is not clear if any of their children are looking to have careers in Hollywood, but their older daughter Vivian has done some acting. She appeared as the younger version of her mother in the movie The Boss (2016).
Read Also: Mo'Nique Bio, Husband & Affairs
Her Weight Loss
Since the beginning of the filming of 'Mike & Molly', Melissa McCarthy has worked on losing her weight. It is said that the actress lost about 35 kg (75 pounds) during that time. She attributed her successes to using a weight loss supplement as well as maintaining a high-protein, low-carbohydrate diet. She admitted that she did not have to do any rigorous exercise but however jogs every few days.
Unfortunately, because of her weight loss, 'Mike and Molly' got cancelled with the producers saying she no longer fits the part.
Is She Dead?
Melissa McCarthy is very much still alive. She is currently working on a few projects such as The Happytime Murders (2018), Can You Ever Forgive Me? (2018), and The Kitchen (2019).
On July 2, 2018, McCarthy was a victim of the celebrity death hoax series after a 'R.I.P. Melissa McCarthy' Facebook page was created. The page, which attracted a few million likes, said the actress passed away that morning and requested for people to send in their condolence messages. The page was eventually taken down as the actresses representatives reiterated that she was alive and well.