Melissa O'Neil is a well-known singer and actress. She joins the likes of Drake, The Weekend and Justin Bieber as one of the most talented individuals that Canada has produced in recent times. O'Neil first shot to fame in 2005 in her native Canada after winning the Canadian Idol reality show. It is worth mentioning that she is the very first woman to achieve that feat. Since her glory days on the Canadian Idol, O'Neil has established that she is no fluke. She has released a gold-certified album, as well as, starred in several movies and TV series. Find out more about this talented lady here including her bio, ethnicity, body measurements and weight loss story.
Melissa O'Neil's Bio and Ethnicity
Melissa Crystal O'Neil was born on the 12th of July 1988 in the city of Calgary, Alberta. There is nothing to indicate that the actress has siblings. She attended Terry Fox Junior High School as well as Lester B. Pearson High School.
Melissa O'Neil hails from a diverse ethnic background. Her father's name is Tim O'Neil and he is Irish-Canadian. Her mother's name is Alison Yeung and she is Chinese. O'Neil's ancestry can, therefore, be traced to Irish, Chinese and Canadian backgrounds. Her ethnicity is however listed to be of mixed ethnicity while her nationality is Canadian.
O'Neil started singing from a very tender age. At first, it was somewhat of a hobby. But when her parents noticed that she was quite talented, they encouraged her to perform in public. From giving public performances, O'Neil subsequently auditioned for the Canadian Idol in 2005. Despite experiencing various hiccups and setbacks during the show, she held her nerves and scaled through all the rounds to emerge victorious on the 14th day of September 2005.
O'Neil did not allow the euphoria of her victory to distract her. Rather, she got to work and released her first album on the 22nd of November 2015. The album featured a total of 12 songs including hits such as Let it Go and Alive.
Melissa commenced her acting career in the theatre in 2007, before moving on to TV. She has appeared in several productions such as 'Dirty Dancing', 'High School Musical', 'Camelot' etc. She has also appeared in movies and series such as 'iZombie', 'A Simple Favour', 'This Life', 'Rogue', 'Second Jen', 'Dark Matter' and 'The Rookie'. The Rookie is a crime drama series about a middle-aged man who joins the police, thus becoming a rookie at an old age. In the series, Melissa O'Neil plays the role of Lucy Chan, a fellow rookie cop who has to deal with an overbearing superior.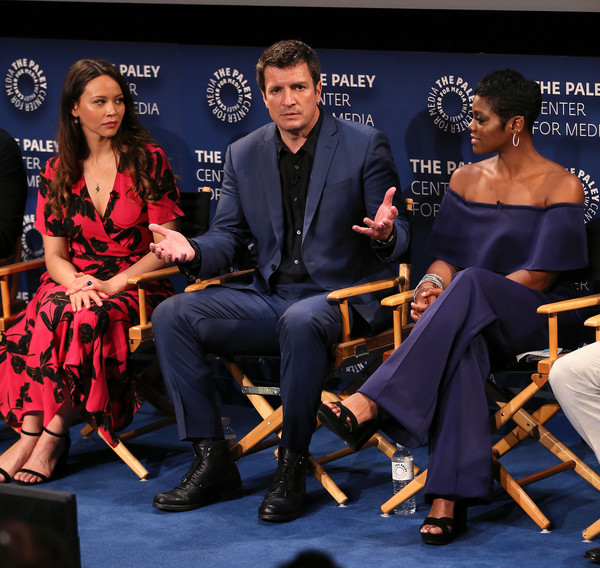 Since delving into acting, O'Neil has somehow relegated her singing to the background. She, however, has no regrets as singing and acting are both different forms of creative arts.
Boyfriend and Dating
The actress/singer has been romantically linked with some individuals in the past. She reportedly dated Matthew Rossoff, a yoga instructor, between 2011 and 2013. She regularly shared cozy pictures of them together on her Instagram and described him as 'my love'. However, it is not clear whether they are still together. O'Neil was also romantically linked to a guy named Daniel Birnbaum after she posted pictures of them together. It, however, turned out that he is her agent.
Body Measurement and Weight Loss
Melissa O'Neil is 5 feet 4 inches tall (1.63m) and her weight is given as 53kg (116lbs). Her other body measurements are chest – 35 inches, hips – 24 inches and waist – 35 inches. Additionally, she has brown eyes and dark brown hair.
A cursory glance at O'Neil's pictures during the Canadian Idol reality show and her pictures now will reveal that she has shed significant weight. This weight loss has been attributed to yoga as well as loss of the baby fat she had as a youngster.
Other Interesting Facts About Melissa O'Neil
1.  Melissa won Canadian Idol at the age of 16. She is the youngest winner in the history of the competition as well as the first lady to win it.
2.  The singer and actress received a congratulatory phone call from the then Canadian Prime Minister, Paul Martin, following her victory. This was not surprising given her remarkable achievement.
3.  O'Neil has a Chinese name, Oh Seemun. The name was given to her by her maternal grandma who is Chinese.
4.  She released her self-titled debut album just two months after winning Canadian Idol. The album was certified gold in March 2016 having sold at least 50,000 units.
5.  In 2014, Melissa O'Neil received the Dora Award for outstanding female performance. The award was for her performance in a stage reproduction of Les Miserables at The Princess of Wales Theatre in Toronto, Canada.