One of the beautiful things about modern life is social media. As rudimentary as it might seem, it could turn out to be the greatest thing that would be invented in the next 50 years because of its impact on human life. Very few tools have revolutionized human behavior and culture as much as social media has revolutionized human interaction and experience in the past 10 years and it is not a train that is stopping anytime soon. From art to activism to dating to politics, social media has touched everything imaginable in every aspect of our lives, including the process of getting famous. Today, no longer do you need an appearance on the big screens or on national television to be famous, it is all within your reach by creating an account on any social media platform of your choice and that is exactly what the Merrell Twins did.
YouTube, which has been the preferred option of many, has been responsible for hundreds of people who have found fame among their age group and anyone who spends more than 5 minutes on the internet. The Merrell Twins have been able to build an audience of more than 3.7 million people with over half a billion views on their YouTube channel. Who are they? Why are they as popular as they are? Learn this and more below.
Merrell Twins Biography, Age and Ethnicity
We know the world today is full of people who have pseudonyms they have used in climbing the ladder of fame which sometimes led to confusion among those looking to learn about them, but in the case of the Merrell Twins, they are actual twins. They are Veronica Jo Merrell and Vanessa Merrell, who were born to their parents on the 6th of August 1996 in Kansas City, Missouri. Although the twins have grown up to beautiful and delightful women, their birth was anything but pretty, especially Vanessa who needed to be extracted from her mother's womb through a Cesarean session. Although born on the same day, Vanessa was born 45 minutes later than her sister, which makes Veronica a technical older sister.
Details of their formal education are currently unknown but the education that has helped them become famous is their love for Performing Arts, which they fell in love with at a young age. At the age of five, the twins were already learning the violin, piano, and guitar, which are now talents they are known for.
The twins enjoy a diverse mix of origins as their ethnicity, like Spanish, Mexican, German, Portuguese and Irish roots. Both sisters have further connected themselves to their Spanish roots by learning the Spanish language.
Veronica Jo Merrell and Vanessa Merrell began their foray in online production of videos with their father's help in 2009. According to the sisters, after they posted their first video, they never paid attention to it until their return to the platform two years after, when they discovered that people appreciated their video. This inspired the twins to make more videos and upload them on their channel.
With contents like skits, song covers, challenges, and games, the Merrell Twins have been able to build an audience of over 3.7 million subscribers and their videos have been viewed over a combined total of 717 million views.
Seeing the reception of their performances, the twins chose to take the next step and move to Los Angeles. At the age of 16, the new Los Angeles residents became one of the most sought-after personalities in Hollywood. They got a number of offers from casting directors and producers who wanted them on their projects. So far, they have only accepted roles in the 2016 film, The Standoff and recurring roles on the hit show, Jane the Virgin.
Their endeavors on YouTube has earned them a few awards, namely, the 2018 Streamy Award, Best Live Social Award in 2016 and two nominations for Teen Choice Awards in 2018.
Inside Their Family – Met Their Mom and Dad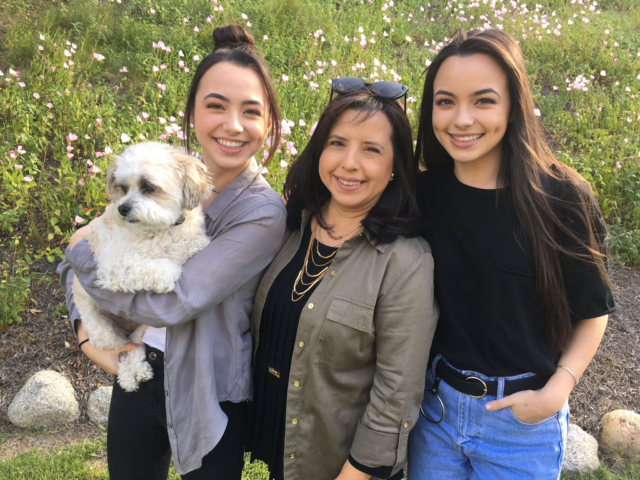 The Merrell Twins have enjoyed excellent support from their parents – Wendy Merrell, who is a school secretary and their father, Paul Merrell, who is a video producer who helps the twins with the editing and general production of their videos. The twins are the parents only children and they are enjoying their lives together.
Does any of the Merrell Twins have a Boyfriend?
The Merrell Twins have certainly not kept their relationships quiet. While the twins are mostly focusing on building their online influence and turning it into a physical career in the movie industry, they (especially Vanessa) have taken some time out to entertain romantic relationships in their life. Vanessa was in a relationship with Aaron Van Wormer, a fellow YouTube personality in 2016 but it did not last.
What is Their Height?
Vanessa may have been born later than Veronica but she has grown taller than her sister. Vanessa stands at a height of 1.6 m while her sister, Veronica comes in slightly behind at 1.57 m.