Michael Bloomberg is no doubt one of the richest and business savvy men in America. He is a businessman, author, politician, engineer, and philanthropist with a $61 billion empire. His financial status, thus, makes him the 8th richest person in America and the 11th richest person in the world, as of 2020. He partnered with a Bulge-Bracket Wall Street Investment Bank called Salomon Brothers in 1973 in which he managed the systems development before moving up to manage equity trading. Upon his exit from Salomon Brothers, he decided to start his own company and that was how Innovative Market Systems (Which changed to Bloomberg L.P in 1987) was born.
Stepping down as the CEO of Bloomberg L.P, the versatile businessman went into politics and was elected as 108th mayor of New York. Bloomberg is also neck-deep into philanthropy, dedicating 8 months of his last tenure as a mayor to philanthropic work. After his tenure ended, he made an announcement, stating his intentions to return as the CEO of his company – Bloomberg L.P. at the end of 2014, which he did. Michael Bloomberg also has an eye on the United States top job but couldn't go for the 2016 elections as he had to endorse Hillary Clinton. He also expressed interest in running for the 2020 presidential election. Michael also has an autobiography which was written with the aid of his company's News Editor-in-Chief, Matthew Winkler. The autobiography is named Bloomberg by Bloomberg.
Who Is Michael Bloomberg
Michael Rubens Bloomberg was born at the St. Elizabeth's Hospital, in Brighton, Boston, on the 14th of February 1942. The savvy businessman was born into a Jewish family. His mother's name was Charlotte Rubens and his father was called William Henry Bloomberg. Until Michael was two years old, he and his family lived in Allston, Massachusetts after which they moved to Brookline, Massachusetts. Two years later, his family finally settled in Medford, Boston where Michael lived till he became a college graduate.
After graduating from Medford High School in 1960, the emerging billionaire went ahead to accomplish his college education at the Johns Hopkins University. During his days as a student at the university, he was quite an asset to them. Michael constructed the mascot, "Blue Jay," for the school in 1962 when he was a sophomore. By 1964, he graduated with a Bachelor of Science degree in Electrical Engineering. Because of his love for education and determination to get the knowledge that will aid him in achieving his goals, he decided to get his Masters, graduating from Harvard Business School in Business Administration in 1966. Bloomberg is a member of Kappa Beta Phi and Tau Beta Pi.
Michael Bloomberg was born into a Jewish home, though he attended a Hebrew School, the American billionaire maintains a Kosher Kitchen, has a Bar Mitzvah, he seems to have become more secular at the moment as he didn't raise his daughters to have a Jewish identity. Michael Bloomberg also attends the synagogue only during important holidays.
William Henry Bloomberg – Father
Michael Bloomberg's father William Henry Bloomberg was born in 1906. Unlike his billionaire son, the senior Bloomberg was never a businessman; William was an accountant employed by a dairy company in his capacity as a bookkeeper. The Times said, he played a formative role in Michael's philanthropy, teaching him the values of giving back as well as fighting injustice. William believed in charity and according to the billionaire, his dad used to tell his children that discrimination against anybody is discrimination against everybody. He died in 1963 and has the Bloomberg Center at the Harvard Business School named in his honor.
Charlotte Rubens – Mother
Michael's mother has been identified as Charlotte Bloomberg nee Rubens, the mother of the American billionaire was born on the 2nd of January 1909 in New Jersey United States Of America. The records captured that she earned a living as a secretary. Charlotte Bloomberg became a high school graduate at age 16 and enrolled at New York University to complete her schooling. After she tied the nuptial with Williams, the billionaire's mum stayed home to take care of the home front while William Bloomberg, worked as a bookkeeper.
She was a petite woman but a huge presence in the life of her son, She stood with Michael on the steps of City Hall as the mayor took his oaths of office in 2002 and 2006, however, her health kept her from his third swearing. During her son's tenure as the mayor of New York, Charlotte, was "a constant vibrant presence, whether as an honored guest at special events or an often-mentioned confidante in Michael's remarks, the New York Times said. Despite his busy schedule, Michael would always make out time to call his mother daily.
Charlotte died on the 19th of June 2011 at the grand age of 102. her death occurred at her home in Medford, in the same house where the former mayor and his sister, Marjorie Tiven, were raised. In a tribute to his deceased mother, the New York-born billionaire described her as a woman with unimpeachable integrity, fierce independence, and constant love. He referred to those characters of his late mum as gifts that profoundly shaped their lives and the lives of many who knew her. In Medford, Michael Bloomberg's mother was a local celebrity, she served as co-president of Temple Shalom well into her 90s. According to friends, she was animated, smart, as well as a natural leader, just like her son.
Marjorie Tiven – Younger Sister
Michael is not the only child of his parent, the former mayor of New York was raised alongside a younger sister named Marjorie Tiven. Though nothing much is known about her, Bloomberg's only sibling has been associated with the United Nations Consular Corps and Protocol as Commissioner of the New York City Commission since February 2002.
Michael Was in An 18-Year-Long Marriage With Susan Elizabeth Barbara Brown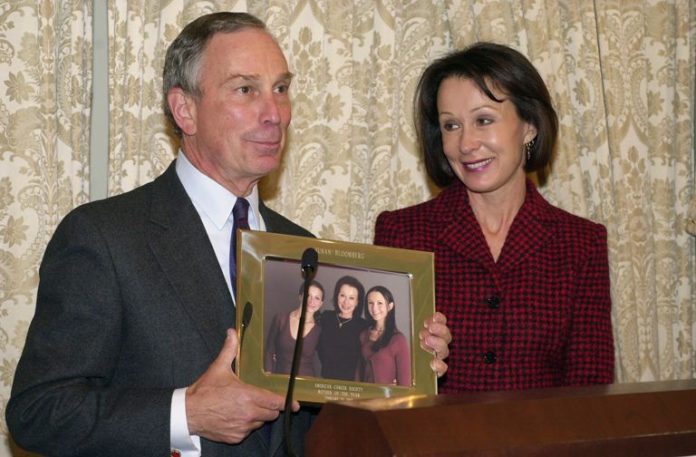 Michael got married to his heartthrob, a British woman from Yorkshire, Susan Elizabeth Barbara Brown, in 1975 and they had their wedding ceremony performed by a rabbi. They met when she was temping at Salomons. The duo was already married when Michael was still under the employ of Salomon Brothers. Susan was a pillar of support behind her husband and right by his side when he was eventually laid off by the company in 1981.
Together they have two lovely girls, Georgina (born in 1983) and Emma (born in 1979). Because they were born into wealth, Bloomberg's daughters were featured in a documentary short movie that examined the lives of children who are born into extreme wealth. The divorce came knocking for the couple in 1993 but Michael claims that regardless of the divorce, they (himself and his ex-wife) still remain best friends.
According to the billionaire's daughter's, their parents always argued about his long absence from home because as at that time, their father was busy building his business and enjoying the after-hours social life it afforded him. And being the type that would prefer to curl up on the sofa with a book, Susan was not comfortable with the turn out of events. Michael Bloomberg usually returned home to spend two hours with his daughters and then dash out again for dinner. When their lives became so incompatible that they were no longer getting on, the couple decided to call it quits with their 18-year marriage.
What We Know About Michael Bloomberg's Ex-Wife Susan Brown
According to Susan and Michael's wedding announcement published in The New York Times, Susan Elizabeth Barbara Meyer was born to Mrs. Brown of Malta and Wing Comdr. Donald W. J. Brown, R.A.F., retired. Their wedding announcements also revealed that Bloomberg's ex-wife was a student at Queen Margaret's School in York, England, and she also attended Le Manoir in Neuchatel, Switzerland. Michael is not Susan's first husband as she has been married and divorced once before. The duo has remained close since their divorce and Susan received the sum of $500,000 bridge loan from her ex to help her get an apartment.
Emma Bloomberg – Eldest Daughter
Born on the 10th of May 1979, Emma Bloomberg is the eldest daughter of the former NY mayor. Like her dad, she is an alum of Harvard where she obtained an MBA alongside a degree from Princeton University. Her career history includes working with the New York City government for a period of three years. The oldest daughter of the Bloomberg family also worked with Robinhood Foundation for seven long years. The foundation works with over 200 NGOs in their fight against poverty in New York City and also in other parts of the United States. Currently, Emma works as Chair of a group focused on education for children known as the Stand for Children,
Being the child of one of the richest men in the world, Emma has always been in the spotlight. She has made her mark in philanthropy as she is actively involved in charitable causes. Alongside her younger sister, she functions in philanthropy and is neck-deep into the US public policy circles and contributions. To keep the wealth in the family, Michael Bloomberg's daughter, Emma, got married to the son of another billionaire, Christopher Frissora.
Georgina Bloomberg – Younger Daughter
The younger daughter of the Bloomberg family was born on the 20th of January 1983. She has followed the lead of both her father and older sister, involving herself in philanthropic activities. Georgina is active in the philanthropic division of her father's business house. The billionaire's younger daughter is a trained professional who is active in equestrian; she contests in several equestrian events and competitions. She is a member of the Friends of Finn – a body that works towards better treatment of the canine population – both puppies and dogs. Georgina is the mother of Michael's only grandchild Jasper Michael Brown Quintana. The boy was born just before Christmas on the 24th of December 2013 and his father is Georgina's partner Ramiro Quintana.
Georgina has co-authored "four young adult novels about the equestrian show circuit. An animal lover from a tender age, she started riding at the age of 4. Her success as a child rider was notable, as she bagged Best Child Rider awards at every major horse show on the East Coast. Georgina later turned her attention exclusively to show jumping in 2001.
Michael Bloomberg Has Dated Banking Superintendent Diana Taylor For Over Two Decades
Since his divorce from Brown was finalized, the American Billionaire has been in another long-term relationship. Since 2000, his love interest has been Diana Taylor – the former New York banking superintendent. According to reports, Michael and Diana met at a Citizens Budget Commission luncheon in 2000 where they were seated together,
The two have been cohabiting since they hooked up. Taylor acted as an unofficial first lady for NY City during Michael Bloomberg's tenure as the mayor, joining the billionaire at social functions and appearing at campaigns with him. The former Banking Superintendent has been frequently spotted marching with him in parades throughout the city. During the 2005 New York City transit strike, Taylor was a pillar behind Bloomberg in the NY's Office of Emergency Management headquarters in Brooklyn each night of the strike. She campaigned with her partner during the 2020 Democratic Party presidential primaries in Utah, California, Alabama, and Arkansas.
Bloomberg's Partner Diana Taylor Has Recorded Impressive Career Success
Taylor is one woman with glowing credentials, upon graduating from college; she worked with the New York City Department of Social Services. She is equally a tenacious lady, working weekends and nights as an administrator at St. Vincent's Hospital in Brooklyn as well as in the public finance department at Smith Barney while in business school. Upon her graduation from Columbia, Smith Barney gave her an offer for a full-time job, and subsequently, she worked for both Lehman Brothers and Donaldson Lufkin & Jenrette.
Diana worked under then-governor George Pataki. As an assistant secretary in 1996. She would go on to work for Keyspan Energy and the Long Island Power Authority as the chief financial officer for a brief period before moving back to the Pataki administration to work in her capacity as deputy secretary. Taylor rose to the position of chief advisor on finance and housing issues. She was made the New York State superintendent of banks in May 2003; this led her to head the New York State Banking Department as well as chair the New York State Banking Board. The billionaire's girlfriend is associated with Wolfensohn Fund Management where she assumed the position of a managing director in 2007.
Michael Bloomberg's partner has served with other prestigious organizations like YMCA of Greater New York and ACCION International where she has been a board member. She was with Solera Capital as vice-chairperson and also with Citigroup and Brookfield Properties as director. She has a finger in politics and has considered running for the 2010 senate elections in NY but decided against it.