The American football offensive tackle, Michael Oher has garnered wide popularity following his excellent dominance in the field of play. Currently a free agent, Michael has played for top NFL teams including Baltimore Ravens, Tennessee Titans, and Carolina Panthers. He has received several accolades for his outstanding performances. Amazingly, he led the Ravens to clinch the Super Bowl XLVII championship in 2013.
Despite experiencing an unstable childhood, the superstar remained undeterred and today, he has carved a niche for himself by becoming one of the best offensive tackles in the NFL. In addition, Michael inspired Michael Lewis's Book, The Blind Side which was based on his true life story. The story, however, was transformed into a film of the same name in 2009. The movie got positive reviews and also earned an Oscar nomination for The Best Motion Picture of the Year. Learn more about the Michael Oher below.
Michael Oher Biography
The skillful football star was born as Michael Jerome Williams Jr. in Memphis, Tennessee on 28th May 1986. His father's name is Michael Jerome Williams Sr., while his mother is Denise Oher. Michael had a rough childhood experience. As a result of his parent's negligence to their duties, Oher was abandoned to his fate. Most times he was homeless as he was trying to adapt to living in different foster homes. Palpably, he was devasted as it reflected on his academic performance.
Meanwhile, he was frequently repeating his first and second grade respectively. The situation was so ugly that during his first nine years as a pupil, he attended 11 different Schools. Unfortunately, he lost his dad during his senior year in high school. After a while, his life got a positive turn around as he was adopted by Sean and Leigh Tuohy in 2004. This couple took responsibility for him and further became his legal guardians at the age of 17. They gave him every bit of support he lacked in his early childhood. Following his size and athletism, Oher started playing football with the Varsity football team when he was still in High School.
After high school, the American football star was tempted with so many scholarships offers from different Universities like Tennessee, but he opted for the University of Mississippi. While he was there, he played the role of an offensive tackle for their football team; Ole Miss Rebels Football team, under coach Ed Orgeron. However, Oher was highly successful as a college football player despite his rough childhood experience. The highlight of his college awards and honors include; 2005 First Team Freshman All-American, 2006 Second Team All-Sec, 2007 and 2008 First Team All-Sec, among others.
Professional Career
Soon after he completed his college career, Michael was invited to participate in the NFL combine drills in 2008. There, he made a remarkable performance and was later picked by the Baltimore Ravens during the 2008 draft. After the draft, Michael penned a five-year deal worth $13.8 million with the Ravens.
Furthermore, on 3rd February 2013, Oher bagged his first ever Super Bowl ring with Baltimore Ravens. In addition, he became a notable figure in American football, such that he clinched a four-year deal with Tennessee Titans in March 2015. This deal was valued at $20 million. Unfortunately, he was released by the Titans the following year. Soon after his release in February 2015, the next month he got hired by the Carolina Panthers where he signed a two-year worth $7 million. He was also dropped by the Panthers in 2017 and is currently a free agent.
His Net Worth
It's not a surprise that the highly-skilled footballer has a great passion for success. He has made a notable mark in the American football league, despite his rough beginning. Ohe has accumulated huge wealth for himself and his financial value is currently penned at $15 million.
Parents, Siblings, and Family Members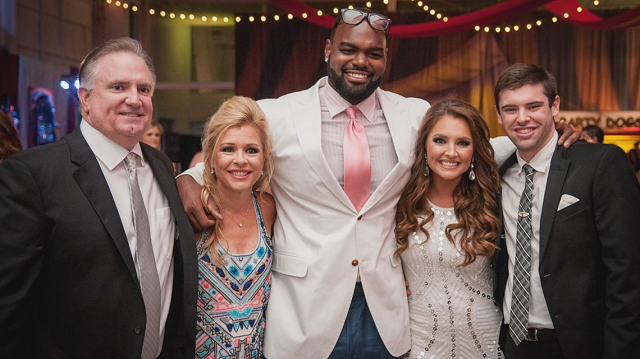 Like we have mentioned earlier, Oher's father and mother are Michael Jerome Williams Sr and Denis Oher. His dad was a convict and was killed in prison when the American footballer was in High School. In addition to that, his mother was an alcoholic and a hard drug addict. Michael was later adopted by Sean and Leigh Tuohy, who became his legal guardians. The couple has been of great support to him throughout his journey to superstardom. The football star has eight siblings which include Tara, Marcus, Carlos, John, Deljuan, Rico, and Andre Oher. he also has two stepsiblings named Collins Tuohy and Sean Tuohy Jr.
Is He Married?
Regarding his personal life, Oher has successfully kept the details of his personal life away from the media eye. He is among those celebrities who enjoy striking a balance between their personal and professional life. Surprisingly, the player has not been linked to any relationship and is yet to make it down the aisle. He might have been in other relationships in the past but has decided to keep it under the radar. As of now, he is very much focused on reaching the apex of his career.