For almost two decades, American comedian and actress Michelle Buteau has been a dominant force in the entertainment industry. Renowned for her raw and socially-conscious comedy style, Buteau has defied the odds and successfully carved a niche for herself in the male-dominated comedy world. She managed to do so after surviving both naysayers and traumatic job routines to now live out her life's purpose doing showbiz. Find out lesser-known facts about the celebrity who prefers to wear her fame lightly.
Biography
It is no news that the American comedian prefers to live a very private lifestyle. But while there have been several conflicting reports about Michelle, we have the facts. Michelle Buteau was born in New Jersey in the year 1986 to a Haitian father and a Jamaican mother. Other than these, details regarding her exact birth date, parents' identity, family, early life and education have not been made public knowledge.
Growing up, Buteau nurtured dreams of becoming a journalist and worked towards it. But after being told once that she didn't have the physical attributes to make appearances in front of the camera as a news reporter, she resorted to working behind the scenes. She has worked as a news editor and producer for top media houses such as Fox and NBC.
Naturally endowed with a good sense of humor, Buteau has enjoyed a lucrative comic career. Though her success in the male-dominated comedy scene was a gradual process, she persevered and eventually established herself as a household name in the industry.
As a comedian, Michelle Buteau is best known for VH1's Best Week Ever and Big Morning Buzz Live, Comedy Central's Key & Peele, NBC's Last Comic Standing, Lip Service, Good Afternoon America, Lopez Tonight and The Jim Gaffigan show, amongst many others. Besides her debut comedy album Shut Up, Buteau has toured across the country performing on various stages including Pubs, Colleges and comedy festivals.
More recently, her work includes co-hosting a WYNC Studios comedy podcast, Late Night Whenever. She is also part of the TV series First Wives Club Reboot. The new BET dramedy which is based on the 1996 movie, chronicles the life of a group of single women with failed marriages, who support each other and even plot revenge against their former spouses.
Michelle Buteau Husband – Gijs van der Most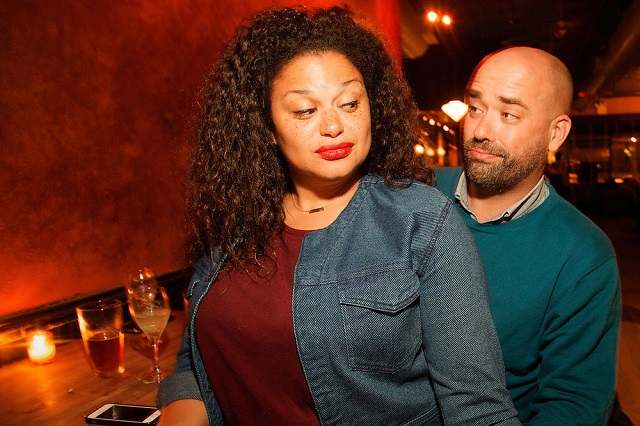 Since the American comedian came into the limelight, her love life has been of public interest, especially because she is known to shield most of her personal details away from the public. Given that Buteau has in the past categorically stated that she is a fan of interracial relationships, there were many speculations as to whom her true heartthrob is. Though there are no public records of the comedienne's past relationships, we do know that Michelle Buteau's better half is a Dutch Photographer, Gijs van der Most.
Buteau who has an active social media life has been generous enough to share tidbits of her love life with her fans on the internet. The exact details of how and when the lovebirds met are uncertain. Nonetheless, we do know that they were in a long distance relationship for about two years before officially tying the knot on the 31st of July 2010, at the Hyatt Pier 66 hotel.
So far, it is unknown if Michelle Buteau and Gijs van der Most's union has produced any kids or if they plan on doing so in the near future. However, the couple who share a tight bond has been going strong over the years and show no signs of discord.
See Also: 5 Interesting Facts You Need To Know About The Comedian – Cristela Alonzo
Other Interesting Facts 
1. The beautiful star comedian stands at an average height of 5 feet 7 inches.
2. Her career switch from journalism to comedy was ironically inspired by the September 11, 2001, New York terrorist attacks. Having been subjected to the demanding task of viewing and editing disturbing footage of the attacks, Michelle quit her job shortly after for a more emotionally relaxing career as a comedian.
3. Unlike most of her colleagues, Michelle Buteau's decision to go into showbiz wasn't born out of the hunger for fame. According to the talented comedian who loves to write, perform or create things as much as she loves breathing, her career choice is in pursuit of her life's purpose.
4. As a comedian, Buteau prefers to showcase her talents on the digital space than on television. Given the flexibility that comes with working on the internet, Michelle's work preference comes as no surprise.