Although it is expected that the fame which actress Michelle Grace enjoys rests on the oars of her acting career; her life has been much more interesting and full of juicy details that have little to nothing to do with her career. For the most part, her love life forms the most interesting part of her life in the spotlight. Celebrity marriages have always served as fodder for the rumor mill and tabloids. While some have found ways to keep details of their love life under lock and key, Michelle Grace is part of the majority that has failed at this.
Michelle Grace Sued Her First Husband Mark Grace For $20 Million During Divorce Proceedings
The actress was born Michelle Masser and only came to be known as Michelle Grace following her marriage to Mark Grace, a former Major League Baseball first baseman. The origin of their relationship is not clear, as there is no information available on how the two met. However, it is known that Mark Grace got married to Michelle Masser in 1988 when he was playing with the Chicago Cubs.
Michelle met him in the town of Peoria, Illinois, but their marriage did not last as long as the relationship Mark had with the Chicago Cubs, a team he was with for twelve years. In August of 1992 -three years into their marriage, Michelle decided to file for divorce. The reasons for the divorce was not clearly stated but the suit she filed included a $20 million fee that Michelle demanded from Mark.
According to the suit, Mark Grace had verbally said he and Michelle would share their incomes for the rest of their lives, a verbal proclamation that she claimed was backed up by some implied contracts where there was a mutual agreement that all the wealth and property accumulated during their marriage would be equally shared by both parties. This had been breached by the baseball player, hence. the $20 million suit.
The suit was filed in the Los Angeles Superior Court, but it is not clear if Michelle Grace got what she was demanding for. The divorce was finalized in 1993 and the couple went their separate ways with no kids shared by the both of them.
She Met Her Second Husband At Her Ex-Husband's Baseball Game
Grace had remained unmarried after her first divorce ended and she was not publicly linked to anyone romantically. But in 1997; in a twist of interesting fate, she met her next husband, Ray Liotta at a baseball game where her ex-husband Mark Grace was playing. Ray Liotta is known for his works as an actor who has appeared in a number of high profile films.
Michelle Grace who had an interest in working in the world of entertainment as an actress had no issues connecting with Liotta. In the same year they met, the two got married. Their marriage took place in Las Vegas and was attended by family and friends of the couple.
Karsen Liotta, their daughter, was born the following year in 1998 and just like her parents, she has made a foray into the world of acting and appeared in a number of films, including one that featured her parents.
Michelle Grace and Ray Liotta were married for seven years as they got divorced in 2004. Unlike her first marriage, this lasted a little longer. There was nothing in the news about the reason for their divorce and from all indication, there is no bad blood between the two. After their split, they have remained amicable and managed to maintain a good relationship, as colleagues and friends.
Sometime in 2016, Michelle Grace and Ray Liotta were spotted together going jewellery shopping.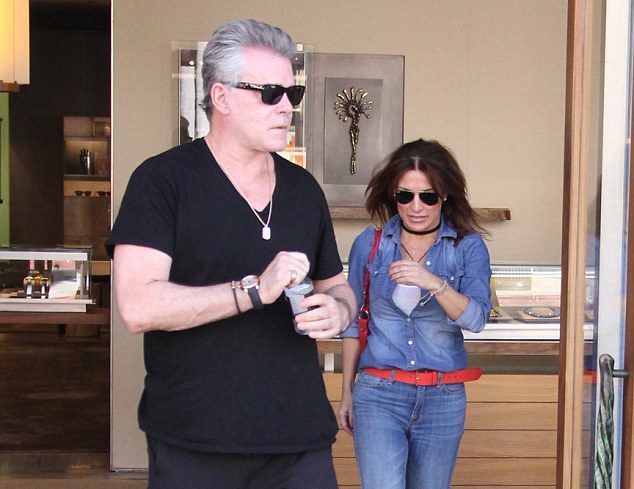 Since they got divorced, none of the parties has gotten married again or known to be in other romantic relationships. This has, in turn, sparked rumours that the two may still have a romantic relationship together, especially as they are known to spend some quality time with each other.
Grace Had A Late Start In Her Acting Career
Michelle Grace's career in entertainment began in 1988, the same year she got married to Mark Grace. But she only performed as a model. Her career got a boost in 1998 after her marriage to Ray Liotta when she performed in the 1998 TV film version of The Rat Pack, playing Judy Campbell. The film was moderately successful and had an above average rating with critics.
Her next appearance was also alongside her husband at the time, in the 2000 film A Rumour of Angels which was based on a novel published in 1918 about a woman's experience with death after losing her son. The storyline of the film digressed from the story in the book but the central theme of how people cope after death was present. Apart from Ray Liotta, other people she was cast with were Vanessa Redgrave, Trevor Morgan and Catherin McCormack.
The next time she performed in the role of an actress was in 2002 when she was cast to play Sydney Coopman in the film for television Baseball Wives. This was a befitting role for her, considering she had been a baseball wife herself.
From Acting, She Became A Producer
While appearing on Baseball Wives, it was also a great way for her to start a new career path in the film industry as it was on this film she became an executive producer. In that same year, Michelle Grace worked as a producer on Narc, a neo-noir crime film that had her husband in the lead role.
Her next project in a movie in the same capacity as a producer came three years after, when she was the co-producer on Knights of the South Bronx, a 2005 television film. She also produced Take the Lead, a 2006 dance film where Antonio Banderas played the lead role of a dance teacher to misguided teenagers.
Despite her late entry into the world of film, Michelle Grace was able to establish herself as an actress and when she found a better career in production, she seized that opportunity and made a name for herself in the job as well. Michelle Grace has always been a private person who, despite the work she does in entertainment and her marriage to popular people, has found a way to always remain under the radar and away from the public's eye.