Michelle Grace is an actress who has had roles in movies like The Rat Pack and Narc, roles that she is widely remembered for. But her acting is not what has made her popular. Her marriages to men who are much more famous receive the credit for the fame she enjoys today. To learn more about the life of Michelle Grace and the marriages to which she owes her fame, keep reading.
Michelle Grace Bio
In the city of Chicago, Michelle Masser was born on the 4th of December in 1968. Information about her parents and childhood is not known and the same goes for her formal education.
The work she has done in the movie industry is not limited to just acting as she has produced films as well. Grace has found a way to live her life under the radar in spite of the celebrity status she enjoys. The year she made her debut in the world of film is another aspect of her life that is not known, however, her first known screen work was The Rat Pack (1998) which starred casts like Don Cheadle, Joe Mantegna, Angus Macfadyen, and others.
In the film, she played the role of Judy Campbell, who claimed to be the mistress of former U.S. President, John F. Kennedy, John Roselli, and Sam Giancana in the Rob Cohen-directed HBO film. This can be rightfully described as her biggest role in all her time as an actress. In 2002 and 2006, Michelle Grace produced the film, Narc and Take the Lead respectively.
Husbands – Mark Grace and Ray Liotta
Michelle Grace's first stint with fame was with her first husband Mark Grace. It is not known how the two met each other, but for a period of five years she was married to Mark Grace.
Mark is a former Baseball player who played in the Major Leagues, although now retired he works as a commentator and analyst of the sport. Their union produced no children. They got married on the 5th of November, 1988 but got divorced in 1993.
After Mark Grace and Michelle Grace spilt up she remained single for a while until she met Ray Liotta in 1997. The couple first met at a Baseball game where Mark Grace, Michelle's ex-husband was playing. They got married in the same year they met one another. In the following year, both of them appeared in The Rat Pack, with Liotta playing Frank Sinatra. The couple has a daughter named Karsen Liotta. Karsen was born in 1988, a year after they got married.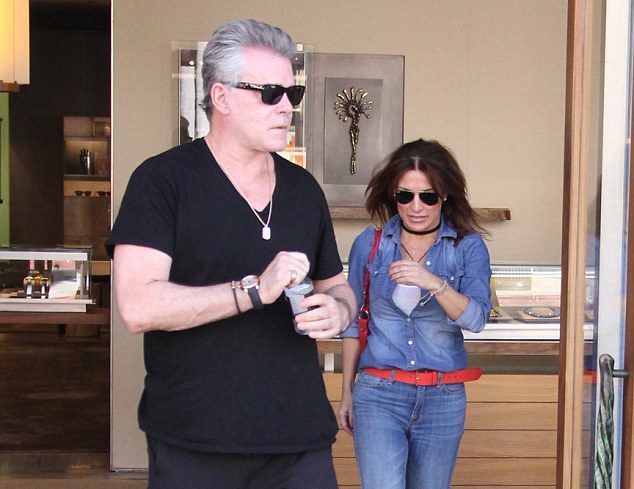 Michelle and Ray stayed married for six years before getting a divorce in 2004. Regardless of the divorce, the two have maintained their friendship and have been spotted together on outings at different points in time.
In the two marriages Michelle Grace has had, she has been the one with the least amount of fame. Her first husband was a renowned Baseball player who appeared in over a hundred games, had a batting average of .303 and a total number of 2,445 hits in the entirety of his career as a professional sportsman. He began to play the game in his teenage years while in high school and only stopped playing in 2003, at the age of thirty-nine. He also had a stint as a coach, when he coached the Arizona Diamondbacks, for a year before getting sacked. In his entire career, he played for two teams: the Chicago Cubs and the Arizona Diamondbacks. Grace was with the Cubs for a total of twelve years and played for the Diamondbacks for two years.
See Also: Nicolette Scorsese – Bio, Age, Husband, Height, Biography, Family Facts
Her second husband, Ray Liotta is known for his role as Henry Hill in the Mafia film, Goodfellas. Liotta has also delivered some other noteworthy performances, especially in Something Wild, Hannibal, Cop Land, Unlawful Entry and Field of Dreams, for the work he did in Something Wild he received his only Golden Globe nomination.  Michelle Grace and Ray Liotta have worked on some projects together.
They were co-producers of the movie, Take the Lead and she produced Narc, which he starred in and produced as well.
Other Facts About Michelle Grace
It is believed that she shares a resemblance with the iconic actress, Elizabeth Taylor. This resemblance came to play in her playing the role of Judith Campbell in The Rat Pack.
When she was married to Mark Grace, the couple was referred to as Mr. and Mrs. Exuberance.
Michelle Grace led a career in modeling before transitioning to her true love, acting.