Mike Adams is a National Football League (NFL) veteran safety. Born on March 24, 1981, as Michael Carl Adams, the football player knew he wanted to do sports as a child and it did not matter whether it was football, baseball, or basketball. He remembers playing football in the streets of his hometown, Paterson, New Jersey, when he was just 10 years old and eventually, his love for the sport made him chose it over the others.
The native of Wayne, New Jersey, attended Passaic County Technical Institute (PCTI) in Wayne before going on to the University of Delaware where he played college football. He started his professional career in 2004 as an undrafted free agent with the San Fransisco 49ers and has since then, also played for the Cleveland Browns (five seasons), Denver Broncos (two seasons), Indianapolis Colts and presently, the Carolina Panthers.
Adams' NFL Career
The football safety was signed by the San Francisco 49ers as an undrafted free agent on April 28, 2004, to a three-year contract worth $879,885. He made his NFL debut playing as a backup free safety against the Carolina Panthers in Week 10 of that season, finishing his rookie season with 9 combined tackles (4 solos), a pass deflection, and an interception in 8 games and zero starts.
The following season, he became a starting free safety and finished with 74 combined tackles (57 solos), 5 pass deflections, 4 interceptions, and a sack in 14 games and 10 starts. In 2006, Mike Adams recorded a total of 64 combined tackles (54 solos) and 3 pass deflection in 16 games and 8 starts.
At the end of his third season with the team, Mike moved over to the Cleveland Browns, signing a two-year, $1.21 million contract on April 2, 2007. At the expiration of the two-year contract, the team signed him again to a three-year deal worth $4.10 million.
After the 2011 season, Mike Adams became an unrestricted free agent but received no contract offer from the Browns despite his desire to return. However, he was said to have received offers from the Denver Broncos and three other teams. Going with the Broncos, he signed a two-year, $4 million deal with $250,000 guaranteed and later took a bow at the end of the 2013 season, becoming an unrestricted free agent.
He received interests from many teams but chose to go with the Indianapolis Colts and signed a one-year, $1.01 million contract with the team. In 2015, he was signed to a two-year, $4.85 million contract with $1.20 million guaranteed. After three successful seasons with the team which earned him two Pro Bowls, the Colts decided to shelve Mike Adams who turned 36 in 2017, in favor of their younger safeties.
Not ready to quit the game yet, Mike joined the Carolina Panthers on March 10, 2017.
In an interview in 2016, the superstar said he was going to throw the mic down at the end of his fifteenth season which was in 2017. Probably delayed by the Panthers two-year contract, Mike may finally quit the game at the end of the 2018 season. The player attributes much of his success to strategic eating habits and a daily yoga routine.
His Net Worth
Mike Adams has a net worth of $15 million. He did not only make this from football alone but also from his chain of businesses.
The NFL player has been in the game for more than fifteen seasons and within this period, he has made $21.96 million which ranks 559th among active NFL players entering 2018. His $1.78 million earnings in 2017 ranked 21st among football safeties and 570th overall in the NFL.
On March 10, 2017, he signed a 2-year contract worth $4.2 million with the Carolina Panthers, including a $650,000 signing bonus, $1.150 million guaranteed, and an average yearly salary of $2.1 million. This will bring his 2018 base salary to $1.5 million while carrying a cap hit of $2.425 million and a dead cap value of $2.075 million.
Meet Mike Adams Wife
The former Indianapolis Colts player is married to his longtime partner, Ariana Horry. She was born and raised in New York City in the Bronx, alongside her five sisters. Ariana, an entrepreneur, met Mike at the University of Delaware from where she got both her undergraduate and graduate degrees and they always had a great vibe.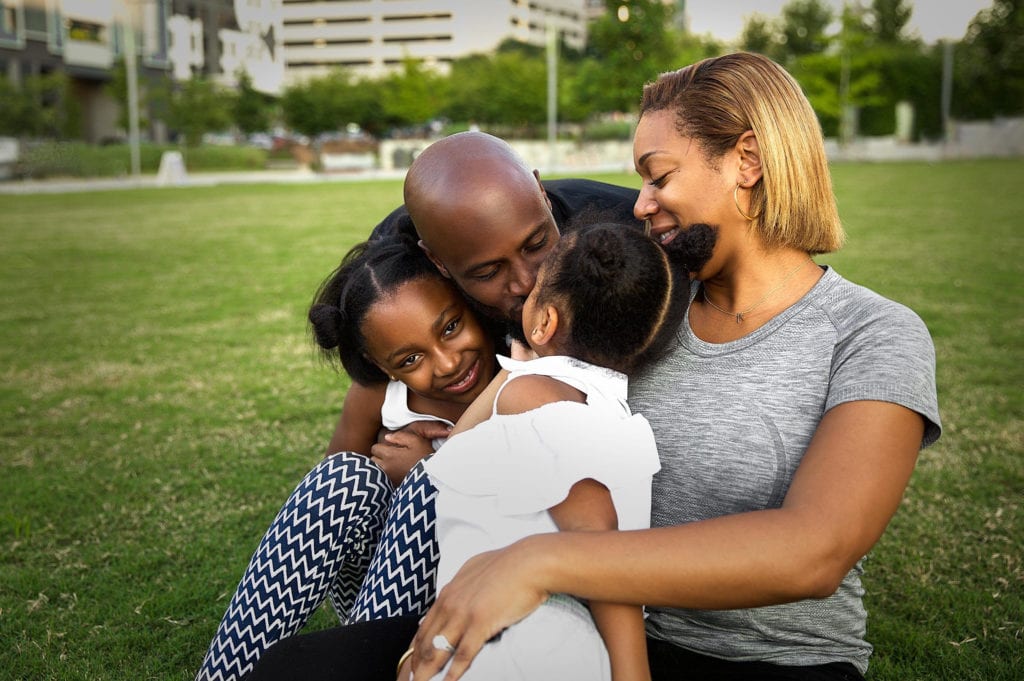 According to the player's wife, although she and Mike knew all through college, they did not date until their senior year. So while Mike started his playing career with the San Francisco 49ers in 2004, she was beginning her first year of graduate school. With the couple now in different cities, there was a need to bridge the gap and as a result, Ariana who was working on her master's degree in Delaware had to fly back and forth quite a bit to San Francisco where he was playing for the 49ers.
After grad school, she was offered a job at NBC as a digital researcher and while working there, she found out that she was pregnant with their first daughter, Maya. Shortly afterward, she moved to Cleveland where Mike was at the time, playing with the Browns. With her first child on board, Ariana abandoned her love for research and analysis and became a full-time mom. In 2012, Mike Adams started playing for the Broncos and consequently, the family moved to Denver where they had their youngest daughter, Avery, in 2013.
Although she definitely enjoyed a sense of fulfillment from taking care of her family, Ariana started longing for something more when her oldest daughter was about three years old. At this time Maya was in pre-school while Mike was busy with his football career. After she had her second baby, Ariana took the bull by the horn and opened a beautiful baby boutique, Milk & Honey Babies.
The couple tied the knot on June 16, 2018, in a destination wedding held in the Caribbean, Royalton Saint Lucia, with friends, current and former teammates, and members of his personal management team present.
Height, Weight and Body Stats
The Carolina Panthers safety has an average height of 5 ft 11 in (1.80 m) and weighs 200 lb (91 kg). Sadly, his body statistics are not available.
Mike Adams understands that as an athlete, there is a need for him to eat right in order to give a 100% performance on the field. To achieve this, he eats small portions of food 6 times daily as all athletes try to do but what's different for him is that he only eat fish, turkey (no red meat, no pork) and all types of vegetables.
He started this diet as an experiment for a season, then it became two and a half seasons. According to the player, he was feeling great and running well so he decided to stay with it. A man is truly what he eats and for that reason, Mike is very conscious of what he puts in his body. Apart from a healthy diet, he also does a series of daily yoga routines.