Mike Evans is a wide receiver for the Tampa Bay Buccaneers. He joined the NFL in 2014 and has gone on to establish a reputation as one of the most prolific wide receivers in the league. Evans, who is only in his mid-twenties, is the Buccaneers all-time leader in receiving yards as well as reception touchdowns with a total of 356 receptions for 5,365 receiving yards and 36 receiving touchdowns (as at week 9 of 2018 season). Get to know more about this record breaker here including his career, body stats, family history, wife, etc.
Early Life and Career Beginning
Michael Lynn Evans III was born on the 21st of August 1993 in Dallas Texas. He had his high school education at Ball High School in Galveston where he was a multi-sport athlete lettering in football, basketball, and track (triple jumper, long jumper, and sprinter).
Interestingly, Evans focused more on basketball and track, he only started playing football in his very last year in high school. He, however, did well in that single season (25 receptions for 648 yards and seven touchdowns) and earned a scholarship to Texas A&M University. Evans spent three years at Texas A&M (2011 to 2013) where he proved that he was no fluke.
After a redshirt first year, he recorded 82 receptions for 1,105 yards and five touchdowns in his second year and received All-SEC honors. He did even better in his third year breaking the school record with 69 receptions for 1,394 yards and twelve touchdowns. In recognition of his exploits, Associated Press named him a first-team All-American and he was also named a first-team All-Sec. Unsurprisingly, The Dallas native decided to strike while the iron was hot and forwent his last two years of college football for the 2014 NFL draft.
NFL Career and Salary
Mike Evans was picked in the very first round of the draft by the Tampa Bay Buccaneers and was the 7th overall selection of the year. The Buccaneers signed him to a lavish (by rookie standards) four-year contract worth $14,600,000. In four years (and counting) with the Buccaneers, Evans has proved to be worth every cent that was spent on him. He finished his rookie season with 68 receptions for 1,051 yards and 12 touchdowns. His 1,051 receiving yards marked the ninth-most receiving yards by a rookie since the 1970 NFL/AFL merger.
The wide receiver also topped 1,000 receiving yards in his first four seasons with the Buccaneers, becoming one of only three players in NFL history to post 1,000 or more receiving yards in each of their first four seasons. It was, therefore, no surprise that at the end of his rookie contract, the Buccaneers rewarded him with a handsome five-year contract worth $82,500,000. Mike Evans is currently in his fifth season with the Buccaneers and is on track to reach his normal 1000+ yards a season benchmark.
Mike Evans is currently on a five-year contract worth $82,500,000. The amount includes a guaranteed sum of $55,008,000 and an average annual salary of $16,500,000. His salary for 2018 is a cool $18,258,000. Not bad for a young man who grew up in the projects.
His Family (Mom, Father, and Brother)
Mike Evans is certainly one young man who has overcome a lot of adversity (much of it stemming from his family history) to get to where he is today. His mom, Heather Kilgore, gave birth to him when she was just 15. His dad, Mickey Evans, was murdered by his mother's brother, Sam Kilgore when he was just 9. Sam Kilgore shot and stabbed the senior Evans because he was physically abusive towards his sister Heather.
Kilgore was sentenced to 38 years in prison for the murder and Evans eventually forgave his uncle after visiting him in prison many times. There is certainly no doubt that Evans' childhood experience has influenced him. He has a Mike Evans Family Foundation which provides scholarships for less privileged youths as well as assistance for victims of domestic violence.
With regard to siblings, Mike Evans has a sister. He does not have a biological brother but he describes professional basketballer, Terran Petteway, as his brother. They both grew up in Galveston, Texas and Petteway currently plays professional basketball in the Italian league for a club known as Dinamo Sassari.
Mike Evans Wife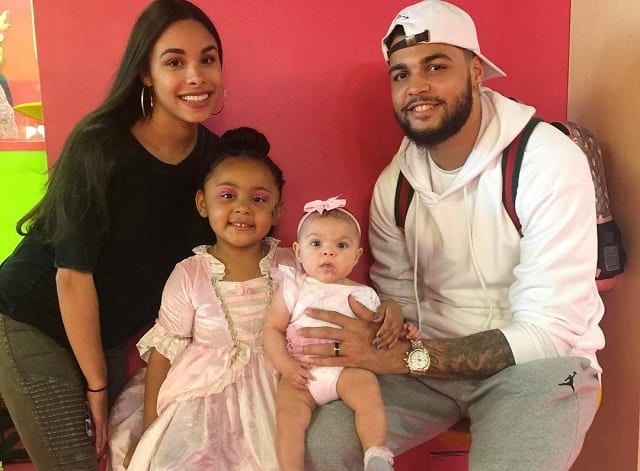 Mike Evans is married to long-time girlfriend Ashli Evans (nee Dotson). The pair reportedly met while studying at Texas A&M and started dating in February 2014. They got engaged on the 19th of December 2014 and tied the knot on the 13th of February 2016 in a beautiful ceremony in Houston, Texas.
Evans' little daughter from an earlier relationship, Mackenzie, was a flower girl at the ceremony. In addition to Mackenzie, Evans and Ashli also have another daughter, Ariah Lynn Evans, whom they welcomed in November 2016.
See Also:  Stefon Diggs Brother, Girlfriend, Family, Height, Age, Weight, Bio
Body Stats (Height and Weight)
Mike Evans is 6 feet 5 inches tall and weighs 231 lb (104.7 kg). He has quite a massive stature which makes him a footballer of ideal size. His size is an asset as it makes him a tough, physically dominant player who can easily outmuscle smaller defensive players. His arm length is 35 1⁄8 in (0.89 m) and his hand measures 9 5⁄8 in (0.24 m).