If Christiane Amanpour is synonymous with international correspondence, then Mike Rowe is synonymous with narrating. In a career that has lasted since the '80s, He has narrated several programs for major TV stations like the Discovery Channel, The Science Channel, and National Geographic Channel. He has also hosted several shows thus proving that he is quite comfortable before the cameras as well.
Rowe's most career-defining work came on the set of the defunct Discovery Channel series, Dirty Jobs. Hailed as an incredibly entertaining and heartfelt tribute to hard work, Dirty Jobs saw Rowe and his crew travel across the length and breadth of the United States doing the most disgusting but essential of tasks. The show won him the loyalty of thousands of viewers across the US and around the world. It also fetched him several accolades before its end.
The Various Facets of Mike Rowe's Career
Mike Rowe may be most popular as a TV host but he has also thrown his hat into the acting industry, podcasting as well as served as the spokesperson for several companies.
The host of Dirty Jobs, Somebody's Gotta Do It and Returning The Favour
Mike Rowe is most popular for his work as a TV host and believe it or not, he only got into it while working as an opera singer. After graduation from Towson University, Rowe joined the Baltimore Opera in 1984. He would remain in that field for the next two decades until he happened upon a QVC audition while returning from one of his performances in the year 2006. He did the audition on a dare and was hired as an on-air host by the popular home-shopping channel.
Building upon that humble beginning, Mike Rowe has gone on to host over two dozen shows for various local and national networks. Some of them are On-Air TV (for American Airlines), No Relation (for FX), New York Expeditions (PBS), Worst Case Scenarios (TBS), and Your New Home (for WJZ-TV). His most notable hosting gig is, however, the defunct Discovery Channel show, Dirty Jobs.
Scripted from an idea of his, Dirty Jobs follows him and his crew as they travel all around the United States looking for the dirtiest, strangest, and most disgusting ways that people make an honest living. The show debuted in 2005 and ran for a total of 169 episodes. During this period, Rowe and his crew completed about 300 jobs, ranging from sewer inspectors, fish farmer, underwater logger, coal miners, crabbing, etc.
Dirty Jobs attracted millions of viewers who came to love Mike for his handy self-deprecating humor. Its final season aired in September 2012. Since then, Mike Rowe has hosted a similar show, Somebody's Gotta Do It, for CNN from 2014 to 2016. He presently hosts the web series, Returning The Favour. This is a reality series that recognizes the efforts of do-gooders and gives them the resources to do more.
His Narration Work on Deadliest Catch
Mike Rowe has not only charmed TV viewers with his charismatic personality but also thrilled them with his distinctive voice. Since the 80s, the Baltimore native has narrated several documentaries spanning a diverse range of topics such as space exploration, wars, serial killers, hurricanes, dinosaurs, and how stuff works. Some of these docu-series include Mystery Diagnosis, Ghost Hunters, Wicked Tuna, and Airplane Repo.
On the Discovery Channel alone, Rowe has narrated several shows including American Chopper, American Hot Rod, Wild Pacific, Ghost Lab, and How the Universe Works. His most notable narrative work for the channel, however, remains the show, Deadliest Catch. Deadliest Catch chronicles the tales of the daring fishermen who brave the dangers and uncertainty of the Bering Sea during the three different crab fishing seasons. The show debuted in 2005 and Rowe has been narrating its events to date.
His Sporadic Acting Appearances on Sesame Street and Last Man Standing
Rowe has also proven the diversity of his talent by taking on side gigs as an actor. The Baltimore native had a voice role in the animated sitcom American Dad!. He has also featured in TV shows such as Sesame Street and Last Man Standing. Last Man Standing is an ABC sitcom that revolves around Mike Baxter, a sporting goods store executive that has to deal with his wife, three daughters, grandchildren as well as his daughter's significant others. The series has been on since 2011 and in 2012, Rowe appeared in one episode during which he portrayed Mike Baxter's brother.
Joining the Podcasting Fray With "The Way I Heard It"
Mike Rowe is the brains behind the hit podcast, The Way I Heard It. Each episode features a short but fascinating tale about real-life figures in pop culture, politics, Hollywood, and general human history. The Way I Heard It is designed to appeal to the taste of the curious minds with a short attention span. It has reached the No. 1 spot on the short-form podcast chart. It has also hit the No. 10 spot on the podcast and publishers chart.
The Spokesperson of Ford Motors
Mike Rowe would gladly let you know that he has featured in a million commercials for the foremost car manufacturing company, Ford. The number is however actually closer to dozens but this underscores the fact that he has done numerous TV ads for the company. They include commercials for their different vehicles such as the Ford Sync, Lincoln-Mercury, and F-Series Truck.
The Dirty Jobs star has also served as the representative of Caterpillar, a Fortune 500 company that is the world's largest construction equipment manufacturer, as well as Viva Paper Towels. Mike's ad for Viva was particularly interesting as it featured his real-life parents, John and Peggy Rowe, attempting to clean up his dirty messes with the paper towel brand.
His Historic Critics' Choice Award and Emergence as a Labour Advocate
Mike's work on Dirty Jobs has fetched him critical acclaim as well as the first-ever Critics' Choice television award for best reality show host in 2011. The show also received about five Primetime Emmy Awards, three for an outstanding reality program. Additionally, in the year 2016, he was made an honorary lifetime member of the Barbershop Harmony Society. The society is the first of several organizations that promote and preserve barbershop music as an art form.
Asides the accolades he has collected, Mike Rowe has also been recognized as an advocate for the people that he covers on his show i.e. blue-collar workers. His advocacy stems from his belief that these are hard-working men and women who earn an honest living by doing the most demeaning jobs to make civilized life possible for the rest of us.
Such a belief has inspired Mike to set up a non-profit known as mikeroweWORKS.org. The foundation awards scholarships to students who want to pursue a career in a skilled trade. It also provides resources for anyone seeking to pick up such vocations and advocates on issues affecting workers. All this has made Rowe a foremost personality in that field and in 2011, he testified on that issue before congress.
A Look at His Love Life
The accomplished TV host/narrator has been quite miserly with information about his relationship status. So far as we know, Mike Rowe is leading a single life and is not reported to be in any known romantic relationship. He was however previously in a relationship with actress and stuntwoman, Danielle Burgio. The relationship was long-term and crumbled due to reasons Rowe hasn't spoken about publicly.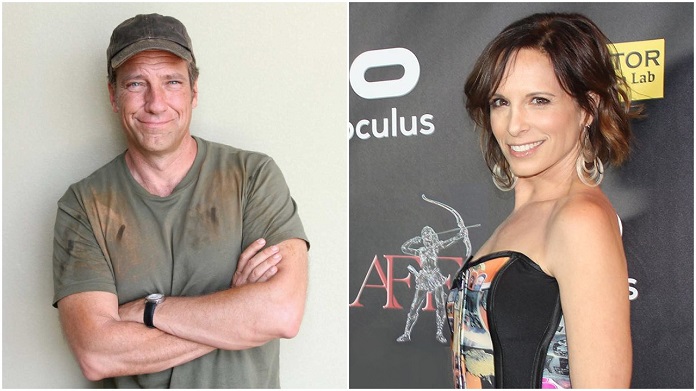 Burgio is a native of Greensboro, California and initially started as a Broadway actress. She however realized that this wasn't for her and moved to Hollywood where she became a stunt double. Since then, she has stunt-doubled for people such as Jennifer Lopez (Monster-In-Law 2005), Carrie Ann Moss (Matrix sequels), Kate Beckinsale (Pearl Harbour 2001), and Jennifer Garner (Daredevil 2003). She has also produced two short films, Lucy Falls and Girl Trip. In 2018, she received the unsung hero award at the Artemis Women in Action Film Festival.