Being a successful writer like Mindy Kaling requires a certain level of audacity which very few writers possess. Sometimes, it requires taking your life, the pain, and frustration, and putting them in front of the world in a way that exposes your truths in order to generate a good storyline as she did with The Mindy Project, as well as The Office.
Having perfected this task well enough and equally depicting her amazing acting skills in the process, Mindy is now widely recognized as one of the most talented writers, actresses, and comedians in Hollywood. Aside from her roles in The Office and The Mindy Project which apparently announced her to the world, the gorgeous producer is also an author whose writing prowess has gained many accolades in the past years.
Mindy Kaling Studied Playwriting In College
Mindy Kaling attended one of the best schools in Cambridge, Buckingham Browne & Nichols. She graduated in 1997 and applied to study Playwriting at Dartmouth College. While she was at Dartmouth, Mindy connected more with her talent as a comedy writer, joining the comedy improv group, The Dog Day Players, and an acapella group, The Rockapella.
Her immersion into her comedy interest also extended to being the creator of Badly Drawn Girl, a comic strip that appeared in the Dartmouth college newspaper. She was also a regular writer for the college's humor magazine, Dartmouth Jack-O-Lantern.
She Started Her Professional Career In Her Teens
At the point of graduation from Dartmouth College, Mindy Kaling had acquired considerable experience and skill as a comedy writer and playwright. As for her professional career, Mindy started working on comedy shows at the age of 19, when she interned at Late Night with Conan O'Brien, during her sophomore year in college. After graduation, she relocated to New York where she began working as a stand-up comedian and as a production assistant for Crossing Over With John Edward.
In 2002, Mindy and her best friend, Brenda Withers wrote a play called Matt & Ben. The off-Broadway show was highly successful and it was named in Time Magazine's Top Ten Theatrical Events of The Year in 2002.
The Office Shot Her To Fame
Mindy had been getting pockets of successes over the course of her life until 2004 when she had her big break and was cast as Kelly Kapoor on The Office. On the show, Mindy was not only an actress, but she was also a writer. During the course of the show's long run, she also directed episodes of the show, and later became a producer. At the end of her first contract with Universal Television, the actress was offered a new contract to remain on the show in 2011 and was equally promoted to executive producer of the show.
Before leaving The Office in the ninth season, Mindy and the show's team of writers and producers gained Primetime Emmy Award nominations – five consecutive times – and also took home a few in the process. Having reached a deal to develop a new show in her second contract with Universal Television, Mindy Kaling moved on to write and produce The Mindy Project for Fox in 2012.
Three years later, the show was canceled by Fox after three seasons, but the fourth season was eventually picked up by Hulu. The series aired on the subscription channel until November 2017 when it's sixth and last season was concluded. Mindy was also an actress and writer on the show.
A Look At Mindy Kaling's Other Notable Works In The Film Industry
Mindy made her film debut in Steve Carrell's film, The 40-Year-Old Virgin in the year 2005. Since then, she has garnered over fifteen acting credits to her name. She played the character of Shelly in the 2007 film, License to Wed and further scored the role of The Docent in Night at the Museum: Battle of the Smithsonian, two years later.
Between 2010 and 2019, Mindy played minor roles in TV shows, Sesame Street, Champions, It's Always Sunny In Philadelphia and Four Weddings and a Funeral. She also starred in movies No Strings Attached, The Five Year Engagement, The Night Before, A Wrinkle in Time, Ocean's 8, and Late Night, during such time. She has additionally played voice over roles in Despicable Me (2010), Wreck-It Ralph (2012), Inside Out (2015), Riley's First Date? (2015), and Animals (2017).
Aside from The Office and The Mindy Project, Mindy Kaling also wrote some episodes of Champions in 2018, Four Weddings and a Funeral in 2019, and Never Have I Ever in 2020 (also the producer). She additionally wrote the 2019 film, Late Night which she equally produced.
She Is A Recipient Of Many Awards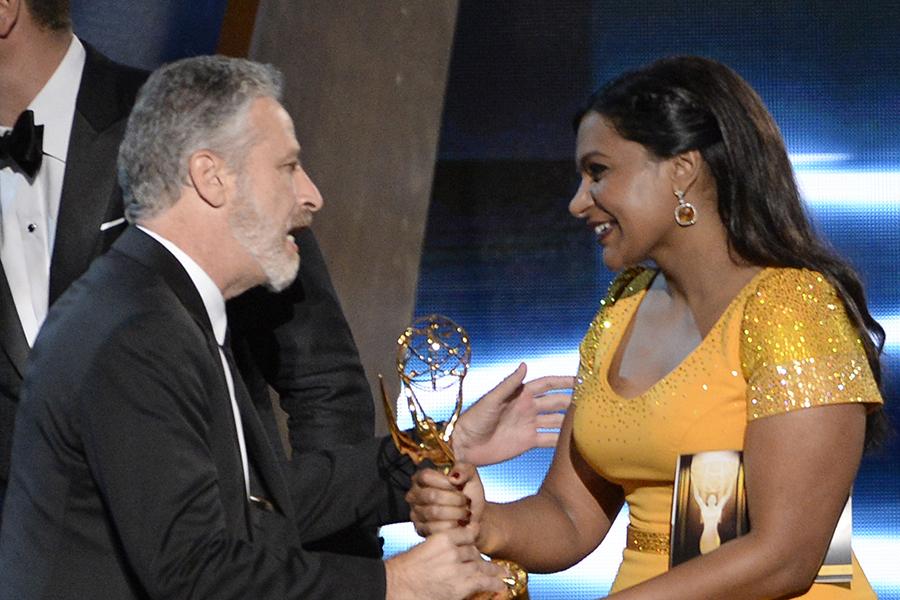 Since she became a professional actress and writer, Kaling has accrued over 29 award nominations, including five Emmy nominations. She has won nine of her total nominations mostly for her works in The Office and The Mindy Project. Her award wins include Screen Actors Guild Awards for Outstanding Ensemble in a Comedy Series (The Office), Asian Excellence Award for Supporting Television Actress in The Office, Critics' Choice Television Award for Most Exciting New Series (The Mindy Project), Satellite Awards for Best Actress in a Musical or Comedy Series (The Mindy Project), among others.
More so, the skilled writer was bestowed with an honorary doctorate of Humane Letters by her alma mater, Dartmouth College in June 2018.
Mindy Kaling Has Amassed Huge Wealth From Her Career
As one of the leading names in Hollywood, Mindy's value commands massive attention. Her financial compensation over the course of her career has been on the upper level when compared to her peers. She is currently believed to be worth $24 million.
Beyond working as an actress, writer, director, producer, and comedian, Mindy Kaling is a New York Times best-selling author who has penned down two New York Times bestsellers entitled "Is Everyone Hanging Out Without Me? (And Other Concerns)" (2011), and "Why Not Me?" (2015). Other of her books include "Unbelievable Holiday Tales: Scripting a Fantasy of a Family" (2009), and "Questions I Ask When I Want to Talk About Myself: 50 Topics to Share With Friends" (2013).
Kaling is also a businesswoman that invested part of her fortune in Swansea City A. F. C, a Welsh football club where she owns a 1% stake.
See Also: Who Is Lil Tay? Parents, Brother, Sister, Age, Net Worth, Ethnicity
Facts About Her Parents and Sibling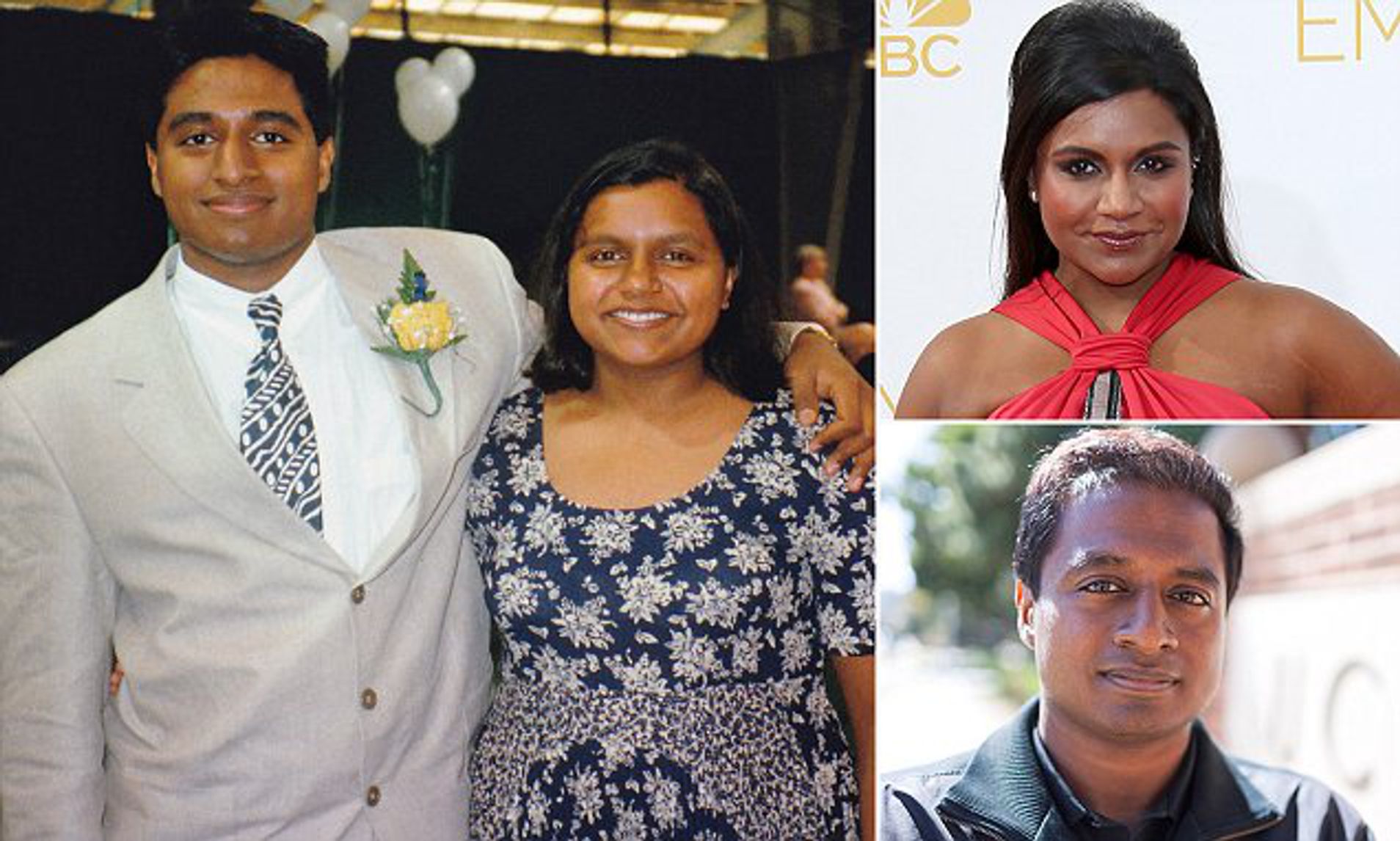 Mindy grew up in the United States, specifically in Cambridge, Massachusetts, as part of a minority group of Indian descent. She was born to a medical practitioner, Swati Chokalingam and an architect, Avu Chokalingam on June 24, 1979. Her parents hail from India and her father, a Tamil native grew up in Chennai while her mom, a native of Bengali was brought up in Mumbai.
The two first came in contact at a Nigerian hospital where both of them were working at the time of their meeting. They eventually emigrated from Nigeria to the United States in 1979 and in the same year, Mindy Kaling arrived. Although she was named Vera Mindy Chokalingam, Mindy has always been known as Mindy Kaling in the industry. Sadly, she lost her mother to pancreatic cancer in 2012.
Mindy also has a brother, Vijay JoJo Chokal-Ingam who is an educational consultant. The comedian is known to be in a feud with her brother. He has regularly attacked her publicly, with Mindy often choosing to take the high road. One simply hopes the siblings find a way to resolve their differences.
The Comedienne Is a Single Mom
Mindy Kaling delivered her daughter in 2017 and on the 15th of December. She named her Katherine Swati Kaling. At the moment, no one is recognized as the father of her child, leading to speculation that she used a sperm donor. The Ocean's 8 actress has decided to keep her private life to herself, as such, she refrained from writing the name of her baby's father on her birth certificate. She stated in an interview with The New York Times that she would only reveal the identity of the father of her child after speaking to her daughter about her paternity.
Although many of The Office fans wished for her co-star B.J Novak to be the father of her daughter, Mindy has cited that Novak is like a family to her, as he is Katherine's godfather. As a result, he visits their home once a week.
Unraveling Mindy Kaling's Relationship With B.J Novak
The gorgeous producer is not married and her only high profile relationship to date was a relationship with B.J Novak, a co-star on The Office. While writing and starring on the mockumentary sitcom, Mindy and Novak fell for each other and began a romantic affair while still maintaining their on-screen romance on The Office. After being in an on-and-off relationship for many years, the pair reportedly called it quits in 2007.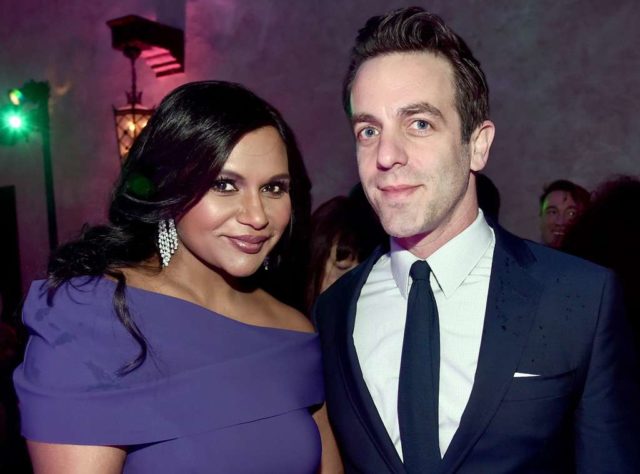 Afterward, it was speculated that Mindy kicked off an affair with an American writer, Benjamin Nugent who is well known for his novel, "Good Kids" and book, "American Nerd: The Story of My People", in 2008 and ended the relationship in 2012. Even at that, she still maintained a very close relationship with Novak during such time and the two have been best of friends for over a decade and a half.
Although Mindy and Novak have denied not being in a romantic relationship in recent times, they often attend red carpet shows together. They apparently share a strong bond of friendship and the chemistry between them is quite inexplicable. It has been noticeable over the years, even in their recent outing in February 2020 when they graced the Oscars and Vanity Flair's Oscar Party together. At the moment, Mindy is said to be single and very focused on her career, as well as taking proper care of her daughter.