Mo Abudu is currently divorced. Her ex-husband is Tokunbo, the son of Nigeria's foremost industrialist, Chief Olatunde Abudu, and together, they have two children; Temidayo and Adekoyejo Abudu.
Even though Mo is one of the most successful women in the TV business in Africa, her personal life has not been as as successful as her career. There are scanty details on how long her marriage lasted before it packed up, but she is thriving as a mother and a grandmother.
A Look At Mo Abudu's Marriage and Divorce
Mo might be a media person, but she has always kept her family life very private. It is no secret that she got married to Tokunbo Abudu, but details surrounding the marriage, including when and how the pair met, as well as when they got married is one thing that has remained a secret.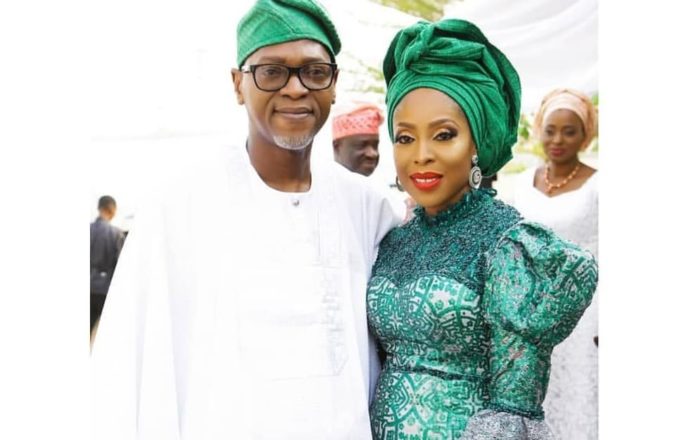 In the same way, that information surrounding the marriage is not revealed, not so much is known about the personal life of Tokunbo. However, it has been revealed that he is the son of Nigeria's foremost industrialist, Chief Olatunde Abudu, which means he was brought up in a very wealthy family.
The marriage between Mo and Tokunbo ended in divorce several years after. Before this, it produced two children; Temidayo and Adekoyejo Abudu.
Their Two Children Have Developed Beautiful Lives Of Their Own
As stated, both the children of Mo Abudu and her former husband are now grownups and they are both leading very beautiful lives. Here is a detailed look at them:
Temidayo Abudu
Also referred to as Ted Abudu, Temidayo is the first child of the media mogul. She was born on September 12, 1990. This means that she is currently 32 years old. Temi was birthed and mostly brought up in the UK where she also graduated with a degree in Management and Marketing from the Royal Holloway, University of London.
Unsurprisingly, Temi has decided to follow in the footsteps of her mother by stepping into the media and entertainment cycles. She is a film producer, casting director, and writer with EbonyLife TV. As a producer, Ted Abudu has the 2016 TV series On the Real to her credit and also The Royal Hibiscus Hotel (2017), Castle & Castle (2018), Chief Daddy (2018), and Oloture (2019). She is also the writer and casting director for Oloture and Chief Daddy.
Temi is currently married to a businessman, Adebola Makanjuola. The pair tied the knot in an elaborate event in July 2019 after they were hitched traditionally in March of the same year. Their union is blessed with a son, TJ, who was born in February 2020. A quick fun fact about her as revealed by her mother is that she is a sneaker freak. Because of this, Mo had a sneakers cake made for her in 2020 when she was celebrating her 30th birthday.
Adekoyejo Abudu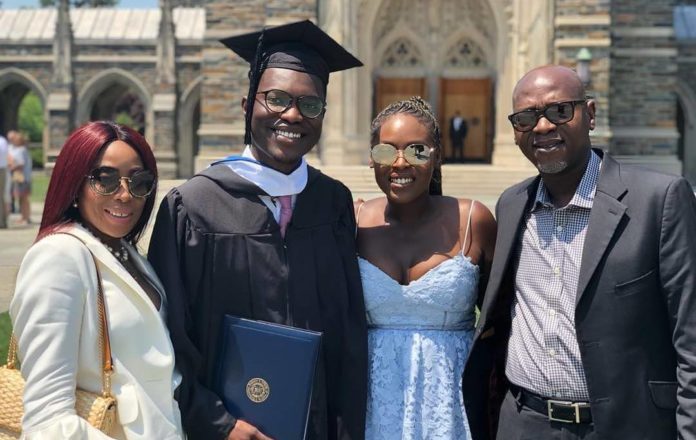 Adekoyejo Abudu is the younger of the two children of the ace media person. He was born on March 7, 1996, which means he is now 27 years old. He was also birthed in the United Kingdom like his sister and he was also mostly brought up there.
Unlike his mother and sister, Adekoyejo is not very popular in the media space. He graduated from Duke University in 2018 with a BA in Political Science with special honors. Mo took to social media to celebrate the graduation of her son, giving God the glory that he completed his education with Cum Laude honors.
Mo Abudu and Her Ex-Husband Co-Parent Well
Unlike many divorces that tear families to the ground, the divorce between Mo and her former husband did not destroy their family and friendship. This is mostly as they both continued to remain very much involved in the lives of their two children. More so, there seems to be no animosity, something that is mostly expected in failed marriages, between them.
Mo and her former husband have kept their closeness for the sake of their children. In 2019, during the traditional engagement of their daughter Temidayo, both Mo and Tokunbo were very much present at the event after which she took to her social media to share their picture together and also appreciate him for being a loving and caring father to their children, referring to him by what seems to be his nickname; Toks, suggesting that they are still friends. That was not the first time she was celebrating him; during Father's Day in 2016, she celebrated him for being an amazing father to their children and prayed for blessings upon him.
It is worthy of note that both Mo and Tokunbo are always around together for family events and celebrations, including the birthdays of their children. In February 2021, they were also together at the birthday party of their grandson, TJ, as he turned one.
Mo Abudu Has Not Remarried
Since her marriage came to an end many years ago, Mo Abudu who is now 58 years old is still yet to get married again. More so, she has not revealed whether she is in a relationship with anyone at the moment or if she is still single. Nonetheless, she once revealed in an interview that she wouldn't mind walking down the aisle.
Her name was once dragged in a corruption scandal after a large stash of monies worth $50 million was discovered in a flat in Lagos by the Economic Financial Crimes Commission. Among the allegations was that Mo was living in a flat close to where the money was discovered and she was given the flat by the Former Governor of Rivers State and minister of transport, Rotimi Ameachi. The claim was that Mo was in a relationship with Ameachi and that was why she got the flat.
The CEO of EbonyLife TV made it clear that she was not in a romantic relationship with the minister and neither did she ever receive a flat from him. Apart from Ameachi who was claimed to be her boyfriend and whom she has since denied, Mo has never been linked to anyone else.
The Personal Life Of Mo Abudu Has Not Been As Successful As Her Career Life
Often regarded as the Oprah Winfrey of Africa, Mo Abudu is a great achiever. She has successfully built a media empire all on her own before she expanded to other aspects of business. A household name across Africa, Mo started her career towards the end of the 1980s when she worked in the UK for the Atlas Recruitment Consultancy. After working as a recruitment consultant, she moved to Starform group in 1990. By 1993, she decided to move to Nigeria where she worked in the oil and gas sector for ExxonMobil.
She was making the money when she was with Exxon, but she decided to call it quits even after reaching the post of HR manager because she wanted to pursue her personal dreams in 2000. This led her to found Vic Lawrence and Associates, a human resource firm. With her personal dreams slowly unfolding, Mo decided to seek a positive change in Africa, thereby delving into the world of media. She launched Ebony TV in 2006. Her popular show, Moments with Mo, was launched in 2009 and it got to interview many big names around the world, including presidents, top diplomats, and many other leaders across spheres.
Also a film producer, Mo Abudu has won many awards through the years, including the Entrepreneur of the Year award (2014) by Women Werk in New York. She was also awarded honorary Doctor degrees by the University of Westminster and Babcock University.
Mo's achievements in her career have been a testament to many successes that is almost unrivaled in the African media space and even beyond. The same thing cannot be said about her family life simply because of the divorce she suffered. Nonetheless, she has, as stated, been able to still maintain a close relationship with her former husband and raised children that are responsible and successful in their own rights.