Mohale Motaung (July 9, 1994) is a 29-year-old South African actor, host, businessman, model, and social media star. He caught the attention of the public for his marriage to controversial star Somizi and has remained in the spotlight even though their relationship is long over.
The entertainer was first a very successful businessman who launched his first business, a transport company, while he was still in his teen years. Today, he holds the position of director in seven different companies and is making headways in showbiz with acting credits and appearances in different television shows.
Profile Summary Of Mohale Motaung
Full Name: Mohale Tebogo Motaung
Date of Birth: July 9, 1994
Age: 29 Years Old
Zodiac Sign: Cancer
Nationality: South African
Education: Vaal Christian School, the University of Witwatersrand, IMM Graduate School
Sexual Orientation: Gay
Religion: Christian
Marital Status: Divorced
Mohale Motaung's Husband: Somizi Mhlongo (2019 – 2021)
Parents: Sechaba Motaung and Lebo Motaung
Occupation: Actor, Model, Edutainer, Businessman, and Host
Years Active: 2013
Mohale Motaung's Height in Inches: 5 ft 9
Mohale Motaung's Height in Centimetres: 180cm
Net Worth: N/A
Mohale Motaung Was Born In Johannesburg
Mohale Motaung's given name at birth is Mohale Tebogo Motaung and he was born in Kibler Park, Joburg, South Africa. The multi-talented SA entertainer celebrates his birthday every 9th of July and the records captured his year of birth as 1994. This puts him in his late twenties.
The records accurately captured his father's name as Sechaba Motaung, though his line of work has never earned mentioned. In the same vein, his mum's career path is not known but she goes by the name Lebo Motaung. Mohale seems to have a very close relationship with his dad as both of them were once spotted dancing in an IG post while he wished his old man a happy Father's Day celebration.
Far from being the only child born to Lebo and Sechaba, Mohale shared his growing up years with two sisters who are called Palesa Kwanaite and Motheo Motaung. Having attained fame and fortune in life despite coming from humble beginnings, Mohale Motaung now enjoys a lavish life as a resident of the affluent Sandton area of Gauteng – one of South Africa's provinces that houses the rich and famous.
The SA Entertainer is Well Educated
Right from his formative years, Mohale always came across as a smart and ambitious child whose academic performance was deemed to be good. Besides, he was also outstanding with extracurricular activities which paved the way for the multi-talented personality we all know today.
The foundations of his academic qualifications were laid at the Vaal Christian School. Graduating from Vaal, the aspiring entertainer found his way into Wits University (the University of Witwatersrand) where he went ahead to study International Relations and Affairs, graduating with a Bachelor's degree.
Mohale Motaung is still in his youth and it does not come as a surprise that he is still in pursuit of further academic qualifications. Presently, the actor is engaged at IMM Graduate School studying for a higher degree in Marketing and Economics.
The South African Enjoys A Multi-faceted Career
It is interesting to note that the direct translation of Mohale in English is "hero" and the South African entertainer and businessman is certainly living up to his name. He takes the credit for establishing some flourishing business investments and has made his mark in the entertainment industry.
Mohale Motaung Owns A Transportation Business
Mohale Motaung was just 19 years old in 2013 when he hatched his first business idea. The up-and-coming star was still studying for his first degree when his transport company was birthed. This happened way before his path crossed with that of South African actor, choreographer, and television host, Somizi Mhlongo. Thus, people who think he only started doing something tangible after meeting Somizi are very far from the truth.
He Takes the Credit For Launching Glam Troupe
It would appear that the businessman was activated after he launched his debut business interest in transportation. Soon, the SA actor founded Glam Troupe – a company with a specialty in Matric Dance packages, including styling. He currently functions as the chief executive officer at Glam Troupe through which he provides diverse opportunities to newcomers.
Apart from his own business interests, the Johannesburg native has equally worked in paid employment as a staff of Old Mutual Group. There, he functioned as the company's financial planner. In addition, Motaung has scored some deals with a few companies – a good instance is the clothing brand CSquared that employs his services as the face of their brand.
Mohale Created A Skin Care Product
It would appear that the number of business concerns that Mohale Motaung has under his belt keeps increasing with the passage of time. In recent times, the SA actor launched his own line of skincare products known as Elohim Cosmetics. Taking to Instagram, Somizi's ex-partner told a tale of his journey in the cosmetic field. According to Mohale, he started experimenting with a plethora of skincare methods in a bid to boost his knowledge and put out only the best for his clients.
In his bid to create a working formula of products, the SA actor said he had to explore the best of technology and nature. Visiting @aronia_day_spa_houghton, Mohale tried out both Microneedling and Microdermabrasion and encouraged his clients to visit the spa.
Also, he appears to be involved in a competition going on at the spa which he has done well in advertising through his Instagram handle.
He recently leveraged his Instagram account to share a new scent alert but omitted to mention whether it belongs to his new cosmetic line. Though the name of the perfume was clearly visible in the IG post and read "ROSE OF NO MAN'S LAND"
He Is Into Television Shows
As soon as he started dating renowned South African choreographer, Somizi, Mohale Motaung started featuring in his popular television show known as Living the Dream with Somizi. Perhaps that was where he hatched the idea to launch his own show on TV, and recently, his talk show entitled Let's Talk With Mohale started airing on TV. It is an edutainment program, expected to trigger positive change in society.
In May 2021, the TV show host attended an interview session with Jacaranda FM where he was quizzed about his personal views of politics in South Africa. The presenter asked Motaung to mention what he would love to change about the world if given the chance. In his answer, the actor said he would leverage the opportunity to remove SA politicians who have exceeded 40 years of age.
He Has Recorded One Acting Role To Date
A couple of years after he met Somizi, Motaung scored his debut acting role. It was in February 2019 that Shuga: Down South – an MTV series brought him on board to breathe life into the character of Odirile – a confident gay student studying for a degree in economics.
Needless to say, the fact that Motaung had no prior experience in acting got people talking. A student of Economics at WITS who is able to score an acting role that had nothing to do with his career path is surely enough catalyst to trigger speculations and people didn't waste time in taking him up. All the talk about Motaung riding on Somizi's wings to score the role forced him to come up with a denial, saying that the role was scored out of his own effort and Somizi had nothing to do with it. Of course, this silenced all his critics, though he is yet to score another role since Shuga.
According to Mohale Motaung, he may have studied another course in the higher institution but he has always harbored a genuine love for acting. Consequently, he has always dreamed of taking up acting roles in the course of his career life. In anticipation of this big dream, Motaung said he went ahead to the State Theatre located in Pretoria where he took acting lessons under the tutelage of Camilla Waldman.
Motaung is an Influencer on Social Media
The stylish South African actor has succeeded in winning the hearts of several SA internet users with his posts on different social media platforms. Motaung has a presence on Instagram (@mohale_77) where his following has almost exceeded the one million mark. On Twitter, he can be found @mohale_motaung, and fans can visit his Facebook page at Mohale Tebogo Motaung.
Mohale Motaung is one South African entertainer that loves to enjoy the good life and he loves to travel a lot. Through his social media accounts, fans got to know that he has already touched different countries, including France, the principality of Monaco, and more.
His Collaboration with Techno
A celebrity of Motaung's standing is expected to score endorsements with some of the A-list brands in the world and in the SA actor's case, he seems to be fully occupied with the mobile phone company Techno. Mohale recently shared an Insta Story centered on their successful launch of the TECNO booth at the Vodaworld. Encouraging the public to check it out, Mohale assured that there are prizes to be won in the process. They only need to give it a trial.
He Is Also In Charge of Another Competition for Finery Gin
Mohale Motaung is also deeply involved with Finery Gin; the wine and spirit company recently launched a competition tagged #FineryBrunchWithMohale which he has been advertising via his IG handle.
Mohale extensively used the Gin in celebrating his 26th birthday, inviting fans to come and have a brunch with him @thefinerygin. According to the South African social media star, there are goodie bags for grabs, and entry is only allowed for those that are 21 years and above.
Mohale Motaung Talks About His Plans for the Future
Despite having fingers in several business and entertainment pies, the SA businessman and actor still has plans of broadening his horizon in the nearest future. According to Motaung, his aspiration is to become an author; his proposed book is going to be centered on his life experiences which he said are quite interesting. Mohale said he faced some really tough and challenging situations in 2016 and 2017 and his plan is to share these struggles with the world, hoping that people out there will relate to his life experiences.
Mohale Motaung Met Somizi Mhlongo as A Young Boy in His Early 20s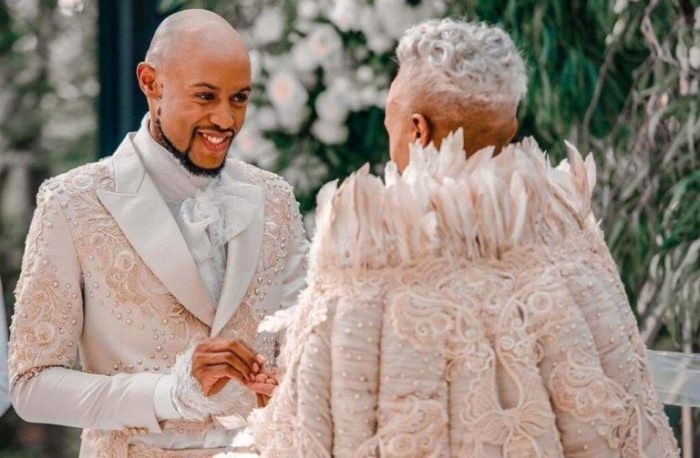 Mohale Motaung just hit 23 years of age in September 2017 when his path crossed with Somizi Mhlongo – a renowned South African actor, dancer, choreographer, and television personality. Somizi gained popularity through hosting his own television show, Living the Dream with Somizi. The Metro FM presenter gained another level of fame when he began appearing as one of the judges on Dance Your Butt Off and choreographing the FIFA World Cup of 2010 announced him to the world.
With that said, it is glaring that Mohale Motaung's same-sex partner is a famous personality both in South Africa and the world over. Thus, when they became an item, people couldn't help but conclude that Motaung has something up his sleeves.
The same-sex duo barely dated for one year when Somizi popped the big question to Mohale while on a romantic trip to Paris in 2018. Their lovey-dovey engagement in the capital city of France was highly publicized, earning the lovebirds the nickname #Somhale which caught fire on different social media platforms.
The gay couple seemed to be in an almighty hurry to tie the knot as they were joined together as man and wife traditionally on the 28th of September 2019. The wedding which fell on a Saturday was hosted in the family home of Mohale Motaung with family and friends in attendance. From what was perceivable, Somizi and his partner wanted to go all the way in formalizing their relationship, and consequently, on the 30th of January 2020, they went ahead to tie the knot.
Mohale Motaug Was Involved in A Messy Divorce With Somizi Mhlongo
Barely one year after they tied the connubial knot, news of their imminent divorce rent the air. According to the ensuing speculations, Mohale Motaug served Somizi with divorce papers long before the news of their estrangement made it to the public arena. However, he was heavily paid by the Metro FM presenter to continue pretending that their union was still going strong.
On the immediate cause of their breakup, it was revealed that Somizi caught his husband in bed with another man whose identity he failed to reveal. When quizzed for the reasons behind his secrecy, the SA choreographer said the man is married with children and he had to consider the impact of the news on his family members. The former couple has since gone their separate ways since their divorce which was rather too messy.
What is Mohale Currently Doing?
As for what Mohale is currently doing with his life, the SA entertainer has since moved on and according to speculations, he is already in another relationship but the identity of his lover has never been mentioned. Besides, considering the fact that he once dated girls before coming out as gay, the sex of his present partner has not been revealed. Despite the fact that he has only been involved in same-sex relationships recently, Mohale still harbors dreams of having children of his own in the future. However, he declined to elaborate on his method of procreation when quizzed. In fact, the SA actor said no one should ask him any questions on his plans for having kids.
Career-wise, he seems to be firing on all cylinders with his popularity on social media growing with the passing years. The actor is equally doing great in business and his career on TV also appears to be flourishing. He recently became a presenter on Opulence radio, thus, we can say that the bad publicity he gained through the messy divorce with Somizi didn't leave him with many adverse effects.
Mohale is one South African celeb that has never shied away from expressing his heartfelt gratitude to fans and well-wishers for their support in his life and business. He even shared a recent Instagram post to that effect.
Somizi Gave A Hint of the Remote Causes of Their Marriage Issues
Even before the news of their separation hit the airwaves, Somizi gave a hint on what was transpiring in their same-sex union when he took to Instagram to weigh in on cellphone addiction that is currently sweeping through the globe. While discussing the obvious pitfalls of constantly being on the phone, the television show host and Dance Your Butt Off judge opened up on the effect it has had on his relationship with Mohale Motaung.
According to Somizi, the problem is not with the phone but the person handling the phone. Thus, the blame cannot be laid at the doorstep of the phone, especially since it lacks the ability to pick itself up. Going on, the celebrated choreographer said it is not even about him feeling neglected, that he finds the habit to be extremely self-serving. Probably referring to Motaung, Somizi said if someone is not on Twitter or IG, he will be surfing on Facebook or taking selfies to be shared later. The TV host bared his heart completely when he opened up about wishing to be touched like the phone sometimes.
We would recall that Somizi was full of praises for his partner at the onset of their relationship, flaunting their love for people to see and supporting Motaung's hustle in any way possible. However, from what is perceivable, all that seems to have come to an end as he now occupies his free time with a different venture of promoting the businesses of other people.
Mohale Motaung's Side Of The Story
Speaking up in a press statement, Mohale Motaung made it clear to all that it has never been his intention to expose the private details of his union with Somizi and has never had the intention to bring the image of the Metro FM's presenter to disrepute. However, as their rows continued to play out in the public space, he just had to open up. Soon, he released some revealing audio clips with details of abuse, sex life, and jealousy that he had to contend with as Somizi's partner. The kind of abuse he experienced with Somizi was both psychological and physical, Mohale said.
In the recordings, Motaung alleged that Somizi broke his ribs on one occasion. Speaking on, he revealed that he nearly knocked out his teeth, threatening to stab the two of them on another occasion. Motaung also revealed how Somizi would always ask his permission to get additional sex partners for a threesome. There was also a time that Somizi tried to butcher Mohale with a knife and while he was trying to flee, the Metro FM presenter used his car to strike Mohale off the road. This he said happened after they argued about Mohale's cheating allegations.
Somizi's Defence
Defending himself from the allegations of abuse from Mohale Motaung, Somizi said he never in his wildest imagination believed that a day would come when he would have to stand and defend his honor against someone he has truly and deeply loved. Going on, he narrated how he has loved proudly and loudly and Mohale's deliberate effort to harm his reputation is still a huge shock. On his alleged physical and psychological abuse of Mohale, Somizi repudiated the claims but agreed that while it lasted, their relationship was fraught with a lot of ups and downs. According to the renowned presenter, they once had an altercation that required him to defend himself. Though Mohale never came off as the victim, both of them physically hurt themselves in the process. He, however, declined to go into details but stated his wish to clear himself of all demotions and allegations of criminal acts.
He equally denied sabotaging his estranged husband's effort to become financially independent with instances of how he encouraged Mohale's network through his own channels.
On Mohale's allegations about their sex life, Somizi also denied them claiming all to be totally untrue. However, he declined to go into details since they were personal matters and should stay personal.
Mohale Motaung Gold Digger Scandal
Given the fact that Mohale Motaung came from a humble background to get hooked to one of Mzanzi's most loved celebs, rumors started making the rounds that he was only in the relationship for what he would gain from it. Even before the news of the wedding hit the public space, the Joburg-born entertainer was already on the receiving end of severe backlash from social media users.
While still subjected to torrid time, Mohale appeared on Somizi's television show only to have scores of accusations hurled at him. According to the trolls, he didn't even appear to be in love with Somizi as his countenance showed no iota of affection for the Metro FM presenter. It was Somizi who came to his rescue through a lengthy comment on social media which was very effective in silencing the trolls.