Molly Qerim Rose popularly known as Molly Qerim is an American sports anchor and correspondent. She is best known on set for moderating and anchoring on the sports programme First Take on ESPN's. She also worked for the NFL Network's Weekday and NFL Fantasy Live. The sports anchor has done diligently well and has earned an Emmy Award for her diligence. Molly was also listed as one of the Top 20 Sexiest Sports Reporters and Most Beautiful Female Sportscasters in the year 2012. Find out more about the sexy, confident and eloquent lady who feeds America with the best sports highlights ever.
Molly Qerim (Age & Ethnicity)
The sports host was born on March 31st, 1984 in New Haven Connecticut and is of a mixed ethnicity. Molly Qerim rarely brings her parents to the spotlight, or talk about them in public or at interviews and as such, details about them are unknown. Records, however, reveal that her parents were of mixed faith – her dad is a Muslim and her mom is Catholic. Irrespective of her parent's religions, the sports anchor has not publicly spoken about her choice of worship.
Molly Qerim's choice of career path isn't surprising as she was raised in New Haven, a city that has produced a lot of sports personnel including the likes of Albie Booth, Craig Breslow, Scot Burell, and Chad Dawson to mention a few. We wouldn't be mistaken if we say, that her career path could have been influenced by her environment.
Education and Career
The intelligent lady graduated from the University of Connecticut with a bachelor's degree in arts and also majored in communications. She further acquired a degree: Broadcast Journalism from the Quinnipiac University in Hamden.
She worked as a newscaster and correspondent in CBS Sports Network where she handled news on College Football, the U.S. Open, National Signing Day and the NCAA Tournament. The renowned sports anchor isn't limited to the sports world but has also anchored a lot of programs including the SEC Tailgate Show, SEC Tonight, MaxPreps Lemming Report, Bracket Breakdown, and Full Court Press.
Her eloquent utterances in giving sports highlights for Fantasy Football Now on ESPN2 wouldn't be easily forgotten. As a correspondent, Qerim Molly has interviewed a lot of athletes and celebrities while working for ESPN and most of those interviews could be seen on ESPN.com and ESPN Mobile.
See Also: Victoria Justice Age, Height, Dating, Boyfriend, Sister, Net Worth, Ethnicity 
Molly also has covered a few red carpet shows and has also hosted the Heisman Trophy Presentation, the NBA Draft and the NBA All-Star Game where her intelligent delivery have been highly applauded. Her hard work has been rewarded as she was promoted as a perpetual host of First Take on September 15, 2015.
Qerim Molly has ultimately been bought over by the MMA also and has anchored so many awards presentations. She is undeniably a hardworking and focused woman who has made a lot of fortune for herself and is worth about $3 million.
Is She Married? Boyfriend, Husband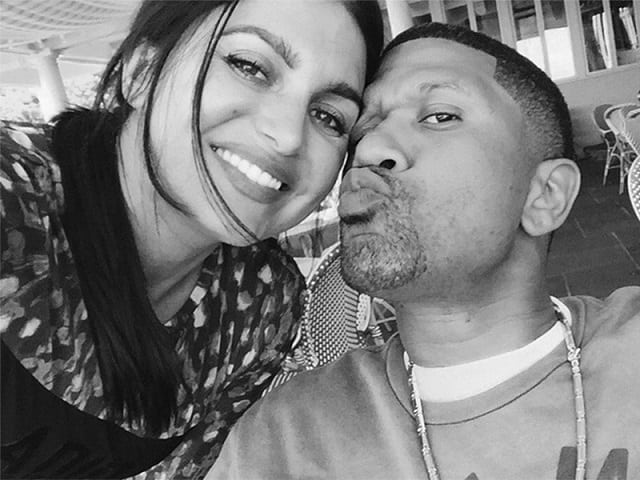 Every ladies dream is to walk down the aisle someday with someone to hold and cherish forever. Molly Qerim had her dream fulfilled in July 2018, walking down the aisle with her longtime boyfriend, Jalen Rose who is a former NBA player. The duo started their relationship a long time ago and had it privately until sometime in July 2006 when they were both seen together.
Jalen was born on January 30, 1973, and has played for 6 different NBA teams but is known at large as a player for the Indiana Pacers. He has never been officially married to any other lady but has had two daughters, Mariah and Gracie and a son, LaDarius from his previous affairs.
Body Measurements
Molly Qerim has a beautiful physic. The sports anchor and journalist has a sweet, hot sexy and slim body build that has made a lot of hearts go tripping.
Her hourglass shape won't be neglected especially for her fully curved hips and pointed breast which stands firmly on her chest. She stands at 5 feet 6 inches and weighs 63 kg. Molly measures 35-29-35 for her bust, waist and hips size respectively. She has extremely large feet and wears shoe size 8 (US) and size 8 dresses. She mostly wears a black long and flowing hair and is endowed with a good set of brown eyes.