Molly Qerim is an American sports anchor popularly known for moderating First Take, a highly rated sports talk show, on ESPN. Prior to joining ESPN, Qerim hosted Fantasy Live and NFL AM on NFL Network. It is quite obvious that the widely acclaimed television personality is in a class of her own when it comes down to sports anchoring.
Qerim's incredible talent and sports anchoring skills have not gone unnoticed as she is a recipient of the widely coveted Emmy Award. More so, the television sensation is a perfect definition of beauty with brains, little wonder she was named among the most beautiful sportscasters in America in 2012. Seeing how far the talented sports anchor has come in her professional career, her early years would have definitely contributed to carving her future.
Qerim is an alumnus of both the University of Connecticut and Quinnipiac University
The ESPN's First Take anchor was born in New Haven, Connecticut on March 31st, 1984. The half Italian and half Albanian sports anchor was then raised in Cheshire, New Haven, which has a reputation for producing top guns in the world of sports including the likes of Brian Leetch, Brad Ausmus, Chad Dawson, Albie Booth, and Craig Breslow.
Not much is known about where she got her elementary and high school education. Notwithstanding, Qerim still ranks as one of the most educated female sports anchors in America. She holds a Bachelor's degree in communications and a minor in business administration from the University of Connecticut. Not just that, Molly also holds a Master's degree in broadcast journalism from Quinnipiac University.
She Started At CBS Sports Network
Qerim began her professional career at CBS Sports Network as a sports correspondent. While at CBS Network, the prolific sports anchor covered major sporting events like the National Signing Day, the US Open, and the NCAA Tournament. She has also hosted some major college sports programs including SEC Tailgate Show, SEC Tonight, MaxPreps Lemming Report, Bracket Breakdown, and Full Court Press.
From CBS Sports Network, Qerim joined ESPN Network as a sports anchor. She was delegated to cover the Ultimate Fighting Championship (UFC). Following her professionalism and her superb covering of the championship, Qerim was described as a female pioneer in the UFC broadcast industry. The talented sportscaster went on to co-host Campus Connection, College Football Live, and Fantasy Football Now. Qerim received an Emmy Award for her reportage of Fantasy Football Now which aired on ESPN2.
During the course of her career, Qerim Molly has also interviewed a lot of athletes and celebrities and most of those interviews could be seen on ESPN.com and ESPN Mobile. She is also famed for covering the MLB All-Star game, NBA All-Star Game, Heisman Trophy presentation, and the NBA Draft.
The sportscaster left ESPN for a brief while to join the National Football League (NFL) Network. While at NFL Network, she was responsible for hosting NFL AM morning show and NFL Fantasy Live show. In 2015, Molly rejoined ESPN to replace Cari Champion as the host of First Take. Champion was billed to anchor ESPN's flagship show – SportsCenter. In addition to her work with ESPN, Qerim has hosted the glamorous MMA Awards several times.
The Sportscaster's Net Worth Runs In Millions Of Dollars
Following a career that has spanned over a decade, Molly has earned massive critical acclaim and recognition. She has also made quite a fortune as a sports anchor. According to online sources, Qerim is believed to have a net worth of $4 million. The source of her wealth is largely known to be her profession as a sports anchor. The ESPN sports anchor reportedly receives an annual salary of an estimated $500,000. Asides being a permanent staff of ESPN, Qerim does outside engagements such as hosting award presentation shows and other glamorous events from which she earns hefty sums as well.
See Also: Victoria Justice Age, Height, Dating, Boyfriend, Sister, Net Worth, Ethnicity 
Molly Qerim's Husband Is The Former NBA Player, Jalen Rose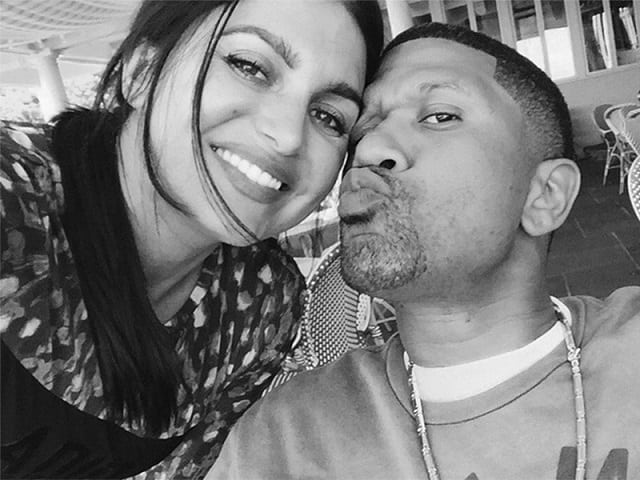 Qerim is happily married to former NBA player Jalen Rose. Jalen played college basketball while he was enrolled at the University of Michigan. He was a member of the famous 'Fab Five' from the University of Michigan that achieved success by qualifying for the NCAA Men's Division I Basketball Championship in 1992 and 1993. Rose was then selected by Denver Nuggets in the first round of the 1993 NBA Draft Pick. Upon his retirement in 2006, Rose plied his trade for 6 NBA teams including the Indiana Pacers, Chicago Bulls, Toronto Raptors and New York Knicks. He also gained an impeccable reputation back then as a diverse basketball player who could play as a small forward and as a shooting guard. The former NBA star is currently an ESPN sports host and analyst. His signature shows include Get Up! and Jalen and Jacoby.
With regards to how the duo's love blossomed, rumors began to swirl sometime in 2016 that the two celebrities were in a romantic relationship. Part of what started this speculation was Molly's regular posting of the ex-NBA star's pictures on her Instagram account. The duo was also seen attending sports events together. They officially began dating within that same period and by 2018, Rose engaged the famous sports anchor. The lovebirds went on to tie the nuptial knot in a low-key ceremony held in New York City that same year. They shared news of their marriage with the public a couple of days after the wedding took place. Molly and Jalen later went on to have their honeymoon at the exquisite Turks and Caicos Island.
As of this writing, Molly and her husband are yet to welcome children. However, it is known that Jalen Rоѕе has 3 children from his previous relationships. His daughter came from his dalliance with Mauri Geons whom he dated for a couple of years before they broke up for reasons not known to the public. The former NBA star then moved on to date American actress and dancer, Krissy Terry whom he even engaged and had been her manager at some point. However, things went south for the pair but that was after they had welcomed their daughter, Gracie, and son, LaDarius.