For several years, Molly Rosenblatt held sway as one of the most renowned weather forecasters in America. Clinging to a dream that she had nursed since college, Molly worked as a traffic reporter and presenter for several local television channels across American states. She also forecasted the weather expertly for several notable media outfits such as WOFL-TV, Fox 35 station, and WCCO-TV, a CBS-affiliated television network.
While making waves in the news media industry, the irrepressible Molly Rosenblatt also found time to moonlight as an actress and appeared in a couple of films – a short drama titled The Last Day of Joseph Goebbels (2009) and The Mechanic (2011), an action thriller film. All these ventures ensured that she became a familiar face to many Americans.
It was therefore quite conspicuous when she all but disappeared from the screens in 2018. Since then, there has not been any forthcoming information on what transpired and this has led to all sorts of rumours, including alleged drinking problems on the part of the meteorologist.
Her Family Life Beyond The Screens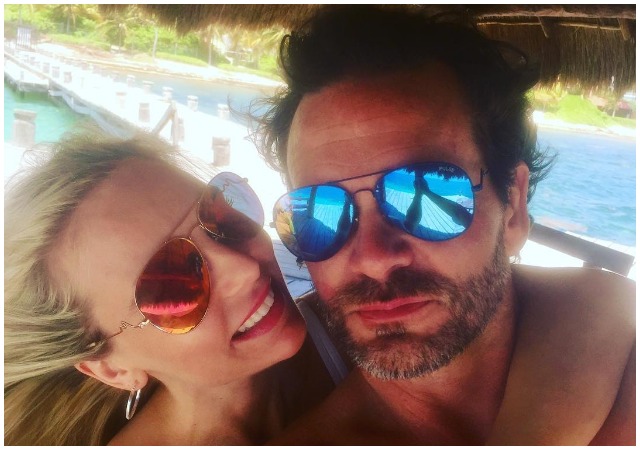 This famed 5 feet 4 inches tall weather lady is already taken. She is married to Herman Geller. This duo seems to share something in common such as keeping their private lives very well hidden from the glaring eyes of the public. They have not divulged much about their marriage, as well as details of their family life. There is also not much background info on the man, Herman Geller.
Meanwhile, Rosenblatt has been linked to a disgraced University of Minnesota professor named Aaron Doering. Formerly a world-renowned professor of education, Doering has been mired in several legal troubles in recent times. He was convicted of domestic assault and strangulation of his girlfriend in June 2019. His former employers have also accused him of spending about $30,000 worth of official university funds on personal expenses unrelated to his work.
He allegedly spent public funds on first-class flights, expensive gifts for his son, as well as renting a convertible and buying a plane ticket for a former girlfriend named Molly Rosenblatt. This fact has made many conclude that the weatherwoman must have cheated on her husband with the disgraced professor. There is however nothing to show that she is the same Rosenblatt being referred to.
How Rosenblatt's Native Minnesota Influenced Her Love For Meteorology
Molly Rosenblatt was born in Minnesota, the USA, on February 21, 1989. Her father's name is Morris Rosenblatt while her mother's name is Sadie Rosenblatt. Molly spent the majority of her formative years in Minnesota and this fact kindled her passion for the weather. As is common knowledge, the city of Minnesota boasts of some of the widest variety of weather in the United States. Rain, sleet, snowstorms, and tornadoes are commonplace and the young Molly got to experience this in spades.
These extreme weather conditions initially frightened her but it also piqued her curiosity and as such, she decided to pursue a career in that direction. Having reached that decision, Molly Rosenblatt proceeded to the University of Minnesota where she got her B.A. in Broadcast Journalism. After that, she enrolled at Mississippi State University in 2008 and specialized in Meteorology for the next three years. She later received her qualifying certificate in 2011.
Weaving Her Way Through Local TV Stations In Montana And New Orleans
During her stay as a student of Minnesota, Molly Rosenblatt was opportune to do her internship at a television station in Minnesota. Her first job after graduation was at KRTV, a CBS-affiliate station, located in Great Falls, Montana. While there, she worked in the capacity of weekend weather reporter and gave timely weather updates and reports as at when due. She did this for about fifteen months, from April 2006 to June 2007, before exiting the station.
Upon her exit, Molly joined WGNO, an ABC-affiliated TV station in New Orleans, Louisiana. She worked as the station's forecaster and weather reporter for a period of four years, between July 2009 and October 2013. During this period, she tirelessly covered a number of natural disasters, such as hurricanes, cyclones, and landslides among many others. The Minnesota native also did some general assignment reportage during which she covered a variety of stories that spanned several subject matters.
Her Impact At WOFL-TV (Florida) And WCCO-TV (Minneapolis)
The journalist's next move took her to Florida where she was hired by WOFL-TV, a television channel owned and managed by FOX News. She was the main/chief reporter for weather conditions for the channel for about two years, from October 2013 to November 2015. She also served as the traffic reporter for the station's flagship morning program known as Good Day Orlando. This program was usually watched by thousands of viewers daily and this naturally ensured that she became a local celebrity of some sorts in the Orlando area.
After two fruitful years in Orlando, Molly Rosenblatt received an offer that was just too good to resist. The offer came from WCCO-TV, a CBS-affiliated television network located in her hometown of Minneapolis, and as such, it was a no-brainer that she would accept it. She joined them in December 2015 and served as their weekend weather forecaster and weather reporter. Molly also worked as a general assignment reporter and covered a variety of human-interest stories.
One of the stories she covered was that of a reading therapy dog from Minnesota named Sting. Sting normally spent his evenings at the county library waiting for someone to volunteer to read for him. However, on one particular day, nobody turned up and he was quite morose. Its owner captured the moment in a picture which was shared online and it went viral with people from places as far Argentina, Australia, and the Philippines volunteering to come read for Sting.
It was indeed a touching story and Molly was there to bring it to the good people of Minnesota. All these and more endeared her to locals and it was, therefore, a bitter pill to swallow when she suddenly disappeared from the screen in July 2018 with no notice to her fans or the general public.
Join me and the lovely @AngelaDavisWCCO for @WCCO news at 5:30 pic.twitter.com/8kfaJR0pz0

— Molly Rosenblatt (@MollyRosenblatt) December 13, 2015
The Alleged Indiscretions That Led To Her Sack
The broadcaster's exploits were brought to an end in July 2018 when she suddenly disappeared from television screen without a prior announcement or statement. It is not clear if Molly Rosenblatt was relieved of her duties as a weekend weather forecaster/traffic reporter or her contract expired. Her vanishing act has left members of the public with more questions than answers as both her and the television station has been mute about the situation.
This information gap has created much room for speculations and the internet has predictably run with it. Some have alleged that Molly had drinking problems which affected her performance on-air and caused her employers to fire her. Some others have however stated that she had a spat with her director/manager, who didn't like her, and that the director hired another person to replace her.
What Has She Been Up To?
Whatever the true reason that necessitated her departure, the fact remains that Molly Rosenblatt has left WCCO for good and is now seeking to expand her activities to new frontiers.
Going by her LinkedIn page, the Minnesota native is looking for a career path off-screen, either in the PR or communications sector. While that is yet to materialize, she is content to enjoy herself with vacation trips, surfing, and practising yoga.