American actress Monica Potter has continued to thrive in the very competitive entertainment industry and surely has her talents to thank for it. Potter is largely recognized for her outstanding performances in blockbuster movies and TV shows, including Con Air, Parenthood, and Boston Legal. In the early years of her career, the actress mostly worked in movies, but as she advanced in her career, she took on more roles in television shows. She has also raked in a few awards and recognition for her prominent works. Aside from acting, Potter is also a businesswoman, and she owns a business that she has worked hard at watering into the big brand it is today.
Before Acting, Monica Potter Worked As A Model
There are facts about the beginnings of Monica Potter's career that are not commonly known, and one such fact is the origin of the fame she enjoys today. Potter, who was born on the 30th of June, 1971, in Cleveland, Ohio, as Monica Gregg Brokaw, began her career in entertainment as a child model. From her childhood, Monica Potter had always nursed dreams of becoming a star actress.
To set this ball in motion, she began to act in the regional professional theatre in Cleveland, Cleveland Play House. She joined this theatre while she was still an elementary student. As she advanced in age, Potter was recruited to act in some local commercials. She also had the opportunity to model for newspapers and magazines. In a bid to advance her career, Potter knew that she had to leave Cleveland.
She Made Her Acting Debut in 1994
After she performed in several commercials in Chicago, Potter chose to relocate to Los Angeles. In the same year that she moved, which was 1994, she got her first on-screen appearance, playing the role of Sharon Newman on the CBS produced soap opera, The Young and the Restless. She was on this show for three months only, as she was fired from the show shortly after she was cast.
Her firing was triggered by how weak of an actress she was. This may have been the reason it took two years for Potter to appear on screen again. Monica Potter's next appearance was in the 1996 action comedy Bulletproof; the actress played a small role, but it was enough to kickstart her career. By the following year, she was cast as Tricia Poe in the action film, Con Air, where she played the wife of Nicolas Cage's character. 
Her Work In TV Shows Has Been More Significant Than Movies
Monica Potter's career has grown from what it used to be in the early 90s. From playing the wife of Nicolas Cage in Con Air to appearing in more than ten films. The year after she starred in Con Air, she appeared in four films. Despite this, the works she did in films are not the crowning glory of her career; her works in television shows have been a bigger proof of her brilliance as an actress.
When Potter was sacked from The Young and Restless, it took a decade before she got another role on a television show. In 2004, she played Muriel Wynn on Reversible Errors. This was her first major work in television after her debut in 1994. That same year saw her cast as Lori Colson on Boston Legal; she later became a series regular, which led to her getting nominated for a Screen Actors Guild Award in 2005. 
Trust Me, Wisdom of The Crowd, and Welcome Back Potter are other shows that have featured Monica Potter. Parenthood, which was a show that aired between 2010 and 2015, features the actress in her biggest role to date. She appeared in 103 episodes as a regular on the show, playing Kristina Braverman.
For her performance on Parenthood, she won the Critics' Choice Television Award for Best Drama Supporting Actress in 2013. That same year she was nominated for two other awards, one of which was for Individual Achievement in Drama from the Television Critics Association, a testament to the work she has done as an actress.
Monica Potter Had A Major Health Scare In 2018
In 2018, Monica Potter put up a picture of her belly on her Instagram page. Her stomach looked distended, and this sparked a flurry of rumors from her fans, with many speculating that she was pregnant. A few days after the picture was posted, she released a video dispelling the pregnancy rumors and clarifying what was going on. 
https://www.instagram.com/p/BeF_l2aBCTU/?utm_source=ig_web_copy_link
The actress had been diagnosed with Colitis in 2016 and had lived with it for two years before her announcement. The goal of her announcement was to sensitize people on the realities of her ailment and to advise people to get regular check-ups. 
The Actress Runs A Business In Skincare, Which Has Contributed To Her Net Worth
Monica Potter is mostly known for her acting, and it is a big source of her income. But for almost a decade, the actress has worked on growing a skincare brand, Monica Potter Home. She started the business in 2014, and her brand sells natural skincare products.
Her business is also diversified to include the sale of upscale home decor. Monica Potter Home operates out of Cleveland, which is where her home is located. In the course of running her business, Potter has survived some losses; this led to her participating in The Profit, a show where business owners try to get an investment from businessman Marcus Lemonis. All her exploits as a businesswoman, as well as a blossoming acting career, have contributed to her net worth of $3 million. 
Inside Monica Potter's Love Life
The actress has been married twice in her lifetime. Her first marriage was with a man named Tom Potter. Nothing much is known about their relationship. Nevertheless, we know that the couple got married in 1990, and their union lasted for 8 years before getting divorced in 1998. In the course of their marriage, the actress and her husband had two sons named Liam and Daniel.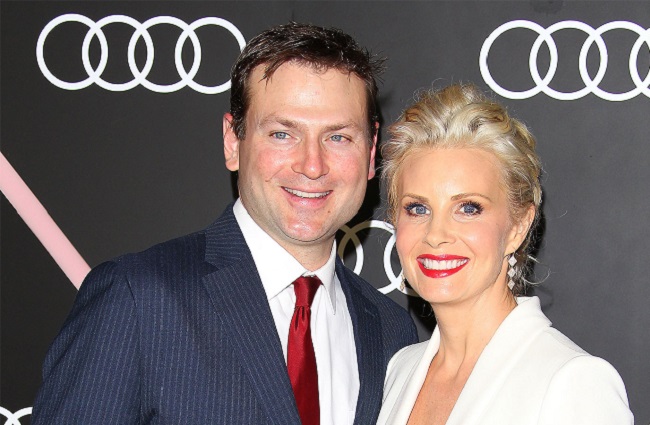 Seven years after the end of her first relationship, Monica got married for the second time. This time, it was to an orthopedic surgeon called Daniel Christopher Allison. The same year they got married, they welcomed their daughter, Molly to the world.
https://www.instagram.com/p/BVDdvhmF6Qz/?utm_source=ig_web_copy_link
In 2015, the Potter family was featured on Celebrity Family Feud. The actress went on the show with her mother, Nancy Brokaw, and her sisters, Brigette, Kerry, and Jessica. Later in the same year, Potter's husband joined the US Navy Reserve, where he now works as a physician. However, three years later, in 2018, the couple filed for a divorce, citing irreconcilable differences. While it is not known if their divorce has been finalized, the pair are focusing on co-parenting their children.