Mo'Nique is no doubt one of the funniest black women to grace our screens. She is an actress and comedian who is famous for her over the top sensual jokes as a stand-up comic. She gained massive popularity when joined the line up of the comedy show, "Queens Of Comedy" as well as her acting role in the hit UPN series, The Parkers where she acted as Nicole (Nikki). She, however, broke boundaries and any doubt of how talented she is when she starred in the hit 2009 movie, "Precious." More details about this feisty celebrity below.
Who Is Mo'Nique?
Monique Angela Hicks (née Imes) was born in Baltimore, Maryland on the 11th of December, 1967. She is the youngest daughter of her parents (Dr. Stevens Imes Jr. and engineer Alice Imes). Mo'Nique studied at the Milford Mill High School in Baltimore County and did well to graduate in 1985. She further enrolled in the Morgan State University and in 1987, she became a bonafide graduate of the Broadcasting Institute of Maryland.
Career Journey 
Before launching into showbiz full time, Mo'Nique found work as a customer service attendant at MCI, whose office was located in Hunt Valley, Maryland. Her start in comedy was actually motivated by her brother, Steve, who dared her to perform at an open mic night at the downtown Baltimore Comedy Factory. The audience loved her so much that she was offered a chance to host her own show the following week for $25. The show took place at a beauty parlor in Baltimore.
She began scouting for auditions and more chances to climb the stage as much as possible. Luck shone her way when her employer asked if she would like to relocate to Atlanta. She jumped at this offer quickly because she figured that Atlanta would be a great place to get more opportunities to pursue her career in comedy.
Her move to Atlanta would prove to be a smart one after all, as it was after this move that she landed the role which would eventually make her a household name. This role was in the UPN produced television series The Parkers, where she played Nicole "Nikki" Parker, a woman who went to the same school as her daughter and had a roller coaster love life as a single mother. The show ran from 1999-2004 and while her popularity grew to incredible heights, she got other comedy gigs on Thank God You're Here, The Apollo, Def Comedy Jam (produced by Russell Simons).
In 2007, she released a documentary titled, "I Coulda Been Your Cellmate!" This documentary highlighted the various issues that get many women into jail. The film involved the interviews with a good number of incarcerated women alongside a comedy show she put up to entertain and reform these women. She was later cast as a guest star on the hit television series, Ugly Betty, in 2007, where she played the role of L'Amanda.
Between 2009 and 2011, Mo'Nique hosted a self-titled show called "The Mo'Nique Show" on BET. The show ran for two seasons with a total of 251 episodes; unfortunately, the show was cancelled in 2011. The same year, Mo'Nique acted in one of her most fulfilling roles, Precious playing the role of Mary Lee Johnston – an abusive mother.
This movie alone garnered her lots of awards including the Academy Award for Best Supporting Actress, BAFTA Award for Best Actress in a Supporting Role, BET Award for Best Actress among many others.
Who Is Mo'Nique's Husband?
Mo'Nique was in a relationship with a successful accountant, Kenny Mung. They were briefly engaged but an official wedding never took place. She, however, entered into another relationship with Mark Jackson in 1996. The pair got married a year later and together they have a son whom they named Shalon Jackson. Unfortunately, Mo'Nique and Mark Jackson called it quits and thus divorced in 2001.
She got her groove back when she started dating her new man, David Hicks. She bore twin boys in October 2015, during their relationship. The following year, in 2016, Mo'Nique announced that she and her boyfriend who is also the father of her twin boys would be walking down the aisle. As regards their union, Mo'Nique revealed in a New York Times profile that she and her new husband were in an open relationship.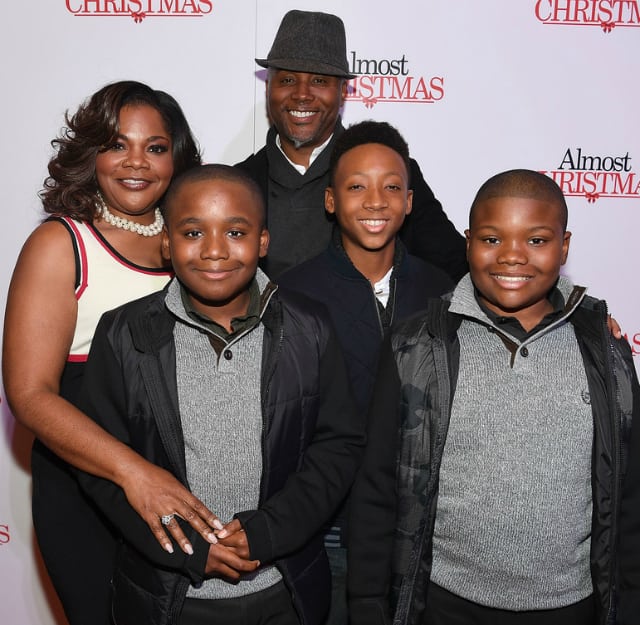 She also took the time to explain that it doesn't mean they had the license to sleep around outside marriage; however, it means that she and her husband agreed to be honest with each other anytime either party engages in extra-marital affairs. She also gave reasons for this on the "Oprah Winfrey Show," where she stated that as a result of her past experiences with cheating, she didn't want a situation where a divorce would occur because of the same issue.
Weight Loss
Mo'Nique has always been one to flaunt her very heavyweight saying that she is big, loud, and proud. More so, her weight has been the centre of her jokes and comic career for years. According to her, she always ate whatever she wanted and lived, however, she so pleased. In recent times, she seems to have changed this narrative now that she is over 50 years of age.
Having been diagnosed with high blood pressure and topping out at 262 pounds, her husband told her, "That's too much baby. I want you for a lifetime. I love you so much that I can't lie to you." She said that those words pierced the deepest parts of her heart and felt love like never before.
More so, she then realized that she saw her grandmother play with her kids and admitted that she would love to play with her children's kids as well and that if she didn't change her lifestyle, she might never have that chance. By the time her most iconic movie yet, Precious premiered in November 2009, Mo'Nique had lost more than 40 pounds of weight. She has recently said that she realizes that her previous stance on weight was very childish and currently uses her platform as a celebrity to advocate for healthy living.
Other Facts
1. Mo'Nique was sexually abused by her own brother, Gerald, from the age of 7-11. He was brought to justice after he did the same to another girl. This time, he got a 12-year jail sentence.
2. She fell out with super talk show host, Oprah Winfrey when she aired the story of the rape incident without Mo'Nique's consent.
3. Mo'Nique became blacklisted in Hollywood after the movie Precious was released. Though her performance was great, it was claimed that she did little to go on tour to promote the movie. She, however, responded that it was because of how little she was paid because she was a black woman.