Although Morgana McNelis is a successful jewelry designer, her skill as a jeweler did not fetch her the fame and popularity that she enjoys today rather, her over a decade long relationship with Charlie Hunnam did. Charlie is a British actor and model popularly known for his roles in Sons of Anarchy (2008–2014), Green Street (2005), Queer as Folk (1999–2000), Undeclared (2001–2002), Nicholas Nickleby (2002), Pacific Rim (2013), The Lost City of Z (2017), and King Arthur: Legend of the Sword (2017).
Due to the fact that the actor's first marriage to actress Katharine Towne ended barely three years after the union was contracted, a lot of people believed that his subsequent relationship would most likely be short-lived like the first. However, Morgana has proved them wrong, having kept Charlie's heart for over ten years, and thus far, the duo shows no signs of drifting apart.
Morgana McNelis Biography (Age)
Morgana McNelis was born on the 7th of September 1983 in Georgia, the USA. She is a very private person and even though she was thrust into the limelight by virtue of her relationship with Charlie Hunnam, she has done a very good job at keeping almost everything about her family and background away from the spotlight. However, it is known that she has a sister named Marina Milori, with whom she shares a close bond.
She attended jewelry making classes after she got into the jewelry industry as a model and subsequently studied art, fashion, and business in an institution of higher learning. Ever since she began making her own pieces of jewelry, having started off her own company named "Maison de Morgana", the jeweler has been a force to reckon with in the industry.
Morgana McNelis creates custom pieces of jewelry such as bracelets, rings, necklaces and earrings using white bronze and brass and her products are sold all over Los Angeles and Japan. The information on her company's website discloses that she fell in love with designing jewelry when she was 20 years old.
Her jewelry designs are inspired by a broad range of sources which includes the supernatural Arthurian sorceress Morgana La Fey, neo-gothic, macabre aesthetic of Coppola's Dracula, the avant-garde couture of Riccardo Tisci and Alexander McQueen. The jeweler also draws her inspiration from the wild romanticism of her early life in the Deep South.
Although her business has long gotten off the floor, Morgana had her share of failure before the company came into being. According to her, she and her sister established a fine jewelry company in 2007 but as a result of that year's economic crunch, it collapsed. However, the negative occurrence notwithstanding, Morgana McNelis revealed to People that she learned some lessons from the experience one of which was the fact that within every obstacle is a seed of opportunity and that seed turned out to become Maison de Morgana.
Net Worth
In addition to being a jewelry designer, Morgana McNelis has also appeared in a few movies and television shows such as 187: The McKenna Murders and Acting 101, playing the roles of Lura and a bartender respectively. She was also an assistant costume designer for the 2005 Irish horror film, Isolation, and in 2015, her performance in Acting 101 earned her an award nomination at the Los Angeles Independent Film Festival.
According to reports, Morgana McNelis has garnered an estimated net worth around $1 million from both her jewelry and entertainment industry business.
Other Facts About Charlie Hunnam Wife
Her Relationship With Charlie Hunnam
The 5 feet 8 inches beauty met the Sons of Anarchy star in 2005 and they began dating. Prior to their meeting, Charlie was still scarred by the breakdown of his marriage to his former wife, Katherine Towne. Speaking in an interview, he revealed that part of the reasons why he was attracted to Morgana was because she is a private person, who did not want to be in the spotlight.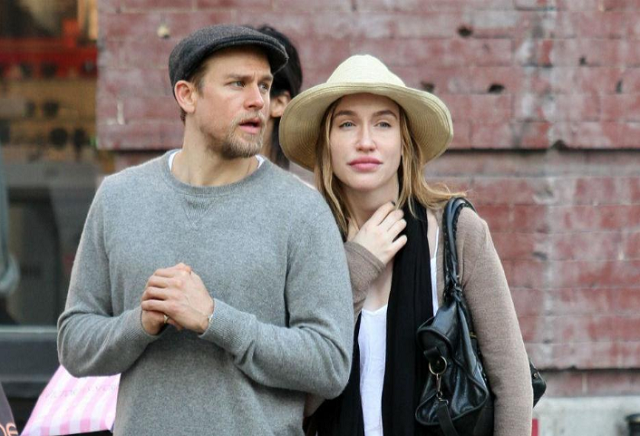 After several years of dating, they confirmed their relationship on social media in 2014 and on the 9th of March 2016, they got engaged. The couple has been living together ever since but they are yet to announce a wedding date.
Lives On A Ranch
Because Morgana McNelis prefers the slow-paced, more sustainable atmosphere provided by the country, she and her partner, Charlie Hunnam, decided to move away from the hustle and bustle of the city life to a ranch in California which they bought. Together, they own some dozens of chickens, ducks, a pair of donkeys, and a large organic garden.
See Also: Grace Hightower, Robert De Niro Wife – Bio, Children, Age, Net Worth
She Enjoys Traveling
In an interview with Taylor Magazine, Morgana McNelis said she loves traveling. Among her favorite locations are London, where she enjoys walking around while discovering the city. According to her, every street in London feels like it has a story to tell because it holds so much history.
Of India which is part of her bucket list, she says that its mystical charm and cultural richness would transform her life.