Morgane Stapleton is no new name in the music industry. While many country music fans may be well informed about award-winning singer Chris Stapleton's life and career, not much is known about the woman behind his success. Though the American singer and songwriter have an impressive résumé, she is best recognized as the other half of a celebrity couple.  More than just romantic partners, Morgane and Chris have so much more in common. In addition to being a vocal backup on her husband's band, Morgane is also a major influence on Stapleton's music. Explore amazing facts about the musician, wife, and mother.
Morgane Stapleton – Bio (Age)
Morgane Stapleton (nee Hayes) from Nashville, Tennessee, was born on January 25, 1983. There is a scarcity of information about her parents and family, but her inclinations towards performing arts can be traced back to her childhood. Back in the days, she was an active student who loved singing, writing songs and even hosting events in school. Though the names of her schools have not been disclosed, Morgane is a graduate with two degrees, one in management and the other in human science.
Morgane Stapleton apparently switched career after college. The singer and songwriter whose first love is music is believed to have debuted as an entertainer in the year 1992. Despite her talents, Morgane did not like being in the spotlight and shied away from public attention. So she chose to pursue her passion by mostly working behind the scenes. She first began by performing as a backup for her sister and then writing songs for popular artists. Her talents were hard to go unnoticed and her first major breakthrough came when she landed a spot as a backup singer for Lee Ann Womack's road band.
Thereafter, the budding songwriter signed a deal with Sea Gayle Music in Nashville in 2003. Later that year, she recorded lots of unreleased songs under Arista Nashville Records. Morgane had a major breakthrough in 2005 when she wrote and also provided back up vocals for the famous country singer, Carrie Underwood's song Don't Forget To Remember Me. The song was not just a commercial success but also opened up bigger opportunities for Morgane. As a prolific songwriter, she has worked with several other industry top shots some of which include LeAnn Rimes, Kellie Pickler, Claire Lynch, Alan Jackson, Trisha Yearwood, and of course, her husband Chris Stapleton.
Family – Husband and Twins
Morgane Hayes is happily married to her significant other and famous country singer/songwriter Chris Stapleton. The pair who first crossed paths in 2003 at a publishing house in their neighborhood quickly discovered that they shared common interests and decided to work together on a song. Morgane wrote a song for Chris on their first date and today, the rest is history. The Stapletons exchanged nuptial vows in 2007 and has gone on to create both beautiful music and babies together.
Morgane and Chris have since expanded their family. They are proud parents of five children. While there is little or no information about the couple's first son and daughter, it is no secret that they welcomed twin boys Macon and Samuel in 2018. Their fifth child was born in 2019. Morgane is a doting wife and mother who loves to spend quality time with her family and thus, creates a balance between her professional and personal life.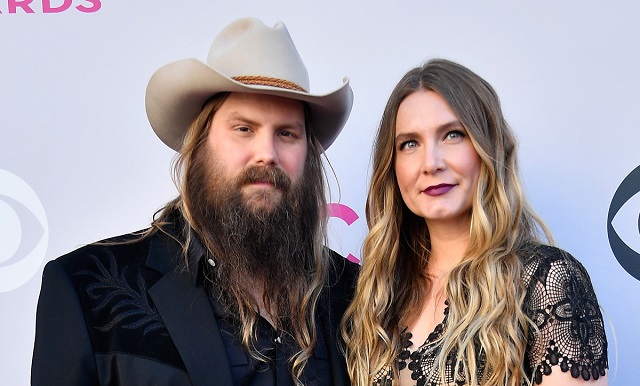 The pair are more than just romantic partners. They work together, helping each other in their musical careers. In fact, Chris credits Morgane for being a major influence and inspiration in his music. She writes and performs as back-up vocals on his records. More so, the vast majority of the songs on her husband's debut album Traveller were inspired, written, and put together by Morgane. The commercial success of the award-winning album is further proof of the singer/songwriter's creative talents.
Again, Chris' Traveller album is a nod to his late father who was a country music lover, as well as a big inspiration to her husband. Morgane's father-in-law's death in 2013 was a major blow to Chris and being a supportive wife, she helped Chris through his grieving period. It was during this time that she bought him a Cherokee Jeep which they used in embarking on a road trip that inspired and birthed the Traveller album. The Stapletons who continue to write, perform, and tour together, are going strong and show no signs to the contrary.
See Also: Cara Whitney – Bio, Age, Facts About Larry The Cable Guy's Wife
Other Amazing Facts about Chris Stapleton's Wife
1. Morgane Stapleton numerous endeavors in the music industry has brought financial rewards. Although the songwriter's exact salary is unknown, she has a net worth currently pegged at $3 million.
2. Stapleton has an active social media life. Though she is not present on most popular platforms, she has amassed a huge following on her Instagram account where she shares her music and special family moments with teeming fans.
3. The brown-haired singer's height, weight, and body measurements have not been made public. But going by her physique, it is safe to say she has maintained a slim build even after five kids.