Suspects in the spate of murders of Muslim clerics which occurred late 2014 are on trial in Uganda, but a recent tragedy may make things more complicated.
See Also: Egypt's Ex-President Mohammed Morsi Faces Life Sentence
Prosecutors say that one of the witnesses who had agreed to testify on the murder of the Muslim clerics as a part of the trial was "beaten and castrated" for agreeing to do so.
The defense claimed that it would have been impossible for the defendants in the case to carry out the attack considering that they were in jail at the time.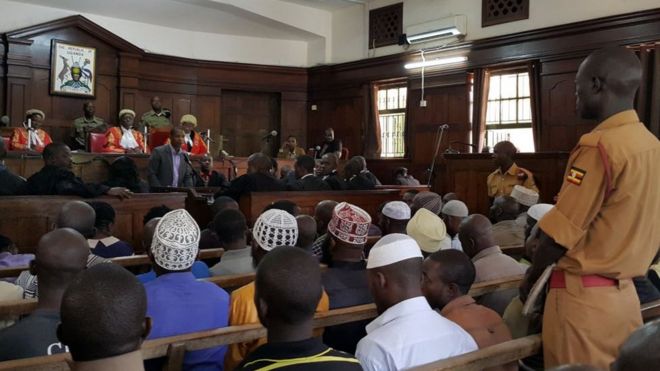 The prosecution refrained from sharing further details about the alleged attack on the witness but shared that a court case to that regard had begun on Friday.
The spate of murders included the head of Uganda's Shia community, Sheikh Abdu Kadir Muwaya, who was shot dead on Christmas Day 2014 in Uganda's capital Kampala. He was followed three days later by Sheikh Mustafa Bahiga, a leader of the Tabliq sect who was also shot dead.
The trial which opened on Monday was adjourned by the judge in order to give more time for the witness to be appropriately secured and protected. The defendants include one woman and 31 men, including a cleric from the Tabliq sect- Sheikh Muhammad Younus Kamoga who was one of the Tabliq sect's leaders in Uganda at the time of his arrest.
See Also: Security Forces In Ethiopia Killed Over 400 Oromo Protesters – HRW
The BBC reports that the police had taken the suspects out of jail and pressured them to give information against each other. The Judge, Ezekiel Muhanguzi has however ruled that no suspects should be taken out of jail anymore and if police and other agents want access to them, it should be in the presence of their lawyers.
The case is scheduled to resume on 18 July.