Kenya's 3rd president, Mwai Kibaki, is a politician, national figure, and an African leader. Best remembered for having given the country its long-awaited new constitution, Kibaki will go down in the history books as the president who finally put Kenya on the path to economic recovery. During his time at the helm, the country went on to witness a 7% economic growth rate before the infamous 2007 post-election violence.
Asides his economic strides, Mwai Kibaki will also be remembered for having played a key role in uplifting social standards in his country, introducing Free Basic Education for the very first time, as well as gifting the country a brand new constitution in the year 2010. His presidency was however not without hiccups.
He has been accused of not having a firm grip on his administration. The veteran statesman was also at the heart of a domestic squabble which threatened to develop into a full-blown soap opera. The dispute featured his legally-recognized wife and family, as well as a secret family that he allegedly had away from the spotlight.
What We Know About The Formidable First Lady Of Mwai Kibaki
Talking about his family, Mwai Kibaki has four children – three sons and one daughter – with his late wife, Lucy Muthoni. They are Judy Wanjiku, Jimmy Kibaki, David Kagai, and Tony Githinji. The former president also has four grandchildren – Joy Jamie Marie, Mwai Junior, Krystina Muthoni. Kibaki's late wife, Lucy, worked as a teacher but later left her job to become a homemaker following their 1961 marriage. When her husband eventually became elected as the president of Kenya, Lucy reigned supreme as the country's first lady.
She introduced laudable initiatives aimed at fighting the scourge of the HIV/AIDS pandemic in the country. She also launched other welfare programs targetted at women and girls. The lady, however, attracted criticism for her high-handedness. For instance, back in 2005, the late first lady stormed the house of her neighbour, a World Bank director, to demand that they turn down their party music. When they didn't agree, she reported to the police and made a formal complaint. The whole thing was captured and published by newspapers and Lucy wasn't too happy with this. She, therefore, marched off to the press office to demand the arrest of the reporter who penned the story.
In the course of doing this, a cameraman tried to photograph her and she slapped him. She was later charged with assault but the charges were dropped. This episode is one good example of how fearsome Lucy was. She surely lived an eventful life and later passed away in April 2016 from an undisclosed illness. Since her death, her husband and children have carried on. Her first son, Jimmy, has never hidden his political ambitions and has been participating in social functions ostensibly with an eye on a parliamentary seat. There were also rumours in 2019 that he planned to float his party but that is yet to materialize.
The Other Woman in Mwai Kibaki's Life
As far as legal documents are concerned, Mwai has only been married to Lucy but several incidents have suggested that there is another woman in the picture.
Even though he has consistently denied it, it is widely believed that Mwai Kibaki has another wife in the person of Mary Wambui. Mary is a businesswoman, activist, and politician, and represents the constituency of Othaya in parliament. She and Kibaki reportedly got married under customary law in 1972 and have a daughter named Winnie Wangui. Even though the former president has never acknowledged them, all evidence points to the fact that there is something between them.
For instance, Mary resides in a magnificent villa in the Kenyan capital city of Nairobi and has a retinue of armed guards. Her daughter Winnie Wangui, on the other hand, worked at the foreign affairs ministry and enjoyed VIP treatment as well. Although it is legally and socially acceptable to have multiple wives in Kenya, Kibaki has failed to publicly acknowledge his second wife and this was due to pressure from his late wife. The late Lucy once slapped an MC who dared to call her by the name of the second wife during a state ceremony.
She also walked out of a New Year's Eve party after the then vice president dared to refer to her as the second lady during his toast. The late Lucy Muthoni also forced her husband to hold press conferences and release statements in which he denied having any ties with Mary. The woman and her daughter were however unperturbed by the statements and maintained that he was pushed into it. The whole thing meanwhile created an embarrassing scandal for Mwai Kibaki. Many Kenyan people saw him as a weak man who could not control his own family while international media outlets such as The Guardian Uk and the Washington Post dismissed it as a soap opera.
See Also:  10 African Leaders That Have Been Commendable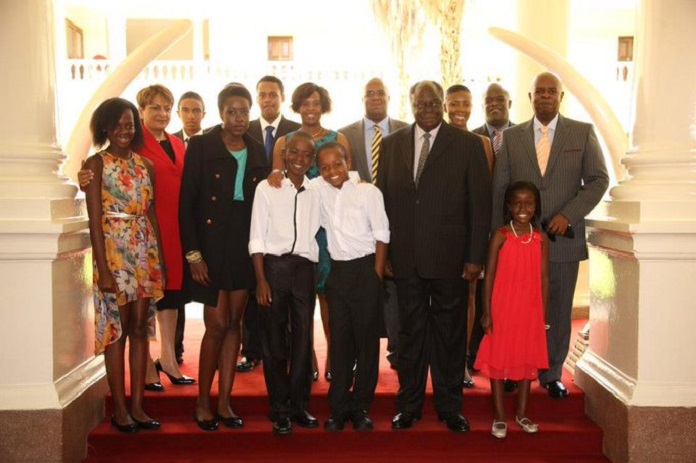 The Former President Battles Health Challenges From A Car Crash
Mwai Kibaki is a leader adored by many across Africa for his eloquence and simplicity. He completed his constitutional two terms in 2012 and currently lives with his family in Nairobi. Many had speculated his death following some health complications but he is still very much alive. He has, however, had to receive medical care on several occasions.
Kibaki's health challenges can be traced to age but an even bigger factor is the auto crash he suffered back in the year 2002. Whilst campaigning for the presidential elections, the then-candidate had travelled to the eastern province and was on his way back to the capital when his driver came across an accident scene. In a bid to avoid the scene, the driver crashed into a ditch and the then-presidential candidate sustained injuries on his ankle and arm. He received treatment immediately in Nairobi hospital and subsequently proceeded to a private hospital in London and received further treatments.
Kibaki fully recovered from his accident but he has continued to feel the after-effect in the form of blood clots discovered in different parts of his body. Back in 2003, the then-president was admitted to the hospital to remove a blood clot in his leg. He also had another blood clot removed from his vein in August 2016 and in October 2019, he also visited the hospital. The octogenarian statesman, however, remains very much alive and is enjoying his retirement with his big family.