While many music fans may be well informed about famous Beatles legend Paul McCartney's life and career, not much is known about the woman who brought him marital bliss for the third time. Nancy Shevell is a very successful businesswoman who is best recognized as a celebrity spouse. Though not as famous as her husband, Nancy is a well-accomplished millionaire in her own right. Explore lesser known facts about her life, career, and marriage.
Nancy Shevell Biography (Age)
Nancy Shevell is a native of New York born on November 20, 1959. Growing up in Edison, New Jersey, Nancy was an unusual girl. She began exhibiting athletic skills from a young age and played different sports including football and skiing, among others. In addition to her athleticism, Nancy grew up more like a son than a daughter to her Jewish parents Myron and Arlene Shevell. She had tomboyish tendencies and was more interested in playing with trucks than with dolls. Her father Myron owned a US-based trucking company New England Motor Freight Inc, and as a young girl, Nancy developed a keen interest in the family business. It was, therefore, no surprise when she eventually took a step further to study a male-dominated course – transportation at Arizona State University.
Career
A few years after the family business was established, Nancy surprisingly took over the reins. Despite the challenges that her father and the company as a whole had faced in the male-dominated industry, Nancy maintained a positive resolve to steer the business to unprecedented growth. To further prove her worth in the business, Shevell quickly rose through the ranks holding various positions and was eventually made the vice-president of Shevell Group of Companies. A major milestone for Nancy Shevell in the industry was in 2001 when former governor George Pataki appointed her as one of the board members of the largest public transportation authority in New York – The Metropolitan Transportation Authority.
Her Marriage and Son
Nancy Shevell is happily married to Beatles legend Paul McCartney. The couple first crossed paths in the Hamptons, on New York's Long Island. Interestingly, they were both going through a bad relationship at the time which was a uniting factor. Nancy and Paul soon found love in each other's arms and began dating secretly. But being public figures, it later became too difficult to keep their relationship under the radar. Shortly after the media got wind of their romance, the pair stepped things up a notch with an engagement.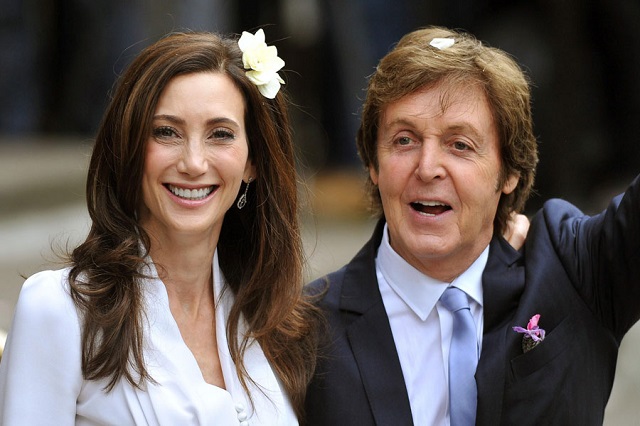 Nancy and Paul exchanged nuptial vows on October 9, 2011, in a beautiful ceremony in London. Before they walked down the aisle, Nancy consented to sign a prenuptial agreement which by implication means that she would not claim any alimony if their marriage ever went awry. So far, its been a sweet journey to forever for Nancy and Paul as they continue to wax stronger together. Their union has not produced any children.
Just like her musician husband, Nancy has been previously married. Before Paul, she was married to lawyer cum politician Bruce Blakeman. The former lovebirds met while Nancy was still in college and later tied the knot. Their union produced a son named Arlen. Sadly in December 2008, Nancy and Bruce officially called it quits.
See Also: Nicole Threatt, Dr Dre Wife – Bio, Age, Net Worth, Ethnicity, Kids, Family
On the other hand, her husband Paul McCartney was previously married twice. His first marriage was to photographer and musician Linda McCartney. Paul stayed married to Linda from 1969 until her death from breast cancer in 1998. Their union produced three children. Paul found love again in the arms of former model Heather Mills. Together, the ex-lovers who were married from 2002 to 2008 had a daughter, Beatrice. Nancy Shevell is Paul's third marital attempt. Despite disappointments from past relationships, the couple is often seen vacationing together and presumed to be happily living their best lives yet.
Net Worth
Nancy Shevell has been at the helm of affairs of her family business for a very long time. The successful businesswoman's exact salary is unknown but her net worth is currently pegged at $200 million. However, that figure may possibly be affected in the near future after the US-based trucking company, New England Motor Freight Inc, filed for bankruptcy and shut down operations in early 2019.
Facts
Nancy Shevell's step-children were actively involved in her wedding plans. While the bride's outfit was designed by her step-daughter Stella (from Linda), Beatrice (from Heather) was Nancy's flower girl. If Nancy and Paul's wedding history is anything to go by, then it is believed that they are living as one big happy family.
It is uncommon knowledge that Nancy has been diagnosed with cancer in the past. Thankfully, there is no health alarm as she is presumed to have beat the disease and now living in remission.
Nancy is relatively active on social media. Our investigations reveal that she has an impressive fanbase on Facebook but is absent on other popular platforms including Instagram and Twitter.
For a sexagenarian, Nancy Shevell has maintained a striking figure over the years. The brunette beauty stands at an average height of 5 feet 10 inches and weighs about 60kg. Her body measurements are bust – 29 inches, waist – 27 inches, and hips – 34 inches.