Nassef Sawiris is currently the 2nd richest man in Africa and 297th in the world, as rated by Forbes in January 2021. He is a 62 year-old Egyptian businessman with an estimated net worth of $8.7 billion, second to Aliko Dangote's $16.4 billion in Africa. He was born in Cairo on January 19, 1961.
Being one of the billionaires in the world, Nassef's life piques the interest of a lot of people with many wondering how he and other members of his family came to acquire their enormous wealth. While one might envy his riches, it hasn't all been rosy for the billionaire who was striving to avoid being jailed at some point.
Profile Summary of Nassef Sawiris
Full Name: Nassef Onsi Sawiris
Date of Birth: January 19, 1961
Age: 62 Years Old
High School Attended: Deutsche Evangelische Oberschule Kairo
College Attended: University of Chicago
Occupation: Businessman and Investor
Net Worth: $8.7 Billion (2021)
Biographical Facts and Insight Into Nassef Sawiris' Wealthy Family
Being the richest man in Egypt is no common feat. While many may argue that Nassef's success rides on the back of his father's business, it has also benefited greatly from the support of the business-friendly Egyptian government. His father, Onsi Sawiris, was met with much resistance during the early days of his startup under the Gamal Nasser-led government and this affected his financial growth initially. Nassef, on the other hand, is benefiting from the current Abdel Fattah Al-Sisi-led government. This is similar to the support that Aliko Dangote, the number one richest man in Africa, gets from the Nigerian government.
The billionaire obtained his high school education in Deutsche Evangelische Oberschule Kairo. He also attended the University of Chicago and graduated in 1982 with a Bachelor's degree in Economics. Nassef Sawiris hails from a family of Coptic Christians. Asides from their wealth, the Sawiris family is united in their belief in God; they identify as Coptic Christians. In Egypt, Christians are a minority religious group and they are mostly referred to as Copts.
Initially, the term was used to refer to all Egyptians but got narrowed down to being used for Christians when the country became Islamized. Like the Sawiris family, many Copts are highly educated and fall within the country's higher wealth index. They are also mainly involved in professional or administrative job roles.
Nassef has four children with his darling wife, Sherine. The family lives in London, and also has a home in New York City. But when people talk about Nassef's family, they are most likely referring to his birth family.
The Sawiris Family Wealth Began With His Father Onsi Sawiris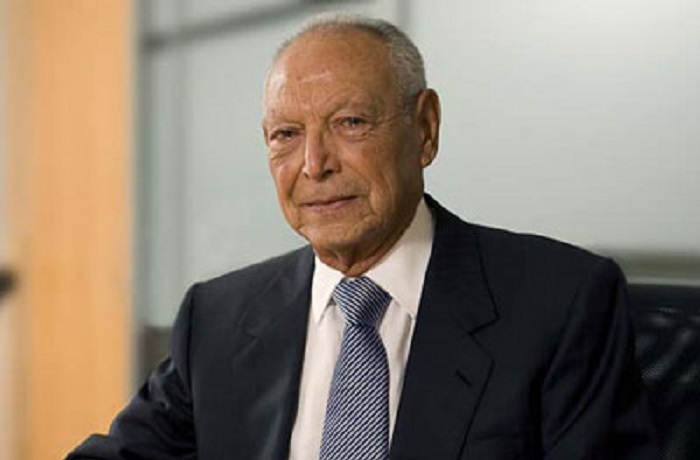 The most popular family name in Egypt's business/financial world has to be Sawiris. Nassef Sawiris isn't the first wealthy member of the family. The family is a (major) stakeholder in virtually all economic sectors in the country, with many businesses, companies, and investments to their name.
Nassef's father, Onsi Sawiris is the original brain behind the family's line of businesses and riches. He was born on August 14, 1930, in Southern Egypt. Onsi was a lawyer by profession, but he had interests in agriculture and followed it up. He soon left agriculture for construction and became a big contractor in the country. Onsi got married to Yousiriyya Sawiris and had three sons with her.
He founded his company, Orascom Construction, when he was only 20 years of age, in 1950. Unfortunately, the Egyptian government at the time wasn't friendly to him. In 1960, the Egyptian president, Gamal Abdel Nasser Hussein, nationalized his company and even banned him from leaving the country for some years. This grossly affected his business but he later succeeded in fleeing with his wife and sons to a neighboring country, Libya, where he stayed briefly.
Following Gamal Nasser's death due to a heart attack in 1970 and his succession by Muhammad Anwar el-Sadat, Onsi returned to Egypt. Anwar Sadat had abandoned many of President Nasser's political and economic reforms, making Egypt friendly to businesses again. The businessman then rebuilt Orascom Construction and expanded to other sectors with help from his three sons: Naguib, Samih, and Nassef. Today, the Orascom conglomerate has its tentacles in many sectors, including telecommunications, tourism development, industry, science, and technology.
Naguib Sawiris
Naguib Sawiris is Nassef's oldest brother and the first son of Onsi Sawiris. He is currently the 8th richest individual in Africa and 2nd in Egypt, with a net worth of $3.2 billion. He was born on June 15, 1954, and joined his father's business in 1979 at the age of 25. He is highly educated; having obtained both a diploma in Mechanical Engineering and a Masters in Technical Administration at the Swiss Federal Institute of Technology in Zürich, Germany, and a Diploma from the German Evangelical School in Cairo, Egypt.
Naguib is responsible for the expansion of Orascom into telecommunications, railway and, information technology sectors. The success of his ventures and those of his brothers led to Orascom splitting into separate companies in 1998, and he took over the operations of Orascom Telecom Holding (OTH). He ran the company until 2011 when he sold it to VimpelCom. This trade to the Russian company was worth billions of dollars. The other companies are Orascom Hotels & Development, Orascom Construction Industries, and Orascom Technology Systems (OTS).
Naguib is the chairman of Orascom TMT Investments (OTMTI) since its incorporation in 2005. OTMTI, which is chiefly involved in Media and Technology, GSM, and Cable operations, has a wide reach in Europe and North America, as well as Africa, the Middle East, Asia, and South America. He also has many other accomplishments to his name and has served as a member of the board of several companies. He owns the Silversands Grenada luxury resort and spa. He also owns 88% of Euronews – the pan-European pay-TV and video news network, through Media Globe Holdings.
Naguib is a multilinguist (he speaks English, French, German, and Arabic) and resides in the capital city of Egypt with his wife and four children.
Samih Onsi Sawiris
He is the second son of Onsi Sawiris, born on January 28, 1957, in Sohag, Egypt. He attended the Technical University of Berlin in Berlin, Germany, where he obtained a diploma in Engineering Management in 1980. Immediately after his graduation, he founded the National Marine Boat Factory, with a $25,000 cash gift from his father. The business grew to include a beverage manufacturer called El Gouna Beverages Co. which he founded in 1997 and sold in 2001 when it was Egypt's number one beverage company.
By 1996, Samih founded the Orascom Projects for Touristic Development and then the Orascom Hotels and Development in 1998. Both companies later fused to become Orascom Development Holding AG. Since the incorporation of the company, he has been the CEO and chairman. Samih holds dual citizenship of Egypt and Montenegro; he acquired his Montenegrin citizenship in 2011. That same year, he obtained a 12.5% share in Fussball-Club Luzern, a Swiss football club.
Samih's most recent acquisition was in 2019 when he took over the German subsidiary of a major British global travel group called Thomas Cook Group, Plc. He made the acquisition through his Raiffeisen Touristik (RT) Group in which he has about 74.9% of shares since 2014. He is also the owner of 25 hotels strewn across Egypt.
Nassef Sawiris Began Building His Net Worth As The CEO of Orascom Construction Industries
The decision to study Economics was a calculated step by Nassef, who knew he would be joining the family business. After his graduation in 1982, he became a member of the Orascom group. Thirteen years later, in 1995, Nassef's father stepped down and transferred managerial power to his sons. Nassef took control of Orascom Construction Industries, becoming its CEO in 1998 when the company got incorporated.
Nassef has served as a member of the board of several companies. In 2004, Orascom Construction Industries obtained a 50% stake in BESIX Group, making them part owners with some Belgian nationals. Nassef served on both the board and as a member of the enumeration and nominations committee until the year 2017. According to the ranking by Engineering News-Records, the BESIX Group is one of the top international contractors globally. It boasts of building the tallest tower in the world, Burj Khalifa in Dubai, Brussels Airport in Belgium, and the Grand Egyptian Museum in Egypt, amongst other masterpiece edifices.
He Also Made Good Money From The Stock and Foreign Exchange Sector
Nassef has also dabbled into Stock and Foreign Exchange deals. Within a four-year period, 2004-2007, he served the Cairo and Alexandria Stock Exchanges as a member of the board of directors. The two companies make up The Egyptian Exchange and are governed by the same board. He was also a member of the Dubai International Financial Exchange (DIFX), a position he held from July 2008 to June 2010.
LafargeHolcim Ltd. is the global leader of all building needs in the world. Nassef has served on the board of Lafarge South Africa since 2008 and this culminated in him being elected as a member of the board of LafargeHolcim Limited in 2015. He has been serving as the CEO of Orascom Construction Plc. from 1998 to date. When OCI NV bought out OCI S.A.E. in 2013, he maintained his role as the CEO.
Stakes In Adidas and Aston Villa
Nassef's almost 6% stake in Adidas, the giant shoe, cloth, and accessories designing and manufacturing company, remains his greatest asset to date. He acquired this stake in October 2012 through the activities of NNS Holding Sàrl Luxembourg. The following year, he was picked to play the role of supervisory director for the company's Germany subsidiary.
In 2018, the NSWE, a company with joint ownership and controlling power belonging to Wes Edens and NNS, purchased 55% of Aston Villa's stake. This gave the company the controlling power of the football club, leading to the replacement of Tony Xia as chairman. In July, Nassef Sawiris was announced as the next chairman of the club. The football club got promoted to play in the Premier League, and NSWE bought over the remaining 45% stake from Tony Xia. This accorded the NSWE full control and ownership over the football club, Aston Villa.
Nassef Sawiris Owns Avanti Acquisition Corp and Has a Large Investment in Gold
The Avanti Acquisition Corp, founded in October 2020, is the brainchild of Nassef Sawiris. It is a special acquisition or blank check company, created to operate by merging or acquiring existing businesses and incorporating their business model. The company was founded by Nassef Sawiris' NNS Group and Sienna Capital. Nassef remains the CEO and Chairman of the company to date.
In an interview with Bloomberg, Nassef revealed that he has tangible investments in gold. As of 2018, Nassef had a net worth of $5.7 billion and was said to have about half of that amount invested in gold. He said his move was based on the fact that gold survives periods of crises with its value rising during such times. So, although a majority of his wealth came initially through investments in telecommunications, Nassef has succeeded in diversifying his source of cash flow.
His Status and Business Accomplishments Earned Him a Place On The University of Chicago Board of Trustees
Since 2013, Nassef sits as a member of the Board of Trustees in his alma mater, the University of Chicago, alongside a number of past students as well. In 2015, he established the Onsi Sawiris Scholars Program, a $20 million gift funding to the university. The program is designed to cater for one year of tuition and other expenses of brilliant Egyptian students studying at the University of Chicago. This extravagant gift wasn't the first of its kind to his alma mater. He had previously given gifts to the Oriental Institute and funded a visiting fellowship program for exchange Egyptian students in the University.
He is also a member of the International Leadership Board of one of the United States' top hospitals, Cleveland Clinic. He is also a member of the prestigious Global Board of Advisor of the Council on Foreign Relations (CFR).
While everything seems to be great for Nassef Sawiris, he also ended up in jail. In 2013, his family was charged with tax evasion and Nassef was already looking at a 3-year jail term. Luckily, the Egyptian government agreed to Orascom Construction Industries paying back its tax debt in ten installments over a 4-year period, from 2013 to 2017. Nassef was then absolved of all charges.
Meet His Wife Sherine Magar Sawiris
Nassef Sawiris' wife is also an Egyptian and had her higher education at the American University of Cairo, where she studied Business Administration (with a minor in Economics) and graduated cum laude. She is a trustee of the Sawiris Foundation. The foundation's goal is to contribute to the development of Egypt, as well as drive the creation of sustainable job opportunities and empowerment of Egyptians so they can live productive lives.
The beautiful mother of four is an ambassador for a London-based charity called Chain of Hope, an organization that works to provide quality cardiac care to kids around the globe. For several years, she has served as a member of the acquisition committee for Middle Eastern at Tate Modern, London. She is also a member of the board of trustees of The American School in London, which is chaired by David Novak, assisted by Erin Roth.
Nassef and Sherine are parents to four children and the family resides primarily in London.
Key Takeaways
Nassef is an Egyptian businessman with an estimated net worth of $8.7 billion.
He hails from a wealthy, Coptic Christian family, and his father Onsi Sawiris laid the foundation for the family wealth.
He has two brothers named Naguib and Samih Onsi Sawiris; they are also billionaires
Nassef has a large investment in gold and a stake in popular companies like Adidas.
He is married to Sherine Magar and they have four children together.