Nasty C has been in a longtime relationship with his girlfriend, Sammie Heavens. The lovebirds began dating in high school and have been together ever since. Despite the challenges that come with dating a high-profile entertainer, the more than a decade-long relationship has lasted and many people believe that they would go the long mile.
Sammie is not the only person that has been of great support to Nasty C. The award-winning rapper's family members; David Maviyo Ngcobo (Father) and older brother Siyabonga Ngcobo have been of great support.
Nasty C and Sammie Met in High School
For someone that is famous, Nasty C has something that people in his line of work rarely have. He has a childhood sweetheart that he is still dating to date. Details of how they met aren't really available to the public but we know this much though, that they met back in junior high at Nuz High School.
When they met, the rapper was in grade 8 while Sammie was in grade 7. They started dating the following year when Sammie turned 15 and Nasty C was in grade 9. The rapper once confirmed this in an Instagram post wherein he related that Sammie has always been there for him. Based on what he said, she is the first person ever to sing his songs to him. Nasty believes he owes a great deal of what he has attained to her and vowed to always be by her side.
Nonetheless, the two haven't always been open about their relationship. Nasty C didn't officially introduce her as his girlfriend until she graduated from high school. This is so because he didn't want the paparazzi and all the buzz of showbiz to distract her from her education.
Their Relationship Survived a Sexual Crime Allegation Involving a Minor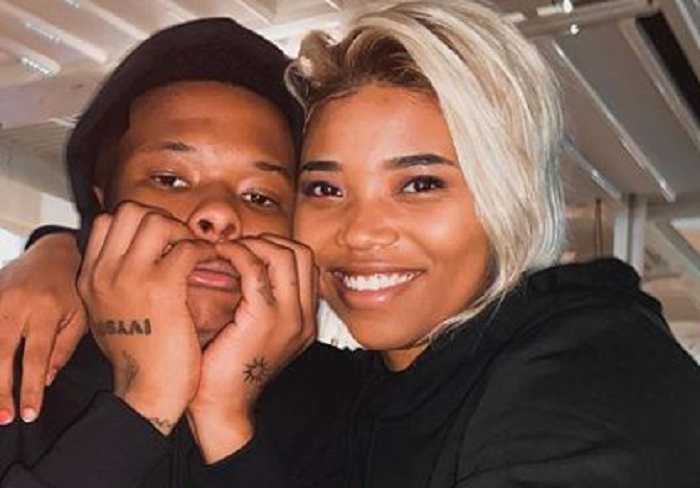 As earlier mentioned, the whole affair between Nasty and Sammie remained unknown to the public until the latter finished high school. But then, going public with the relationship has posed a problem for the couple as Sammie wasn't really comfortable with all the attention she got, but she has clearly adjusted to it.
Also, most of Nasty C's songs have been about their relationship, from a cheating scandal, to when he was "feeling too brand new" for her. According to the rapper, Sammie wasn't okay with the first track he did about their relationship because he made and released the song without consulting her. For subsequent tracks, he consulted her before releasing it and she seems to have again adjusted to the arrangement.
While the foregoing are some of the challenges the lovers have faced, it's nothing compared to a cheating scandal: the case of a 15-year-old girl that took to social media to accuse Nasty of sleeping with her and afterward, blocking her on all social media platforms.
At first, it seemed like something that could be ignored, but when a lot of people started talking about it and considering the girl's age, Nasty had to say something. Responding to the allegation, the rapper asserted it was a lie, adding that he had never met the girl.
Just thought I'd clear the record before her cry for hype spins out of control. https://t.co/VQTl8f4FSw

— IVYSON (@Nasty_CSA) November 7, 2017
Well, the girl in question would later delete her social media accounts and seems to have vanished. No proof means no case against Nasty.
Nasty C and Sammie are Still Together and Having a Swell Time
2020 makes it 7 years of being together and during this time, Nasty C has always done something special for him and Sammie's anniversary. Their fifth year anniversary back in 2018 was one of the most memorable ones to date. The duo took the time to chill out in Dubai and spoil themselves. Nasty wasted no time in posting pictures of their cruise in the sandy heaven. And unlike other years, she also went on tour with him as he performed in places like Australia.
Expectedly, they have had to deal with people who have disrespected what they have. Sammie once lashed out at Nasty C extremists who had issues with her listening to other rapper's songs and attending their concerts. Another instance was a certain vlogger who labeled Sammie a "gold digger" and a "natural born failure" with zero achievements. Nasty wasted no time to clamp down on the troll.
Of course she's nasty. I taught her dat 😋 stupid .. this woman my backbone 🤞🏾 pic.twitter.com/p8Mqmb1JpR

— IVYSON (@Nasty_CSA) September 28, 2020
Meet the Family Members of Nasty C
Anyone who cares to know would easily find that the famous African rapper is of South African origin. He has a father and older brother, and for a short while, a mother.
David Maviyo Ngcobo (Father)
David Ngcobo raised Nasty C and his older brother mostly all by himself. He wasn't too happy when Nasty picked up an interest in music; like most African parents, he thought it was a waste of time. But as time went by, he came around, giving his son all the support he needed to make it in the music industry. The man has even been spotted in some of Nasty's concerts.
Nasty said his father's never-back-down attitude really inspired him to carry on even when things seemed difficult.
His Brother Inspired His Musical Career
Siyabonga Ngcobo is Nasty C's brother's name and according to the rapper, he learned most of the things he knows about music from him. Siyabonga happens to be a music producer.
As it is with his father, the rapper has a great bond with his brother. He has been a part of his career journey right from when it began and until now.
Nasty Lost His Mom When He Was 11 Months Old 
Veliswa Ngcobo is the rapper's late mum's name who died before he became a toddler. Reports have it that Veliswa lost her life in a car accident. Growing up without a mum must have been tough for Nasty but against the odds, he managed to pull through. Most of his earlier tracks were dedicated to her.
The rapper has since grown very fond of Sammie's mum. He once related that she's "cool", narrating that he met her when he was in high school. As the story goes, he was in a taxi with Sammie and her mother joined the ride and sat behind them.