Nessa Diab has gained more fame as the girlfriend of different footballers than in her career. She is currently with the popular National Football League (NFL) player, Colin Kaepernick, and has stood by his side during his most trying times. Also known for her mononym, Nessa, she recently engaged in a tweet battle with the Baltimore Ravens owner, Steve Bisciotti, and in one single tweet that shook the world, she referred to Steve as a slave trader. That was displayed with an uploaded image from the popular movie Django: Unchained showing slave owner Leonardo DiCaprio and Samuel L. Jackson.
For her actions, she has been blamed by many to have been a bad influence on the football player who was once cool-headed and also avoided the cameras. While this was ongoing, Nessa also went ahead to reply the rumors that Colin had changed his religion. Evidently, the radio presenter sure has some wits and guts because so far, she has not bowed to the pressure of her critics.
Who Is Nessa Diab and What Is Her Ethnicity?
Nessa Diab who was born on May 6, 1981, and hails from Southern California but she was raised in the Middle East. As a child, she experienced the Gulf war and was oftentimes on the run with her family. It was at this period that she took a keen interest in writing songs and also recorded a few mixtapes. One of her popular mix that was played repeatedly on air while she was a scholar at UC Berkley was titled Rydaz; a mix of the songs sang by Destiny Child.
Shortly after that, she pursued a career as a radio presenter. She aligned her dreams to her course and while she was still a student, got an internship placement with a promotional team Party Crew. She worked with the team for a while before taking a job offer from Wild 94.9 KYLD. With the show, she gathered more experiences as an open-air personnel and left to work at the West Coast Report on Power 106 KPWR.
Her stay at the radio station blew her trumpet and landed her roles in different events and parties serving as a host or MC. On the long run, she decided to commit to Wild 94.9 at night and worked with ENERGY 92.7 during the day. It was at the same period that she focused more on her education and graduated with a Bachelor of arts degree in Mass Communication.
Shortly after that, she was employed by the 101.5 JAMZ radio management. She moved on to host the MTV's Girl Code and was also given the slot to play as a host on the New York City's Hot 97 radio station. Later on, she featured on MTV2's Charlamagne & Friends.
Apart from her radio works, she has played host in a few other shows including the Ain't That America, Snooki & JWoww Aftershow, Jobs That Don't Suck, The Real World Aftershow and Teen Mom Aftershow. Being good at what she does, she later replaced Cat Greenleaf on the Talk Stoop show on NBC.
What To Know About Her Parents
Nessa Diab was born into an Islamic home and she was raised as one. Her father is an Egyptian while her mother is from the Middle East. The radio presenter is one of three children born to the family. She has two brothers.
Relationship With Colin Kaepernick
If Colin Kaepernick was asked to run a list of his die-hard fans, we are quite sure that Nessa Diab would be amongst the top five. Ab initio, the two were said to have been huge fans of themselves but later took their crush to another level after their relationship was first suspected in 2015. The following year, the two confirmed the rumors as they publicly proclaimed their love for each other on social media platforms. The radio presenter has proved her undying loyalty to her boyfriend and was said to have stood by him during his protest against police brutality and racial Injustice.
Few months after the two got together, Colin created a scene during one of his games as he refused to stand while the United States anthem was being sung. For his actions, he was rebuked by the Republican Congressman, Steve King. Steve interpreted his actions to as dishonoring the country and also went ahead to pass the blames on his change of religion. As expected, a lot of tweets followed and everyone had one or two things to say about the congressman's views and the NFL player's attitude.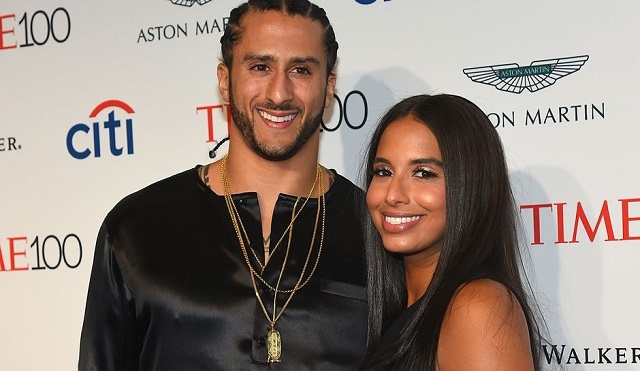 In fact, Steven Malzberg denounced the NFL player for his relationship with the radio presenter and proclaimed that Nessa was sympathetic to ISIS. Despite all these allegations and critics, Colin stood his grounds, defended his actions and went ahead to prove his support with the Black Lives Matter Movement. For his claims, Steven publicly suggested that the NFL player should be suspended from playing for the country.
Following this, Nessa was also perused for her numerous messages on social media platforms and her influence on her boyfriend. And so, it was later revealed that the NFL player secretly converted to Islam after he started dating Nessa and his disloyalty to the country was as a result of his newly found beliefs.
Since March 2017 the incident occurred, the NFL player is yet to get offers from other teams after he left the San Francisco 49ners. Many believe that his attitude of dishonoring the country is the reason behind the lack of offers coming his way.